B.C social worker sought out Indigenous high-risk youth because no one would 'adequately safeguard their interests' says claim
When "Elle" aged out of the system more than five years ago, she was hoping for a fresh start, but the scars of her time spent in care run deep.
Now at just 24 years old she has been diagnosed with a number of debilitating mental illnesses, she says were caused by years of abuse both in and out of B.C.'s child welfare system.
"I have complex post-traumatic stress disorder, obsessive compulsive disorder, borderline personality disorder and severe depression and anxiety," she says.
"I take medications to manage them, I do therapy to work on them, but they are always going to be a part of who I am."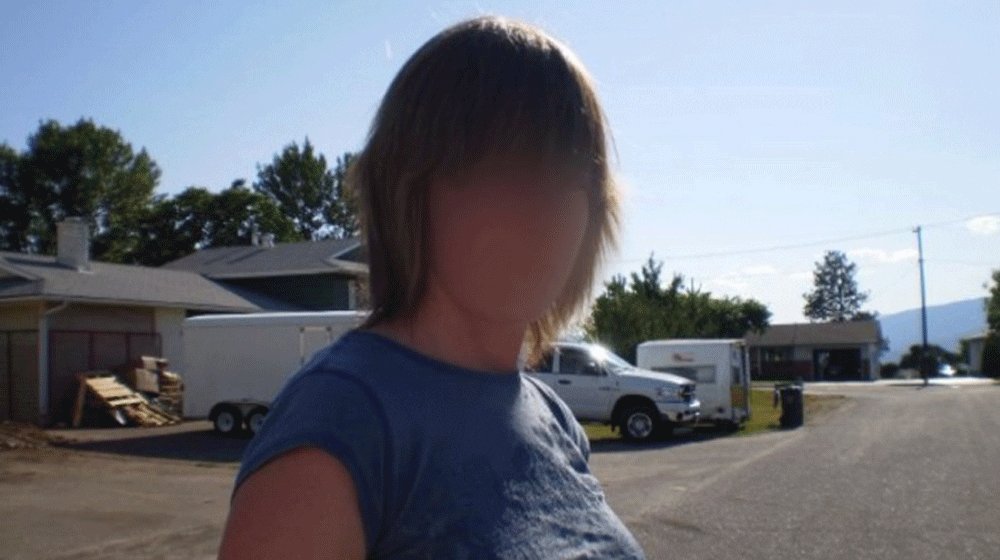 (Elle age 14, taken shortly before entering the child welfare system. Photo: Elle)
Elle, whose real name APTN Investigates has agreed not to publish, is one of a number of former youth in care who are suing the B.C. government and a former social worker accused of stealing funds designated for their care and well-being.
In the last few months, five separate lawsuits and a proposed class action have been filed, all accusing Robert Riley Saunders, a former Kelowna social worker with the B.C. Ministry of Children and Family Development, of abuse, coercion and fraud.
According to Elle's individual suit, "Saunders sought out and exploited Aboriginal high-risk youth because he knew that his supervisors and managers would not look too closely at their affairs or adequately safeguard their interests."
(Robert Riley Saunders. Facebook)
Like many Indigenous youth caught up in the child welfare system, Elle comes from a broken home.
She was raised by a mother battling drug and alcohol addiction, who Elle says was barely able to take care of herself, let alone three young children.
"She would be physically abusive to me, to the point where at times I ended up in the hospital," Elle remembers. "And my brothers and I were often left unattended for and uncared for. She wouldn't come home for months at a time, we would go hungry.
"And when she would come home, she would come home high and we would have to steal money from her pockets for food."
When Child Protection Services eventually stepped in, the family was separated. Her brothers were sent to live with relatives while Elle was made a permanent ward of the province and bounced around between foster and group homes.
"I remember the first day in my first foster home was terrifying," Elle recalls. "I still have nightmares about it. Everything was locked away in the foster home and I had bars on my window."
(Look behind the blinds and you'll see bars over the window at Elle's first foster home. Photo Elle)
It was around this time that she was first introduced to Robert Riley Saunders.
In her civil claim, Elle alleges that Saunders exercised complete control over all aspects of her daily life including where she would live, access to family members, connection to her culture and heritage and of course her finances.
---
"She did a lot of psychological damage to me, I'm still afraid of her to this day. I still have nightmares about it."
---
The claim also alleges that Saunders, "was verbally and emotionally abusive and undermined her belief that she might be entitled to any form of financial support from the state for her subsistence level of material well-being, such as food, clothing or shelter."
Three of the individual claims, including Elle's also name Siobhan Stynes, a team leader at the ministry and direct supervisor of Saunders, as being aware of and playing an active role in the abuse.
In her statement of claim, Elle accused Stynes of causing her severe psychological harm.
"She did a lot of psychological damage to me," Elle said. "I'm still afraid of her to this day. I still have nightmares about it."
(Siobhan Stynes, far right. Photo: Elle)
But judging by the proposed class action lawsuit, it wasn't just the social workers, it was also a failure of the system. Along with Saunders, the claim also names the ministry and the Director of Child Welfare as defendants.
The suit alleges that Saunders manipulated Indigenous youth into opening joint bank accounts at the Interior Savings Credit Union — the financial institution has also been named as a defendant in that case.
Money that was deposited by the ministry for youth in care — would then be transferred into his own personal account.
According to one of the individual claims, this theft happened under the direct knowledge of his supervisor Siobhan Stynes.
In her lawsuit, Elle alleges that, "as a result of Saunders' actions, her living situation was unstable and transient. Her physical and psychological health suffered as a result. And she was exposed to hunger, street homelessness, and illicit drug use."
"It's hard because you don't know where you're next meal is going to come from," Elle says. "I felt very un-validated at that point. I felt that my social workers had truly done what was best for me and that I was the one failing them and I was just becoming another stereotype."
---
Read more about the cases in British Columbia here:
---
According to Michael Patterson, the lawyer representing youth in the civil suits and class action who have aged out of the system, they've only scratched the surface.
He believes that as much as $3 to $4 million was stolen from more than 200 indigenous children in care of the province and that the fraud had been ongoing since as far back as 2008.
Speaking to the allegations in her statement of claim, Elle says, "This is a Canada-wide institutionalized racism issue. This isn't just one pair of social workers, this is happening to thousands of kids across the country. It's a lot bigger than we think it is and the more I become aware of Aboriginal issues, the more I become self-aware of the things that have happened to me and things that are ongoing."
---
Read to the bottom to see a poem written by Elle about her experience
---
Saunders was fired from the ministry in May of 2018, after an investigation concluded that he had used his position to take advantage of youth and deprive them of funds.
And while none of the allegations have been proven in court — the ministry has admitted to at least partial liability in some of the lawsuits.
The province alleges that Saunders confessed to the conversion of funds and that he was "negligent, committed misfeasance, fraud and breached fiduciary duties owed to children in care and that the youth suffered harm as a result."
They also agree that general damages and interests are appropriate for the victims.
But according to Elle, it's not about the money.
"I would like them to know the deep impact they had on youth. I want them to see the effects of what they did to us," she says. "Like I have to live in poverty because of their decisions, I have to live with mental illness, I have to take six pills a day. I want them to see that kind of thing."
(Elle age 24, taken in downtown Kelowna. Photo: Cullen Crozier/APTN Investigates)
The Kelowna RCMP are investigating the allegations. No charges have been laid. The allegations made in the various lawsuits have not been proven in court.
The province would not confirm or deny if Siobhan Stynes is still employed at the ministry.
Neither Saunders nor Stynes have filed a statement of defense and APTN Investigates could not reach them for comment.
As for Elle, she's married now with a child of her own. She attends counselling daily to deal with her trauma with the hope of one day achieving her post-secondary education.
But more than that she hopes that other youth in care will hear her story and not have to go through the same abuse.
"Why I wanted to share my story is because there are so many other youth like me and if they can sympathize or empathize, if their rights are being violated I want them to know they are not alone," she says.
---
No Longer Will We Hide
By Elle
A loud strike did not always come from a drum,
but rather a hand,
and the lingering, stinging hum,
of a smarting wound from a fully grown man
Hide did not always mean an animals skin,
especially as a small child
it's what you did when mommy's patience wore thin,
and those were just the days that were mild
my emotions are stretched tight,
like the hide of this spirit,
I offer prayers at night,
Please someone, anyone hear it
Foster care was not my sanctuary,
Stolen from my culture,
foster care was quite contrary,
Stolen by government vultures.
The court system provided no solace,
when I reported my rape,
Instead they told me it was 'restorative justice',
and they called me a fake.
The sweat lodge was the only place,
to openly share those feelings,
To open raw wounds in a safe space,
and allow the wounds to start healing.
In the grandfathers' breath my wounds would seep,
washing all those painful memories,
and though my eyes may leak,
it awakened me to treachery
For our rights I had to rise,
like my hand in honour songs,
to rip open government lies,
and to hold our nations strong.
Out of the closet I came,
a whirlwind of emotions,
Two spirit was my identities name,
love for my wife as deep as the ocean
Together my culture we learn,
undoing government abduction,
for lost time I mourn,
lost from familial destruction
A constant loop of hope and despair,
facing institutionalized racism
as our nations we repair
tearing down racist systems.
The breath of the sweatlodge grandfathers releases my pain,
and replaces it with pride.
No longer does the sound of a strike mean pain,
No longer will I hide,
No longer will I hide
---