31-year old suspect in deaths of two Métis hunters denied bail
A 31-year-old man from Glendon, Alta., is the prime suspect in the fatal shooting of two Métis hunters in northern Alberta last week.
Anthony Michael Bilodeau is charged with two counts of second-degree murder after police found the bodies of Jake Sansom, 39, and his uncle, Morris Cardinal, 57, north of Glendon on March 28.
The two were hunting for food for their families during the COVID-19 pandemic.
"I have full confidence in the police and I know they will make sure Justice is had," Jake's widow Sarah Sansom said in a post on Facebook.
"So we just need to make sure that these two amazing Men who we are all so lucky to have in our lives that they are just remembered as beautifully in the news then they are in life."
Jake, of Nobleford, Alta., and Sarah have three young children. Cardinal was from nearby Bonnyville, Alta.
(Jake Sansom was a volunteer firefighter in Nobleford, Alta.  Facebook)
Bilodeau was denied bail Thursday morning. He remains in custody and his next court date is scheduled for April 9.
RCMP allege the crime occurred at 9:30 p.m. on March 27 when two vehicles came to a stop on a rural road near Glendon, a village 210 km northeast of Edmonton.
"A verbal then physical confrontation ensued with the occupants of the two vehicles. A third vehicle arrived on the scene and several shots were fired by the accused which resulted in the death of the victims," RCMP said in a release.
"On March 28, 2020 at about 4 a.m., Bonnyville RCMP responded to a call from a citizen who reported two deceased males on the road outside of a parked truck. Autopsies were completed at the Office of the Chief Medical Examiner on March 31, 2020 and the deaths were deemed as homicide."
RCMP said Bilodeau turned himself in to their Bonnyville detachment but didn't say when that occurred.
Providing tips
Police thanked the public for providing tips in the investigation.
Sarah Sansom asked family members and friends to "refrain from rumours and what ifs" at this time so as not to "jeopardize the case."
"…We need to make sure that they are honoured and remembered for the incredible men that they are, not for that horrific day," she wrote on Facebook.
"Thank you for all your love and stories and please share the shit outta all those. They were loved for a reason and we need to make sure everyone feels their love cause they are here and they are around us every min of everyday."
The pair, who have the right to hunt on Crown land, spent Friday together after bagging one moose and giving it to Cardinal's family. Jake was a heavy-duty mechanic and volunteer firefighter in Bonnyville.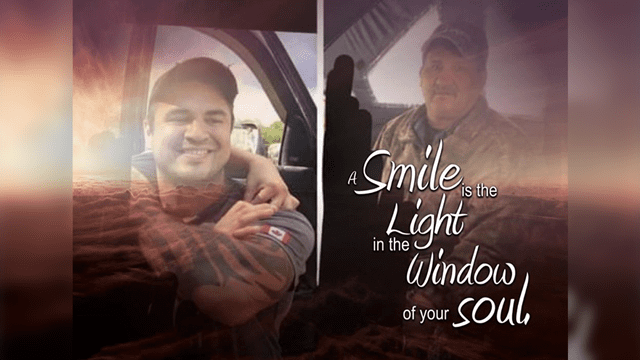 (A memorial post of the two men from Facebook.)
Cardinal had five grandchildren and three stepchildren.
"The family of Jacob Sansom and Maurice Cardinal have asked for privacy as they grieve the loss of their loved ones," police added in their release.
"The investigation continues. Should new details surface they will be provided by means of an updated media release."
Two GoFundMe campaigns are raising money to help the victims' families.
In addition, the Métis Nation of Alberta (MNA) said it would provide immediate financial aid.
"The murders of Jake Sansom and Morris Cardinal are tragic and unacceptable," MNA president Audrey Poitras said in a release.
"Alberta Métis, like all Albertans, want to understand why this happened so we can process our collective grief."
Poitras noted both men were on the land exercising their Métis rights to support their families.
"These Métis men should be alive today," she said. "Our deepest condolences go out to Jake and Morris's families.  The Métis Nation within Alberta mourns with you."