The Disappearance of Natasha Lynn Starr

The Millennial Scoop is the ongoing assimilation of Indigenous children and youth through the Canadian government's child welfare systems. Natasha is a Millennial Scoop survivor from Manitoba's Child Welfare System. This is her story.

Subscribe here: Apple PodcastsSpotifyGoogle PodcastsAmazon Music
Or copy our podcast feed to your favorite player: 

Produced and voiced by Natasha (Reimer) Okemow, edited by Damian Joseph. Cover art by Jesse Andrushko. Song: Fire 2 the Water – Written and performed by Leonard Sumner.

Special thanks to APTN's Director of News and Current Affairs Karyn Pugliese and Executive Producer Cheryl McKenzie.
---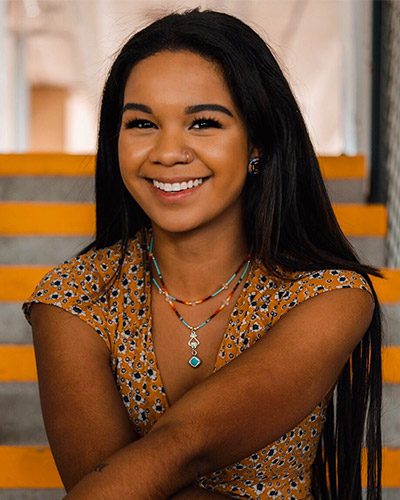 Photo credit: Ryan Oliverius
Natasha (Reimer) Okemow
Natasha is Indigenous and Caribbean and spent most of her life  bouncing around different group and foster homes. She graduated from the University of Winnipeg in 2019 with a Bachelor of Arts degree majoring in Criminal Justice and minoring in Sociology and Conflict Resolution Studies. Natasha founded the peer support group called FOSTER UP in Winnipeg for youth who are aging out of the foster care system and trying to navigate post-secondary education. 
Instagram: @natashaokemow | Twitter: @okemownatasha
---
Chaos and Confusion
Welcome to this new place
New face upon new face
Who are these people remains a mystery
Just like you and your life history
But you have to make do with this weird situation
And accept that you'll never get a full explanation

Episode 1
---
Childhood Interruption
Misplaced trust
Childhood years fade to dust
Turns out that mommys and daddys don't stay
When the going gets tough they walk away


Episode 2
---
System is Whack
Meeting strangers who share the same DNA
Struggling to find the right words to say
I don't know if I can do this
Reuniting is far from being all beautiful and bliss
I thought I was ready I really did
But instead I built up a wall and hid

Episode 3
---
Identity Crisis
I am Indian who had my identity erased at the age of two
Place in a home that wasn't a right fit but forced to make due
I am Indian that was taken in the millennial scoop
Better known as a systematic curse an ongoing loop

Episode 4
---
Truth Hurts
Maybe one day I won't be triggered
And reminded of the past
Maybe one day I'll find peace
And a home at last
Maybe one day
Maybe
Maybe

Episode 5
---
Podcast trailer
In Canada, there are tens of thousands of kids in the child welfare system. Manitoba has over 11,000 kids in care, which is the highest in the country. Indigenous youth make up 90 per cent of that number. Natasha Lynn Starr was one of them.
The Disappearance of Natasha Lynn Starr debuts on September 9, 2019.
August 28, 2019