Insider offers glimpse into new trade agreement and what it means for Indigenous people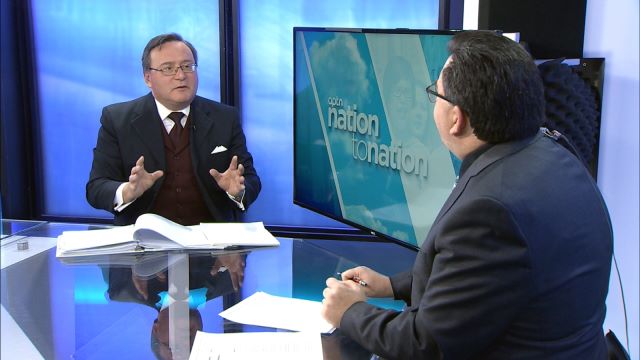 Canada ended up with the shield but not the sword for Indigenous peoples in the new trade agreement that was officially signed in Mexico earlier this week.
That's how Wayne Garnons-Williams described the United States-Mexico-Canada Agreement.
"In the middle of negotiations we realized we're not getting very far with the sword aspect of this," said Garnons-Williams, who was in on those negotiations with the Americans and Mexicans as a tribunal member of the NAFTA Secretariat.
The sword was a three-part Indigenous chapter: A recognition that Indigenous peoples are original traders, a breakdown of who the inter-tribal traders are and a committee to enforce it.
The Americans wouldn't go for it even though Canada, along with Garnons-Williams, worked on the chapter for over a year.
---
---
Canada settled for the shield: the protection of existing rights, like Section 35 of Charter of Rights and Freedoms and self-government deals.
"What Global Affairs (Canada) did was said 'okay, we're not going to win this fight this time around for whatever reasons,' potentially it was the White House administration. Maybe (with) a new administration things would be different," said Garnons-Williams, who is also a lawyer and principal director of his law firm, Garwill Law Professional Corp.
But he said Canada was able to take pieces of the sword and sprinkle it throughout the agreement.
There were three specific elements Canada was able to get it: textiles, the environment and protections for small and medium business, which Garnons-Williams explains in detail in his discussion with host Todd Lamirande that airs tonight.
Lamirande also sat down with NDP MP Charlie Angus who continues his fight against the Trudeau government to stop its own fight against First Nations children in court.
Angus was able to pass a non-binding motion in the House of Commons Wednesday that called on the federal government to fully support the Canadian Human Rights Tribunal's decision on First Nations child welfare, including the feds dropping its judicial review of a compensation order.
"Parliament, yesterday,  called on the federal government: call off the lawyers, respect the human rights tribunal," said Angus.
As well, Jenica Atwin, Fredericton's newly elected Green MP, spoke of her Indigenous upbringing even though she herself is not, as her stepfather is a prominent elder.
Atwin said she has always applied her household teachings throughout her life and will continue that in Ottawa.
"The lens that I applied, even to my education growing up, I was asking kind of questions in the classroom that most of my teachers were kind of unprepared to answer, challenging my classmates," she said.
Catch all these interviews tonight on Nation to Nation at 6:30 p.m. ET. This story will also be updated Thursday evening with entire broadcast shortly.
Next week our political panel is back to discuss what a year it's been and also the sudden resignation of Conservative party leader Andrew Scheer Thursday afternoon.