Deal near for 40,000 survivors of federal Boarding Homes Program
Canada will compensate those sent to suburban schools in four provinces between Sept. 1, 1951 and June 30, 1992.
---
Warning: This story deals with disturbing subject matter.
Contact the Hope for Wellness Helpline for support at 1-855-242-3310.
---
It's another chapter missing from Canadian history books: The Indian Boarding Homes Program.
And, for Reginald Percival, it's another way the federal government forced Indigenous peoples to assimilate into western culture and exposed them to life-altering harm.
"I was slapped around, locked in rooms," said Percival, who at 13 was shipped to school in Surrey, outside Vancouver, from his small, tight-knit First Nation in northern B.C.
"I once spent 10 days in a closet. It is not a good memory for me."
Without schools in their communities, Indigenous youth were forced to live with suburban families they didn't know to continue their education.
Percival said it was run by the Department of Indian Affairs and made up for a lack of Indian residential schools.
"I think the goal was – as it still is today – to kill the Indian in the child," he said in an interview.
"Many of my (fellow survivors) were abused physically, sexually, mentally. And some did not return to their communities."
But in 2015 when the government settled a class-action lawsuit to compensate residential school survivors, an estimated 40,000 boarding home survivors were excluded.
So Percival, now 68, began a multi-year campaign to seek justice. He also became the lead plaintiff in the Indian Boarding Homes class-action lawsuit against Canada.
---
Now, both sides are hoping a Federal Court judge will certify their proposed settlement agreement in September.
The Trudeau government, as it did with approximately 150,000 residential school survivors, 200,000 federal day school survivors, 19,000 Day Scholars and 20,000 '60s Scoop survivors, has offered millions of dollars in compensation.
Lawyer and spokesperson Doug Lennox said the proposed agreement would recognize degrading treatment, sexual comments, sexualized provocation, and unreasonable or disproportionate acts of punishment and abuse such as confinement, lack of food, and unpaid labour.
"These were individuals who were placed in private homes during the period of  Sept. 1, 1951 and June 30, 1992, for the purpose of attending school, other than a post-secondard institution," said Lennox,who is with Klein lawyers, one of two firms involved in the class-action lawsuit.
"Reg Percival was taken from his community in northern B.C. and sent (1,300 km) down south to go to high school and placed with a family. It was done through the Department of Indian Affairs for educational purposes," Lennox added.
"They would have been in remote communities; it would have been a community that didn't have a high school."
Like Percival, the students were mostly between the ages of 13 and 15 when they were relocated to southern cities in four provinces: B.C., Alberta, Ontario and Quebec, Lennox said.
---
READ MORE: 'Agreement-in-principle' reached in Boarding Home class-action lawsuit with feds
---
There would also be compensation, the lawyer added, for "being forced to consume alcohol, narcotics and other noxious substances."
"There was a lot of ways kids were mistreated. They were away from home and on their own," Lennox said.
"The employee of Indian Affairs who placed them with a family should have been checking in on them."
Percival said he met his "Indian Agent" only once, at the beginning of the school year in 1968.
He said students were verbally, physically and sexually abused by non-Indigenous students, teachers and families they boarded with.
"They didn't get into trouble," recalled Percival, who still can't talk about it without crying. "We did. When police were called, they threatened us.
"I never felt safe."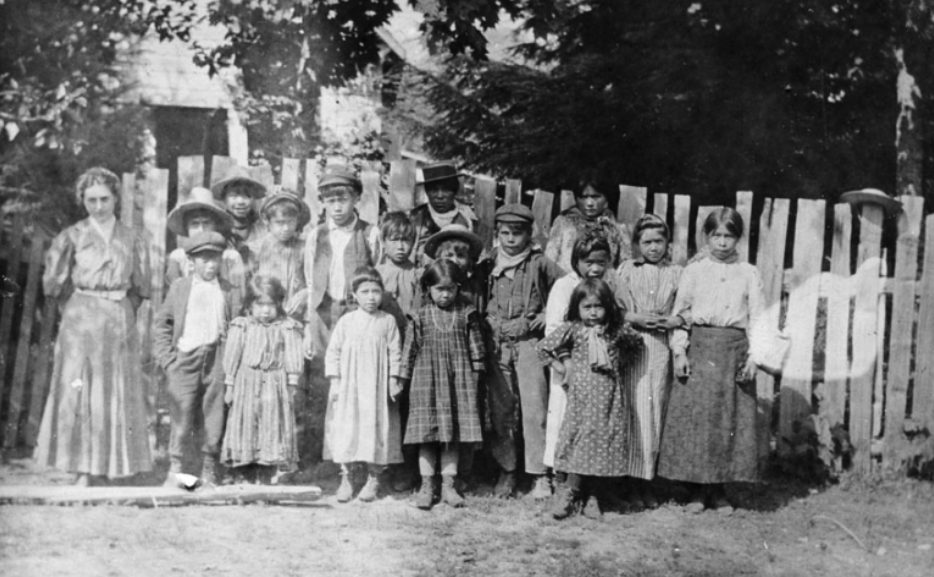 ---
Percival said he was sad, lonely and scared.
The isolation was made worse when he said he was forbidden from contacting his family in Gitlax̱t'aamiks (formerly New Aiyash) a rule that drove him to the brink of dying by suicide.
"The man at the (first) home I stayed at said: 'I've got the Indians here because I want my tax dollars back'," Percival recalled.
"We rarely got fed and I was basically hungry all (of) the time."
Percival had already spent most of his life "under government" – in an Indian Hospital as a toddler and residential school as a youngster.
"This was my life," he said, noting he still gets flashbacks and suffers from post-traumatic stress disorder. "It wasn't pretty."
---
Meanwhile, the renamed department of Crown-Indigenous Relations said it has no idea how many private homes it funded as boarding homes, a spokesperson said in an email to APTN News.
"Under the Indian Boarding Homes Program, Canada paid room, board and other expenses for children residing outside of their home communities to attend school," the email said. "The rates and eligible expenses evolved over time."
The dollar figures weren't readily available, the spokesperson added.
The schools also received funding to accept and educate Indigenous students, Lennox said.
Percival said he has asked the government several times to make a national apology, something the spokesperson mentioned.
"The Government of Canada remains committed to addressing the wrongs of the past and bringing a meaningful resolution to this dark and terrible chapter of Canada's history," their email said.
"We promise to carry the important request for a national apology with us so it can be considered as the work towards reconciliation with all Indian Boarding Home Program Survivors continues."
Lennox noted there is "no cap" on the multi-million-dollar compensation fund because Canada has offered to pay all eligible survivors who come forward. The government is also making $50 million available for a foundation in the name of the program.
Lennox said the agreement proposes to pay each eligible survivor $10,000, and a further $10,000 to $200,000 depending on the severity of the abuse they suffered.