Worrying' and 'extremely concerning' C-IRG methods prompt calls for better RCMP oversight, reform
Federal watchdog received nearly 500 complaints from unit's areas of operation in B.C., but only 5 led to discipline
---
Reading the Community-Industry Response Group's founding policing plans, prominent expert Kent Roach was reminded why the RCMP Security Service, infamous for its dirty countersubversion campaigns in the 1970s, was disbanded.
"There were some things in the documents that I found disturbing," said Roach, a law professor at the University of Toronto.
For instance, he was alarmed by the C-IRG's references to the Integrated National Security Enforcement Team (INSET) and the Integrated Terrorism Assessment Centre (ITAC), federal counterterror units formed in the wake of 9/11.
"The RCMP, in these documents, seem to think that is relevant. And that, I think, is worrying," he said. "It is always of concern when protests by Indigenous people, protests by those opposed to pipelines, are tarred with the brush of terrorism."
The C-IRG was established by the RCMP in British Columbia in 2017 to monitor Indigenous-led opposition to pipelines and, if needed, respond to active resistance.
APTN News spent months researching the unit for an investigation titled Behind the Thin Blue Line, unearthing thousands of documents, including the outfit's founding plans.
Roach is well known for his writing and expertise on policing and security issues. His most recent work, Canadian Policing: Why and How It Must Change, was published last month.
Roach was involved in the post-9/11 debates about national security reform — including adding terrorism to the criminal code. He said care was taken then to ensure even illegal protests weren't included in that definition.
Roach said invoking terrorism and extremist violence in the context of policing resistance to pipelines "needlessly raises the temperature."
---
Read more:
'Unrestrained' B.C. RCMP unit should be reined in or phased out, opponents say
C-IRG top Mountie responds to critics, denies allegations facing squad
---
He was similarly struck when the documents singled out First Nations activists with their last names in all capital letters — a standard way of describing criminal suspects — alongside references to their supposed "extreme views."
"Terms like 'extreme views,' I don't think are helpful," said Roach, "and frankly remind me of the reasons why, way back in the 1980s, we took the security intelligence mandate away from the RCMP."
Back then, there were reports the RCMP Security Service had files on some 800,000 Canadians, Roach said.
The spy agency also had an ultra-secret bully squad — referred to in one internal memo as the "dirty tricks department" — responsible for agitation, assault, robbery, abductions, a dynamite heist and one notorious barn burning.
In many cases, RCMP spies targeted law-abiding groups advocating for change through the democratic process, such as the National Indian Brotherhood, the predecessor of today's Assembly of First Nations, which was subjected to break-ins and infiltration by police moles and agents provocateurs.
After the squad's illegal deeds were exposed, a royal commission concluded the unit was either unable or unwilling to differentiate between democratic dissent and hostile subversion. It had fallen into a pattern of criminal activity at an institutional level.
The Security Service was targeting political parties, left-leaning press, lawyers, Black and Indigenous activists with a relentless regime of smear campaigns, espionage and countersubversion.
It had to be stopped, the commission decided, and the Canadian Security Intelligence Service (CSIS) was formed to replace it in 1984.
Hundreds of complaints lodged
While the C-IRG's operations have not mounted to the level of arson, break-ins and kidnapping, the unit is increasingly hounded by allegations of institutional illegality, brutality and trampling of civil liberties.
The Mounties are being sued separately in all three of the C-IRG's major areas of operations by prominent activists who allege some form of either brutality, intimidation or institutional wrongdoing.
The claims haven't been tested in court, and the unit's commander, Chief Supt. John Brewer, denied them in an interview with APTN. Brewer insisted that all allegations against his unit are investigated, but he refused to say whether anyone has been disciplined.
So APTN contacted the RCMP's watchdog to verify.
The Civilian Review and Complaints Commission (CRCC) said it received nearly 500 complaints about police conduct from areas where the C-IRG has been active.
The CRCC received two complaints related to the Trans Mountain pipeline expansion, where the squad has been battling the Tiny House Warriors near Blue River in the B.C. interior. It received 228 complaints from unceded Wet'suwet'en territory and 263 from the Fairy Creek watershed.
Two more complaints came from a protest against Cooper Creek Cedar in Argenta, B.C., and one stemmed from a traffic stop by a C-IRG member in Houston.
---
Of all these, the commission says 124 qualified for further investigation — yet only 18 have been investigated thus far, with discipline meted out in just five cases.
Three of these disciplined Mounties received "operational guidance on unauthorized equipment" for wearing the controversial Thin Blue Line patch.
One officer got "a performance log document," which follows their personnel file for two years, for "a driving irregularity and unprofessional attitude." The final disciplined officer received the same thing for a "failure to provide medical assistance to those in custody."
The numbers show that slightly more than 10 per cent of accepted complaints have been probed so far, while only one per cent of complaints overall have led to discipline. In those cases, the punishment dished out was minor.
"Unfortunately, that low rate of completion is not surprising," said Roach. "You have a complaints body that is underfunded and underpowered, cannot investigate on its own and probably has its hands full with a doing a systemic review."
He said the police are often subject to "after the fact" accountability measures like lawsuits launched to ensure police follow the same rule of law they're purportedly enforcing.
But it isn't an ideal form of accountability, he said, explaining the Mounties have limitless cash to fight legal battles, and there's no guarantee they'll abide by rulings.
"To me, it is a symptom that something is fundamentally wrong with our policing, and that we have to look at ways where we can avoid these long, protracted battles about abuses after they happen," he said. "We need to think about how to prevent them in the future."
Need for better oversight
New Democrat MP Alistair MacGregor, the party's public safety critic, agreed the stories emerging about the C-IRG cry out for better civilian oversight and policing reform.
He said it was "extremely concerning" to see some of the unit's tactics — such as using pain compliance, exclusion zones and intrusive belongings searches.
"I think the RCMP certainly has a mandate to organize its members as it sees fit. But I'm always concerned with how those members carry out their duties," he said. "The fact that we continue to see these types of stories coming out of RCMP operations show that the force as a whole does need greater oversight."
He agreed with Roach that the CRCC is underfunded, understaffed and doesn't have the statutory powers to "elicit satisfactory responses."
The federal Liberal government recently pledged to create a new review agency that would be adequately funded and staffed, and promised to strengthen the force's management advisory board.
MacGregor said he hopes it works.
"The current system is far from adequate," he said. "It does not have a strong representation with Indigenous communities, with Black Canadians, with racialized Canadians."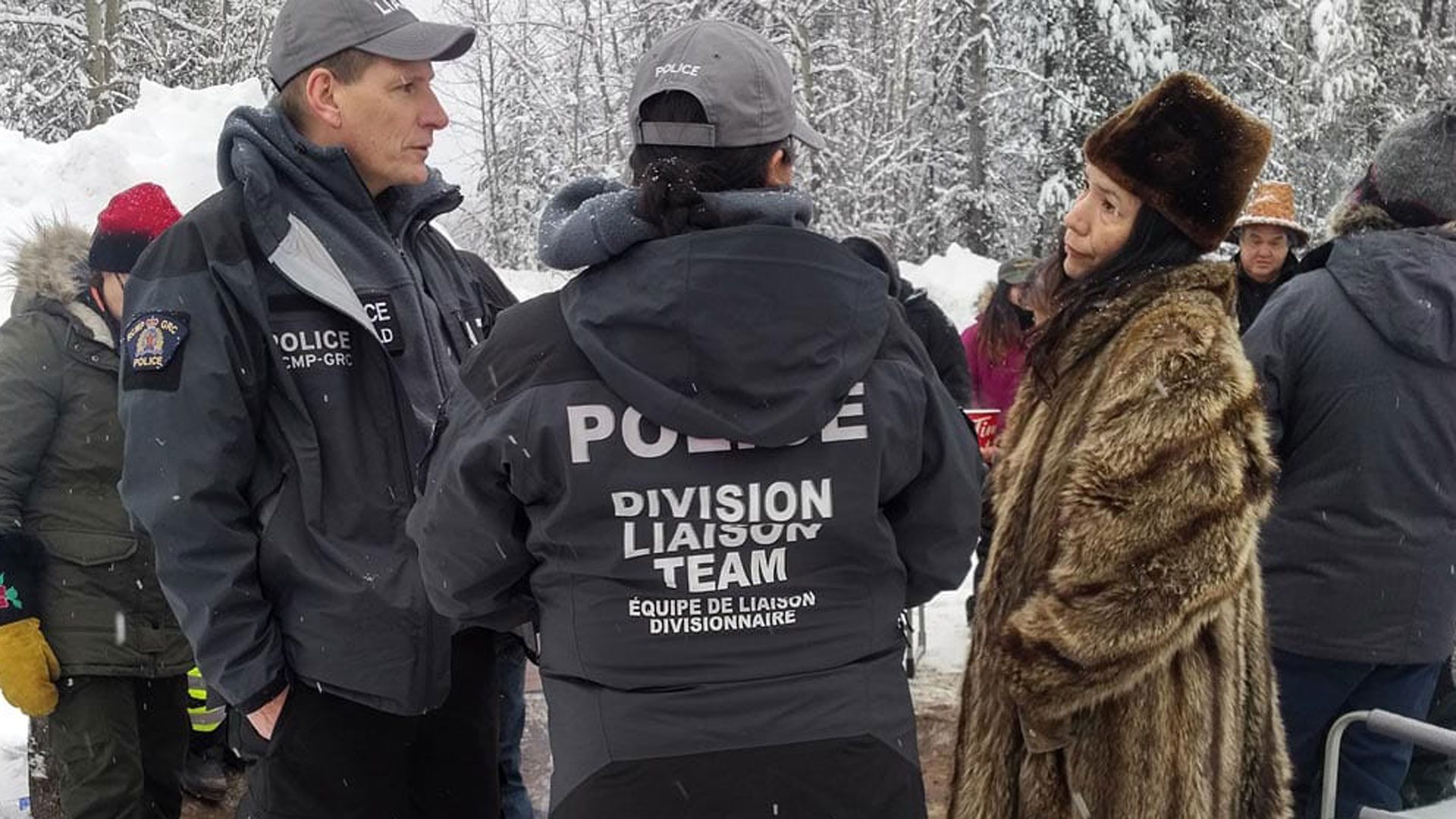 ---
Roach agreed, adding that the C-IRG's more controversial tactics and operations call for increased ministerial accountability too. He said both federal and provincial ministers seem to be using police independence as a shield against criticism.
"Wearing greenish, military style fatigues may be different than the red that was worn in 1873 but I think probably sends the same message, which is, ultimately, 'We have the force to defeat you.' And that is a very colonial message. It's not a message that is conducive to constructive solutions," said Roach.
"It's within the responsible ministers' purview to say, 'Look, Indigenous people are telling us that you're coming in like an army. I don't want that. I want something that is more low key and something that is more conducive to peaceful solutions and eventual reconciliation'."
APTN requested multiple interviews with B.C. but the province refused. It also refused to directly answer a detailed list of questions.
Public Safety Minister Marco Mendicino's office did not respond to multiple email interview requests from APTN.
His parliamentary secretary, Pam Damoff, also did not make herself available to be interviewed.