COP21: Still a long road ahead in helping to save the world from climate change say Indigenous activists  
Long road ahead for countries attacking climate change
(Clayton Thomas-Muller (far left) in Paris for the United Nations COP21 talks on climate change)
Brandi Morin
APTN National News
Some Indigenous groups are skeptical that mere signatures on the COP21 climate change document will actually save the planet from global warming.
On the weekend, the United Nations gathering saw countries come together to commit to curb greenhouse gas (GHG) emissions and agree to take action on other measures to decrease the threat of climate change.
Indigenous activist Clayton Thomas-Muller just returned to Winnipeg, MB from attending the meetings.
Indigenous delegates from around the world attended the event as observers and were kept outside of closed door sessions that included Indigenous rights being placed on the cutting board.
Even though they didn't have a seat at the table, Thomas-Muller said Indigenous Peoples still showed up to make sure their voices were heard and considered.
Thomas-Muller believes there was an underlying agenda led by corporations and financial institutions hungry to get ahead of and get a stake in the green economic boom that is expected to drive out the fossil fuel era. And with the commodification of nature comes a never ending cycle of harm to Mother Earth, he said.
"Indigenous Peoples refer to it as the "greedy economy" (instead of the green economy) because markets have hit the ecological ceiling," he said. "The ones responsible for climate change in the first place-the big oil corporations, coal companies etc… and developed countries like Canada and the U.S. actually get to have a financial mechanism to buy their way out of compliance (to the treaty)- and even expand fossil fuel regimes like the tar sands."
In the end Indigenous rights were included in the pre-amble (the non-legally binding aspect of the treaty), as well as mention of Indigenous traditional ecological knowledge in the main text.
According to Thomas-Muller, mitigation options of the Paris agreement leave room for the fossil fuel industry and high polluting countries to continue their GHG emitting activities by investing in "false" solutions like carbon offsetting.
All while leaving pristine Indigenous lands and ecosystems up for the taking, which to Thomas-Muller, is colonialization all over again.
"For us, these corporations represent a neocolonial force that is just redoing the same old story- business as usual as far as colonization,"he said.
"Except instead of Jesuit priests in black robes we have carbon offset brokers and corporate CEO's in black suits coming into our communities promising a quick fix solution to the socio economic woes that we face through participating in these false solutions and participating in the drivers of climate change in the resource gain."
As far as Canada is concerned, with recent championing of implementing the United Nations Declaration on the Rights of Indigenous Peoples and the Trudeau government boasting about commitments to climate action at COP21, has yet to prove whether it's serious about these sentiments.
And activists like Thomas-Muller will continue work at home on the ground in Canada to hold governments to account.
"Trudeau made a lot of grandiose gestures that appeared to lay a great framework. But the Trudeau government still continues to support the expansion of Alberta tar sands, the expansion of fracking across the country, while threatening local municipalities water sources from coast to coast to coast – they continue to support controversial tar sands infrastructure that promises to hardwire our economy into dirty energy for the next century during the era of the climate-crisis so they have to stop expansion," he said.
Now back at home from Paris in Treaty 6, near the epi-center of Alberta tar sands operations, Crystal Lameman from Beaver Lake Cree Nation (BLCN) said she is happy with the COP21 outcome.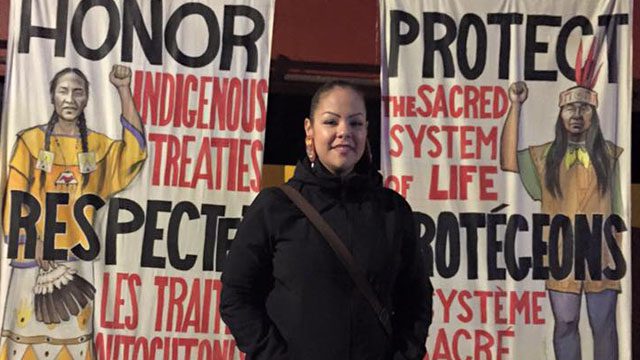 "The Paris Accord is a treaty, it's the first time since the UN Declaration on the Rights of Indigenous Peoples defined the minimum standard, so further to that a treaty is a treaty and whether it's legally binding text or not, we need to remember that the pre-amble is the framing of the operative and the framing of the operative that is left for interpretation; it's common knowledge that when people cite the UN declaration they almost always go to the preamble- so this is a win."
BLCN has been in litigation with industry and governments for years in attempts to halt further development on their traditional territory. Although there is talk regarding the imminent death of the fossil fuel industry, Lameman thinks there's still a long road ahead in the fight to keep the oil in the ground.
"No, it's (fossil fuel industry) not over," she said.
"Those that are jumping for joy need to remember some of the very bold statements that Prime Minister Trudeau and Premier Notley both gave when Obama rejected Keystone XL- they voiced their disappointments. Notely furthered that statement and said that she would get the oil to tide water. This is an economy that this province and this country relies on and the oil and gas economy is not going anywhere," said Lameman.
Lameman does believe that the governments are focused on transitioning to renewable energy resources, but it's not something that's going to happen overnight.
But as of late, she's been impressed with the government's efforts to build a new relationship with Canada's Indigenous Peoples. And even though there is still a lot of work ahead, she's optimistic the tides will turn for the better.
"We always have to be willing to move forward," said Lameman. "We always have to be willing to better the situation of our people. And if we begin to shut the doors (to working with governments) then we're accepting defeat. I feel like I have a renewed hope in these governments. These governments taking a stand for the rights of Indigenous Peoples and actually putting their words to action gives optimism, but at the same time we don't stop, we push harder."
When it comes to addressing climate change Thomas-Muller said Indigenous Peoples hold a lot of the solutions and are willing to help if world leaders take this knowledge seriously.
"I think that when the governments of the world begin to listen to the voices of indigenous peoples and recognize and respect their sovereignty and right to self-determination and can hear us-those solutions will be shared across the world and we will see ecosystems be renewed and will see life come back in all of these places," he said.