Attawapiskat Chief takes to social media to warn of 5 more suicide attempts
Attawapiskat Chief uses Twitter to warn of more suicide attempts
(The community of Attawapiskat is still dealing with young people threatening to take their own lives. Photo: Jason Leroux/APTN)
Annette Francis
APTN National News
ATTAWAPISKAT — The Chief of the Attawapiskat First Nation on the shores of James Bay has taken to twitter to announce more suicide attempts by young people in the community.
Bruce Shisheesh took to twitter Friday to thank people from around the world for supporting Attawapiskat and then stating "5 more children yesterday evening."
Shisheesh could not be immediately reached for comment.
We are grateful for the well wishes for Attawapiskat from around the world as the numbers keep climbing. 5 more children yesterday evening

— Bruce Shisheesh (@BruceShisheesh) April 16, 2016
It has been a week since the community 700 kilometres northwest of Thunder Bay declared due to a rash of suicide attempts by children, youth and elders in the community.
In an interview Friday night at a social which was planned by Shisheesh himself, the chief told APTN the community has been overwhelmed with everything.
"We're trying to stay focused and we're trying to stay positive," said Shisheesh.
The weekend began with a candle light vigil, where about 200 community members gathered at the church and walked around the community, singing and praying along the way.
Two years ago Georgina Wesley's 14-year old son attempted suicide. Her family joined the vigil to support the community.  Wesley said she feels for the families and knows what they're going through. Wesley wants the children and youth to know people care.
"There's always somebody there to listen, they will be there and hopefully that help comes soon" she said.
On Saturday, approximately 40 youth gathered at the community centre, tasked with setting up a youth committee.
Sky Koostachin, 21, said the crisis affects everyone in the community and that is why she's stepping in to offer her help.
"I know the responsibilities of the youth committee and I am willing to help drive it to success," said Koostachin. She said a youth drop-in centre will be a top priority for the committee.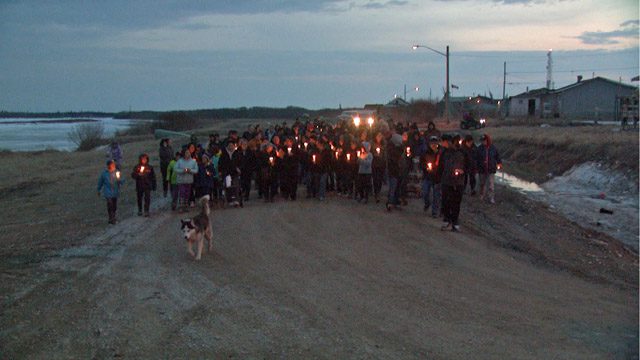 Community member Robert Sutherland is also taking a lead in the creation of the committee.  Sutherland was called to help with security last weekend, when children were brought to the hospital due to suicide attempts. He said the crisis has been a wake-up call.
"Some of these kids are close to the age of my kids," said Sutherland. "I have two boys, five and six, and I started thinking is this how my boys are going to be when they reach their age."
The community is now waiting for a visit from the riding's member of Parliament Charlie Angus and the Minister of Aboriginal Affairs Carolyn Bennett.
Shisheesh would also like the see Minister of Health Jane Philpott.
@janephilpott are you coming to Attawapiskat with @Carolyn_Bennett, @CharlieAngusNDP on Monday? be nice to see u 3 together

"We're looking for commitment because Attawapiskat is lacking resources to help our young people and that's why we need the federal government to get on board, the provincial government did their part," said Shisheesh.