AFN chief facing resignation calls over 'sick' naked legs photo with emoji by crotch
Assembly of First Nations British Columbia regional Chief Shane Gottfriedson apologized and deleted the photo late Monday afternoon
(Assembly of First Nations National Chief Shane Gottfriedson, pictured, is facing calls for his resignation over a photo he posted on Instagram. Photo/Facebook)
Jorge Barrera
APTN National News
The Assembly of First Nations regional chief responsible for the murdered and missing Indigenous women portfolio is facing controversy over a "sick" and "degrading" Instagram photo showing his bare legs along with a googly-eyed and red-lipped emoji tagging his crotch.
Assembly of First Nations (AFN) British Columbia regional Chief Shane Gottfriedson apologized and deleted the photo late Monday afternoon after he was contacted by APTN National News about the issue. The photo was uploaded to his Instagram account on Saturday afternoon.
The Native Women's Association of Canada (NWAC) said it was "disturbed" by the photo.
"This is a public profile held by a member of the AFN who, as the portfolio holder for missing and murdered Indigenous women and girls (MMIW), must be thoroughly familiar with the cultural and political implications of this content," said the statement from NWAC executive director Lynne Groulx. "We know how this would be dealt with in our offices. The AFN's reaction to this incident will be strongly indicative of how they put their own policies into action."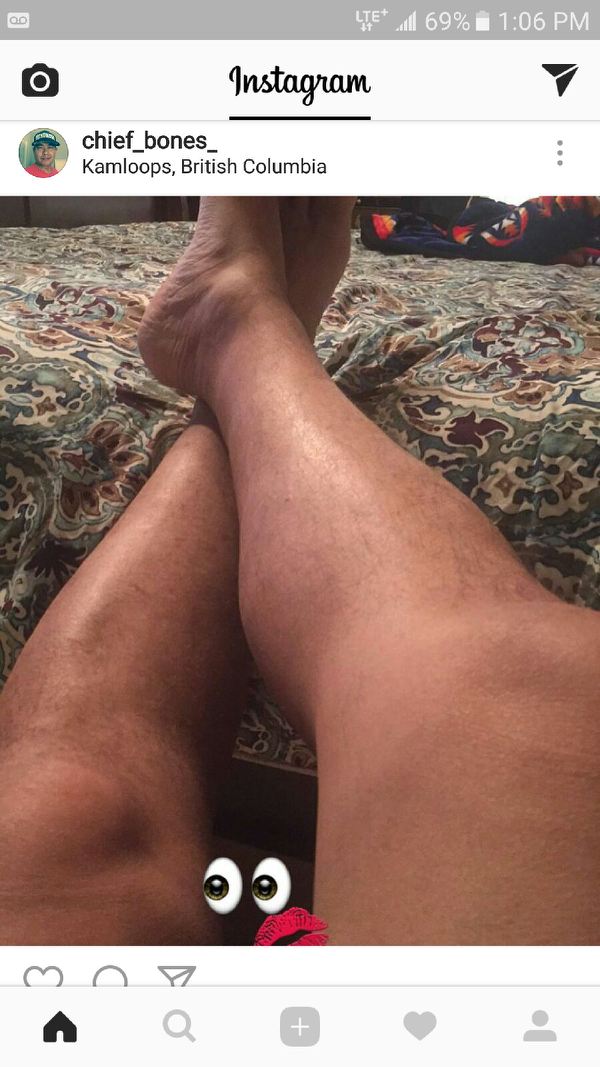 The photo began circulating on Saturday afternoon shortly after Gottfriedson posted it to his Instagram account which has 743 followers and includes a reference to his role with the AFN in the bio. The photo had three likes from two women and one man before it was deleted.
Gottfriedson told APTN he immediately deleted the photo after a reporter texted him seeking comment. The regional chief said he planned to apologize to the AFN women's council during a meeting on Monday evening.
"I think if you follow me on social media, I take a lot of pictures, I have taken a lot of pictures like that in the past and I think that is the first time I put the googly-eyes and the lips there," said Gottfriedson. "It was inappropriate. I apologize if it offended people. I was wrong…it was a mistake and I apologize for that….It'll never happen again."
His apology isn't enough for Bernadette Marshall, vice-president of the Nova Scotia Native Women's Organization. Marshall said Gottfriedson needs to step down from the MMIW portfolio.
"(The photo) is sick. That is degrading to women. That is insulting. I'm not very happy with it. He should be removed from his portfolio," said Marshall, in a telephone interview while she attended the one-year anniversary celebration of the Jane Paul Mi'kmaq Women's Resource Centre in Sydney, NS. "I don't think an apology is even warranted. He should just be removed."
Elsipogtog First Nation Elder Josie Augustine, who works with high-risk women by providing healing and counselling, said she was shocked by the photo.
"Number one, he has to apologize to his mother because he forgot he came from a woman," said Augustine, who was also at the anniversary celebration of the resource centre. "He only shows what he thinks of women with the lips down there and it shows what he can do with women or what he thinks of them. You know what, that is very disgusting, it is disgusting."
April Thomas, an Indigenous rights activist with the Secwepemc Nation, said she worked with Gottfriedson in the past when he was chief of the Tk'emlups Indian Band by Kamloops, B.C. Thomas said she wasn't surprised by the photo.
"He has always conducted himself in this manner, even when he was chief he used to crack dirty jokes," said Thomas. "He obviously needs to step down. He is not the right person to lead our people, especially when we are dealing with murdered and missing Indigenous women when we want to get taken seriously as nations….What he is doing makes a mockery of all our people."
Rob Innes, an associate professor in the department of Indigenous studies at the University of Saskatchewan currently researching Indigenous masculinities, said Gottfriedson's photo carried shades of the disgraced New York Congressman Anthony Weiner's sexting scandal and the video of Donald Trump bragging about sexual assault which surfaced during the last U.S. presidential election.
"For a politician in charge of the murdered and missing Indigenous women portfolio it is highly inappropriate," said Innes. "We kind of expect more from our politicians, especially for a politician in the position he is in. That is why there was so much outrage over Trump saying that kind of stuff and, again, this is in that kind of category: The boys sitting around having a good old chuckle over this one."
Innes said the googly-eyes and red lips put the photo one post too far.
"With the addition of the eyes and the lipstick it is no longer just a picture of his legs, it's now the lipstick. It gives that sexual connotation," said Innes. "Obviously he has to apologize, and a serious apology, not simply, 'I am sorry you were offended,' kind of apology but also an apology that speaks to his lack of judgement in considering how he has trivialized Indigenous women, making light of sexual acts, and considering the sexual violence that indigenous women face."
@JorgeBarrera