Justin Brake 
Ashley Brandson
 APTN News
What impacts are hydro dams in northern Manitoba having on local communities? That is the question a new Special Report on APTN News is asking.
Amid a wave of hydro development in the 1970s, Manitoba Hydro and the province promised Cree communities prosperity.
Instead, people were displaced from their lands, traditional economies were decimated, and many communities were plunged into poverty.
A half century later, southerners continue to benefit from the maze of dams along the Nelson and Churchill rivers and their tributaries.
Most Cree communities have accepted compensation from Manitoba Hydro, and some have even become partners in recent projects like the Wuskwatim and Keeyask dams.
But as hydro development continues in northern Manitoba, people and communities are finding that no amount of money can compensate for the loss of a way of life.
---
Part One: 
Hydro had "bigger impact" than residential school in Misipawistik: councillor
 Life was never the same in Grand Rapids when Manitoba Hydro built a dam on the river. Gone were the rapids that members of the Misipawistic Cree could hear roar day and night, and the fish that kept the community fed. Justin and Ashley start their series in the community that is called the gateway to northern Manitoba. Read more here.
---
Part Two
'We have to live with these changes everyday': Norway House still struggling from hydro development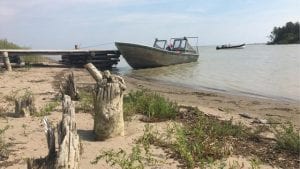 Norway House Cree Nation had a thriving culture and fishing industry. Then Manitoba Hydro decided to build a hydroelectric dam. Everything changed after that. The fishery began to die, and people's livelihoods started to vanish. In Part 2, APTN News looks at the effects of the dam in Norway House and up river. Read more here.
---
Part Three
Erosion, boredom and the effects of hydro dams on two Cree communities
For decades, hydro development has wreaked havoc on communities in Northern Manitoba – culturally, socially, and economically. But now community members are speaking out. In this APTN News special report, residents are sharing how the developments have effected the environment.
Read more here.
---
Hydro 'succeeded' in what church, government 'have been unable to do for the last 500 years'
Even as partners on the Keeyask hydro project currently under construction people in Tataskweyak Cree Nation say things in their community will only get worse with new dams. Meanwhile, in O-Pipon-Na-Piwin Cree Nation at South Indian Lake says hydro development has led to the "total economic, cultural and social genocide of our people." Read more here.