Young Mohawk student moves schools after being forced to stand for national anthem
School board director says the incident shows there is a lot of work to do.
---
A Mohawk mother is angry and has pulled her daughter out of a public school because they were not respecting the young student's rights as a First Nations person.
Amy Clark and her family don't identify as Canadian citizens so when she heard her eight year old daughter Keely was forced to stand for the national anthem, she was furious.
According to Keely, the teacher she said was a "disappointment" for not standing during the anthem – something the school board denies.
Clark said the board acknowledged that the teacher said Keely was being "disrespectful."
Clark said the incident happened in April at the Tyendinaga Public School in Shannonville, Ont., about two hours southwest of Ottawa.
She said Keely hasn't been back since.
"Our people were here long before the settlers arrived and it became Canada and I just feel like our history has been wrought with genocide and murder," Clark told APTN News.
"We can't stand for something like for what that stands for."
Clark fully upholds her daughter's decision and said the school was also supportive.
Both Keely's regular teacher and the school were aware that she remains seated for the playing of the national anthem. But that day there was a substitute teacher in the classroom.
Because the substitute teacher was Indigenous, an assumption was made that he would understand her decision.
Clark feels the school made a mistake in not informing the teacher of the student's situation and the substitute should have handled it better.
"If he had just taken a second to listen to my daughter then this might have been avoided," Clark said.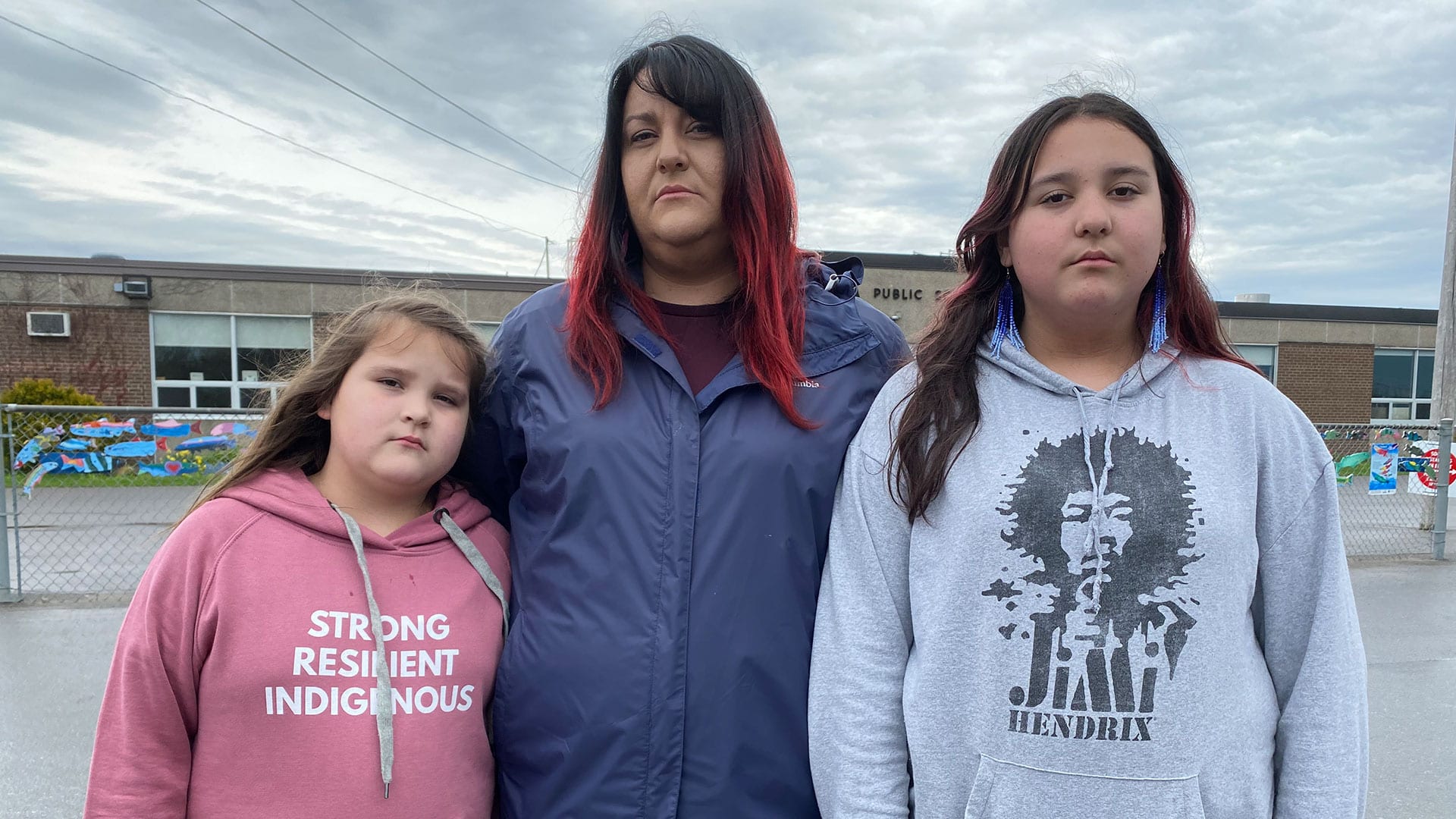 ---
The school has apologized for the incident. The supply teacher was also willing to apologize to the Grade 3 student – but Clark was told she wasn't permitted to be present for the apology and the school refused to give her the teacher's name.
The school also couldn't guarantee that teacher would not be in front of her daughter's class again.
One of Clark's suggestions in later conversations with the school principal was for the school to provide sensitivity training to substitute teachers. The school only agreed to better document substitute teacher's binder.
Clark said that is not what she was asking for and doesn't go far enough in addressing the situation.
"I just think they're not understanding the broader scale of what happened that day," she said.
Clark said she wants to speak to speak to the substitute and let him know how much of an impact the occurrence has had on her whole family.
APTN reached out to the school's principal but were instead granted an interview with the Hastings and Prince Edward District School Board director of education Sean Monteith.
Monteith said when he recently heard about what happened and he was not surprised the situation was mishandled because it's the school board's first experience with a student refusing to stand during the national anthem.
"To this young eight year old Mohawk warrior the apology can start with myself," Monteith told APTN in an online interview.
He said clearly the school board has a lot of work to do and needs to better understand why a student would refuse to stand for the Canadian national anthem.
Going forward Monteith would like to have a bigger conversation on what the board will do in response and to bring awareness and promote reciprocity and reconciliation.
Clark also thinks the school might not fully understand her daughter's actions and would like the incident to be used as a learning experience to avoid anything similar happening again.
She said when it happened it made her angry but at the same time sad that her eight year old daughter would have to experience something so hurtful in this day and age.
Keely now attends the Quinte Mohawk School on Tyendinaga Mohawk Territory.
Her classes are all online now due to provincial COVID-19 restrictions. She said she does have friends and family in the school but she misses her old class and her old teacher.
Since leaving the school she has had no contact with either.