Women's Council investigating texting allegations against grand chief
"Show us the proof, check IP addresses, prove your innocence."
The Women's Council of the Assembly of Manitoba Chiefs is conducting its own investigation into a texting scandal involving Grand Chief Arlen Dumas.
"We want the opportunity to review the background of these allegations and get more information," Francine Meeches, chief of Swan Lake First Nation who chairs the committee, told APTN News.
The council held a conference call after APTN first reported the story Wednesday.
Read More:  Indigenous woman asks AMC to investigate grand chief's behaviour: chief denies claim
It plans to hear from 22-year-old Bethany Maytwayashing next week.
She's the woman who alleges Dumas sent her unwanted and inappropriate messages and texts.
Dumas has denied the allegations and claims someone impersonated him on Facebook Messenger and in cellphone texts.
In an emailed statement, he confirmed the texts appeared to come from a phone number that belonged to him.
But he said they were from a phony Facebook account and "spoof" texts – mobile phone texts that "make a message appear to come from one cell phone number when, in fact, they originate from another."
Dumas said AMC reported the fake account to Facebook and was in the process of validating email addresses and social media accounts.
"I have also sought legal advice on the defamatory nature of the posts and how such comments and dissemination of them continue to attack my reputation," he added in the statement.
Dumas refused another interview request Thursday after instructing his lawyer to send a letter to APTN Wednesday threatening legal action.
APTN broadcast and published its stories, and sent a response from its lawyer.
Maytwayashing still believes Dumas was messaging for "your number" and to "meet up" – something she never wanted or encouraged.
"Arlen Dumas, is playing victim here, calling it all fake even the texts from his number," she said on her Facebook page.
"So he's somewhat Implying that someone knew we met at Feast and had a photo taken, watched us hug upon meeting and used that to create a fake fb to mess with me? Annnnd knew his personal cell number then made a fake text also, ughhhh. Like really?"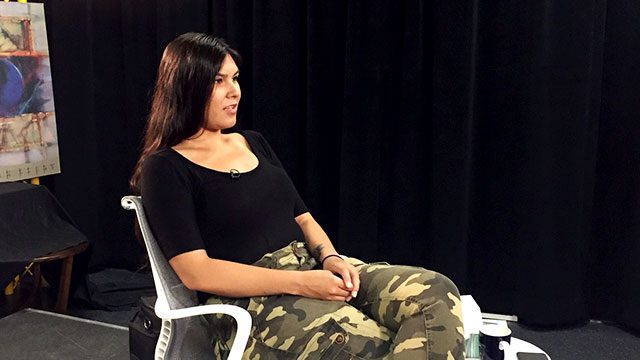 Bethany Maytwayashing in an interview with APTN News July 9 (Holly Moore/APTN).
It is still not clear how the texter knew Dumas met Maytwayashing at Winnipeg restaurant Feast, that she was a student at the time and other details described in the texts.
Maytwayashing suggested AMC seize the grand chief's phone and ask his service provider to print out "any and all messages that he has sent in the past year."
She said an internet provider could also track the Facebook account to the phone or computer that created it.
Her boyfriend, Matthew Shorting, agreed.
"Show us the proof, check IP addresses, prove your innocence," he said in an interview.
"There is still gaslighting going on after #MeToo and (the) MMIWG (missing and murdered Indigenous women and girls) inquiry."
READ MORE:
#Metoo movment in Indian country is out there but it's under cover
Shorting has created the hashtag '#ibelievebethany' to support his partner amid "this crisis and drama."
He views the lawyer's letter from Dumas as intimidation. "That letter is trying to silence us," he said.
Meanwhile, APTN producer Beverly Andrews was ordered to leave a press conference in Winnipeg Wednesday after seeking comment on the texting scandal.
Dwayne Bird, director of communications for Peguis First Nation, twice swatted her microphone as she asked Peguis Chief Glenn Hudson if AMC would investigate the allegations.
"No comment on that question," Hudson said while Bird is seen grabbing the mic.
"We're here to celebrate Peguis," Bird added.
Hudson, a former member of the AMC executive, said he'd answer Andrews' questions later.
He never did.
Instead, Andrews was told to leave the event establishing the band's first urban reserve attended by Carolyn Bennett, federal minister of Crown-Indigenous Relations
With files from Beverly Andrews and Melissa Ridgen