Winnipeg financial firm facing federal probe over 'potential inappropriate payments' to First Nation
---
An ongoing federal financial probe of a Manitoba First Nation's use of land claim settlement dollars extends into the community's dealings with Winnipeg-based financial firm Usand Group, according to a document obtained by APTN News.
Indigenous Affairs contracted auditing firm Deloitte LLP in early 2016 to conduct a financial review of Peguis First Nations' use of money from a trust fund created by a multi-million dollar land settlement agreement. The financial probe is focusing on $22 million from the trust fund used in a joint venture to redevelop a horse race track in Winnipeg, according to a document outlining the terms of reference for the financial review.
However, Indigenous Affairs also wanted auditors to examine dealings between the First Nation and a financial firm currently under a separate Indigenous Affairs investigation related to allegations around the use of financial incentives to secure deals, according to the document.
The terms of reference directed Deloitte to review "potential inappropriate payments by Usand Group" to Peguis Fist Nation "or its representatives."
The document does not provide any details about these potential payments.
Under the terms of reference, Deloitte's investigators were required to glean information on Usand's interaction with Peguis by reviewing paper and electronic documents, including emails, collected from the First Nation, along with interviews of connected individuals.
Usand president Sean McCoshen issued a statement to APTN saying he has not been contacted by the department about any probe.
"As far as I am aware, The Usand Group is not under investigation by INAC. I am not aware of any basis that INAC would have to investigate The Usand Group. Neither I nor The Usand Group have been contacted by INAC in respect of an investigation or any complaints regarding me or The Usand Group," said McCoshen in an emailed statement to APTN. "We are proud of the work that The Usand Group has done in First Nations communities across Canada. We are especially proud that, working together with (Peguis First Nation), we succeeded in moving multiple economic and social development programs forward that have had a direct and positive impact on the community."
Usand has filed court action against APTN over previous stories on kickback allegations against the firm and McCoshen's link to a failed plan to establish a Cayman Island's-based trust fund targeting First Nation dollars.
"The Usand Group and I have commenced litigation against you, the APTN and others in respect of previous articles published about us containing statements and other claims which we allege are defamatory and malicious," said McCoshen, in his statement.
---
Read More:
Winnipeg financial firm offered 'kickbacks' to chiefs to land business deals
Owner of firm under INAC 'kickback' probe linked to Cayman Islands investment fund which targeted First Nation dollars
Winnipeg financial firm denies CEO floated "financial contribution" to ex-FN chief to obtain retraction on 'kickback' claim
---
Indigenous Affairs previously revealed in 2016 it had launched a separate probe of Usand following an APTN investigation into the firm's alleged use of "kickbacks" to secure financing deals with First Nations. This probe is ongoing, according to a May 23 emailed statement from Valerie Hache, a spokesperson for Indigenous Affairs.
"The investigation regarding allegations from various First Nations elected officials related to the Usand Group is still ongoing. No further information is available at this time," said Hache, in the statement.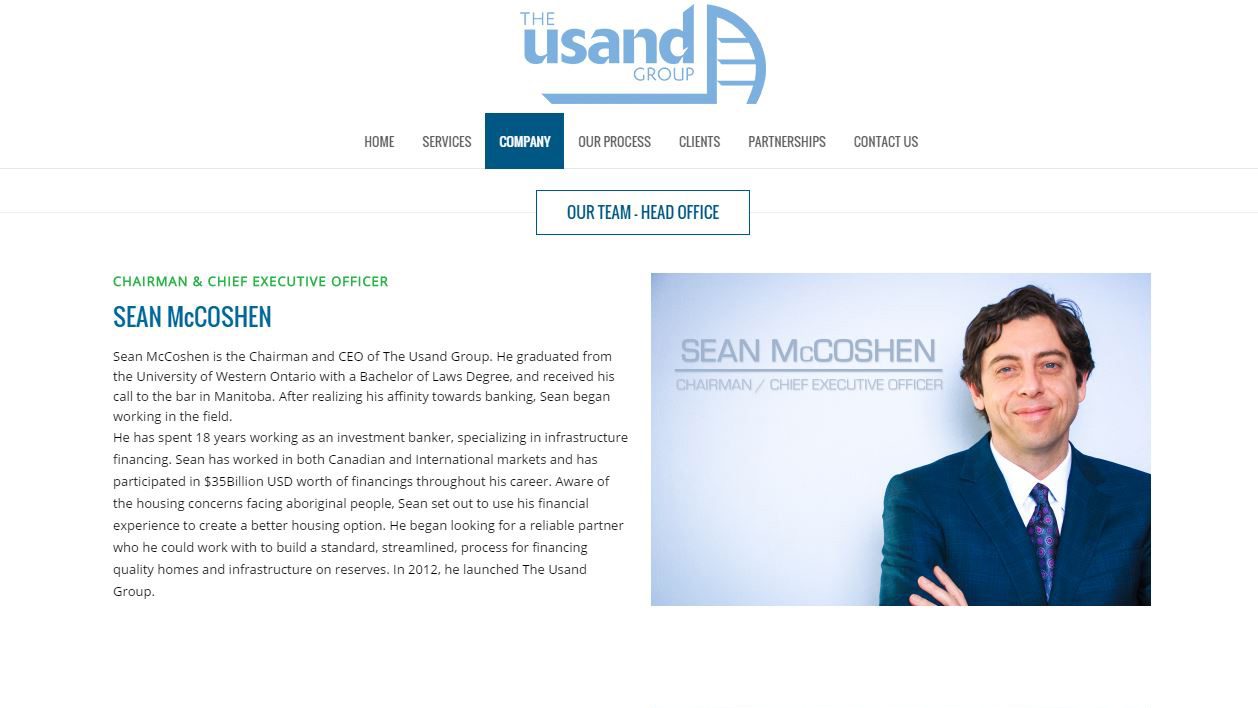 Barry Kennedy, a former chief of Carry the Kettle First Nation in Saskatchewan, filed a police complaint against Usand which is now in the hands of the RCMP in Manitoba. Kennedy recorded a phone conversation with a Usand official who offered him money.
APTN also obtained an internal Usand document that identified the use of "kickbacks" as a tactic in securing customers for the company. In a letter from the financial firm's lawyer, Usand claims the internal document was a draft never seen by McCoshen.
Morris Shannacappo, a former chief of Rolling River First Nation, also alleged McCoshen offered him an incentive to retract a claim the Usand president offered him $100,000 to secure a business deal with his community.
McCoshen, through his lawyer, has denied both allegations.
The recent revelation that Usand is also part of the wider Peguis First Nation financial review means the Winnipeg financial firm is now the subject of two separate department probes.
However, Deloitte's Usand examination is only one branch of the wider Peguis financial review.
The main focus of the financial review is focused on the $22 million used from the trust fund created by the settlement dollars for a joint venture to redevelop Winnipeg's Assiniboia Downs horse race track.
"(Indigenous Affairs) received allegations that the previous chief invested approximately $22 million from the First Nation trust fund into a questionable business venture," said the terms of reference. "More specifically, the funds were to be used for a land purchase. However, the First Nation has not received title to any property."
The complaint was filed by Cindy Spence while she was chief of Peguis First Nation. She questioned the actions of her predecessor Glen Hudson, who was chief from 2007 to 2015.
Hudson recently regained his post after beating Spence in an election this past March.
APTN also provided the terms of reference to Hudson's lawyer Jamie Kagan who responded with a statement.
"You have provided an unsigned document that calls for an inquiry into something that can be achieved in a title search which takes two minutes," said Kagan, in the statement. "This document calls for a draft report to be prepared by August of 2016. I do not see any evidence of an active inquiry into the Peguis First Nation. We can again confirm we have no request for information from anyone doing any so-called audit."
The RCMP in Manitoba has an open investigation into related allegations related to the use of Peguis First Nation's land settlement trust fund. The RCMP investigation, triggered by a complaint from a Peguis First Nation band member, is currently on hold pending the completion of Deloitte's financial review.
The time frames for the allegations sent to the RCMP and Indigenous Affairs correspond with Hudson's previous terms as chief for Peguis.
Usand recently partnered with famed Indigenous architect Douglas Cardinal to create the Douglas Cardinal Housing Corporation.
Cardinal's lawyer Michael Swinwood told APTN the architect is currently unware of any allegations concerning Usand.