Wet'suwet'en sub-chief who supports Coastal GasLink says supporters, elected chiefs aren't being heard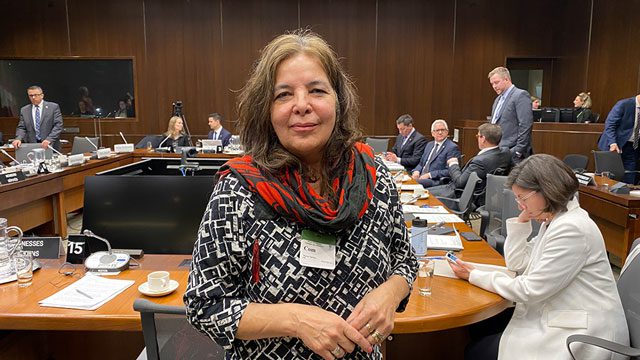 A Wet'suwet'en hereditary sub-chief who supports the Coastal GasLink (CGL) pipeline was in Ottawa on Tuesday where she said the voices of women and elected band councils aren't being given due weight by the government and other Wet'suwet'en hereditary chiefs.
"As female Wet'suwet'en members and community leaders, we want to be heard and involved in the decision-making. That is our way," Theresa Tait-Day (Wi'hali'yte) told MPs during a meeting of the Standing Committee on Indigenous and Northern Affairs.
"But our voices are not being heard. Many of the male hereditary chiefs are acting out internalized historical oppression. We face patriarchal domination," said Tate, who is also the president of the Wet'suwet'en Matrilineal Coalition.
"We have been working particularly with LNG and Coastal GasLink. Our people wanted a benefit and they wanted to be able to make a decision on a positive note. However, we've experienced lateral violence and coercion since then by the five chiefs who claim to represent the nation."
It is eight of nine house chiefs hailing from all five clans – not five chiefs – that have opposed the project.
Wet'suwet'en hereditary leadership consists of 13 house chiefs that represent the five clans. Nine house chiefs are currently sitting and four house chief names – such as Kweese and Goolaht – are vacant.
Only one house chief, Samooh (Herb Naziel), has publicly supported the pipeline.
The other eight oppose it.
Smogelgem, Na'Moks, Woos, Hagwilnegh, Madeek, Kloumkhun, Knedebeas, and Gisday'wa all signed the "eviction notice" they gave CGL on Jan. 5.
All nine sitting house chiefs are men. There is also controversy over whether the names Smogelgem and Woos – formerly held by women – were assumed according to traditional feast laws.
Each house chief has one or more sub-chiefs beneath them. Some sub-chiefs support the project, but it's not clear how many names are vacant and how many oppose the pipeline.
The Wet'suwet'en Matrilineal Coalition received seed money from CGL and the province. Tait-Day said accepting that money does not taint her support for the project or delegitimize her group's stated goal of bridging the gap between hereditary and elected chiefs.
"The hereditary chiefs on WMC are not band chiefs. We are legitimate hereditary chiefs. We are not illegitimate. We are the ones that have to be speaking and the chiefs have to listen to the women and they have not done so," she told reporters.
Resource Works Society, a B.C. based non-profit, hired a public relations firm called Coast Communications which issued a press release on Tait-Day's behalf.
Coast Communication's other clients include Pacific Northern Gas, Beaumont Timber, and First Nations LNG Alliance. It provided APTN News a copy of Tait-Day's testimony.
According to its website, Resource Works aims to show "how responsible development of British Columbia's resources creates jobs and incomes throughout the province, both directly and indirectly, while maintaining a clean and healthy environment."
She told reporters why she supports the pipeline.
"I support the pipeline because it's going through our land and they want to rent our land. That's what we went to court for under Delgamuukw-Gisday'wa […] We want that for our nation."
While Tait-Day is working with CGL, her testimony criticized environmental activists and protesters who rallied behind the hereditary chiefs.
"These chiefs' voices have been amplified by the skills and resources of outside environmental activists, who say that they support the Wet'suwet'en but whose primary interest is stopping the pipeline," she said.
"The protest organizers are conveniently hiding beneath our blanket as Indigenous people, while forcing their policy goals at our expense. This compromises our Nation's social well-being and our people's economic futures."
Although clan meetings happened last week and continue this week, Tait-Day said these have been small and she did not attend.
She has not seen the "proposed arrangement" on rights and title which was signed by the hereditary chiefs and representatives of federal and provincial governments.
Prior to Tait-Day's testimony, Conservative MP Jamie Schmale argued with Carolyn Bennett, minister of Crown-Indigenous Relations, over her government's engagement with elected chiefs and the Wet'suwet'en Matrilineal Coalition.
"If you're only hearing from one side against a project you're negotiating title which has impacts – again, you're leaving out the other side, but I won't dwell on that," Schmale said.
"But Jamie I don't think you heard me," Bennett replied. "I said that the matriarchs were there, I heard from each of them on Thursday. That was the beginning. They were right there at the beginning."
Indigenous Services minister Marc Miller weighed in shortly after. Liberal MP Jaime Battiste asked him what the government learned about traditional Indigenous governance.
(Carolyn Bennett, minister of Crown-Indigenous Relations, speaks with reporters after the meeting. Photo: APTN)
"As Carolyn summarized, some progress has been made out west in starting to create the basis for engagement with hereditary leadership. As a country, the Indian Act imposed band council system is something that is viewed in many Indigenous communities as colonialist and paternalistic," he said.
NDP Leah Gazan also challenged the ministers on their own adherence to the rule of law. The government repeatedly stressed the rule of law during the weeks that the blockades were up.
"You have a Canadian Human Rights Tribunal that has ruled against your government for discriminating against First Nations children. We are now at nine non-compliance orders. If the rule of law is about respecting the law, then are you not breaking the law here? Yes or no?"
Miller began to answer her question. "This is a highly emotional issue because we're speaking about First Nations children," he said.
Gazan interrupted.
"You're not answering my question, because it seems your government supports the rule of law when it supports your economic interest," she said.
"Many times we end up in these situations because in Canada because it does not respect their own laws, their court decisions, or human rights of Indigenous peoples or Indigenous laws."
NDP MP Niki Ashton also raised the question of COVID-19 and its potential to disproportionately impact Indigenous communities.
"Indigenous communities are more vulnerable for a number of reasons: historic socioeconomic gaps, overcrowding, lack of access to clean and safe drinking water," Miller said.
Ashton criticized the government for naming Miller an "alternate" member to the COVID-19 committee.
"I can confirm with the member that I am on the committee and participating fully," Miller replied.
-With files from Todd Lamirande