'We must purify this place': Algonquin Nation returns to residential school site after Elder's vision
Upon first glance, it appears to be just like any other field, the grass is wild, the flowers of strawberry plants are poking out from underfoot, birdsong is everywhere.
Jeffrey Papatie stops and leans down to sweep his eagle feather fan over blades of grass that reach his knees.
"I've never put my moccasins down here before," says Papatie, who is wearing his full regalia.
"I often take the road over there, but I've never had the chance to turn in here to see what it is exactly, because I was afraid."
The vegetation here has yet to fully overtake part of a concrete foundation and some stone stairs – the physical remnants of the former Saint-Marc de Figuery residential school.
(Members of the Algonquin and Aitamekew Nations spread tobacco on the former site of the Saint-Marc de Figuery residential school. Photo: Tom Fennario/APTN)
It could be said the remnants of the school also still lie within many of its survivors.
"I spent eight years here. Eight years of sadness, eight years of sickness," says Papatie's mother Jeanette Brazeau, a 68 year old Anishnabe woman.
Brazeau is the reason why over a dozen survivors and many more family members have come back here once again.
It all began in 2018 when a snake came to her in a dream.
"This animal sent me a message. That we must purify this place," she said.
"I would like to say meegwetch [thank you] to this animal."
As Brazeau explains it, the meaning of the dream was not clear to her right away.
It was only after consulting with other community members she came to realize the snake's significance.
"He sheds his old skin, us too, we need to shed that," she said.
("Today I feel… I feel free," says Elder Jeanette Brazeau whose vision led to the purification ceremony. Photo: Tom Fennario/APTN)
Located nearly 600 kilometres northwest of Montreal, the Saint Marc de Figurey residential school operated from 1955 until 1973.
Hundreds of students, mainly Algonquin and Atikamekw, were taken from their families and brought here.
Many were subjected to what has become an all too familiar tale of abuse
In 1996 Edmond Brouillard, a priest who worked at the school, was convicted of sexually abusing six children.
Throughout the day many survivors took turns speaking about their experiences.
"It's true, the residential school tore us apart. We can't… we have to leave it behind us," said Pierre Papatie, father of Jeffrey to the crowd of about 100 who came from the Algonquin First Nations of Lac Simon, Abitibiwinni, Kitcisakik, as well members of the Atikamekw nation.
The Papatie family led the purification ceremony of the site, which involved Pierre blowing an eagle whistle four times, one for each direction, around a sacred fire.
A drummer played and sang an eagle song, which is traditionally sung to honour sick or fallen warriors.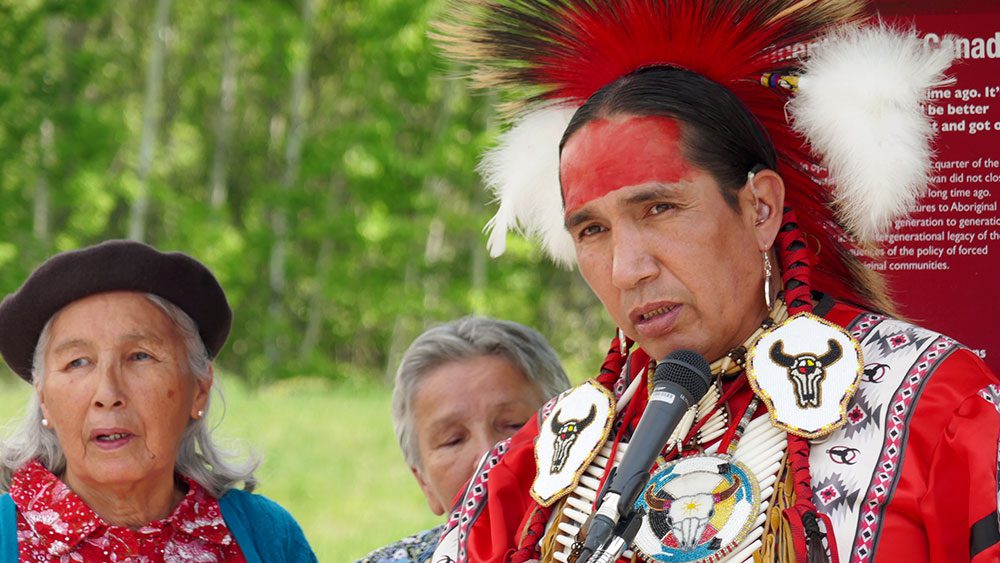 (Jeffrey Papatie addresses the crowd with his mother Jeanette Brazeau by his side. Photo: Tom Fennario/APTN)
Jeffrey Papatie danced around the sacred fire after his father blew the eagle whistle,  occasionally crying out in a mix of pain and defiance as many witnesses sobbed in reaction to the ceremony.
While Jeffrey Papatie never attended the school, he says that he was passed on the trauma.
During an emotional speech, he says he forgives his parents Jeanette and Pierre for the negative aspects of his upbringing.
As well as another unnamed community member.
"I'm not ashamed to say today that I experienced incest from an ex residential school survivor who is dead now. I've succeeded in forgiving myself and forgiving him," said Jeffrey.
Jeffrey and his family are from the nearby Lac Simon Anishnabe First Nation.
The community of 1,800 has long been afflicted with addiction issues and poverty.
A low point was reached in early 2016 when 26 year old police officer Thierry LeRoux was shot and killed by a community member who then took his own life.
Less than two months after that, community member Sandy Michel was killed in violent police altercation.
("We have to leave it behind us," says Pierre Papatie as survivors, family and friends perform a round dance on the remnants of the school's  old foundation. Photo: Tom Fennario/APTN)
But a visit to Lac Simon today shows promise.
The first thing to be seen upon entering the community is the first gas station in the process of being built. It's expected to bring jobs and money into the First Nation.
Last week a softball game against a local celebrity team brought out the crowds.
Lac Simon band councillor Brian Dumont pitched for the local team.
During a break between innings Dumont told APTN News that 65 per cent of Lac Simon's population is under the age of 25, and that the police have done a good job of reaching out to the youth.
"They've [police] helped keep our youth busy, during the winter you'll see them playing hockey or broomball with the youth in the streets," said Dumont.
"It's going much better now, for sure 2016 was not easy, but the police have rebuilt the bridge with us, and the community, we have to work together."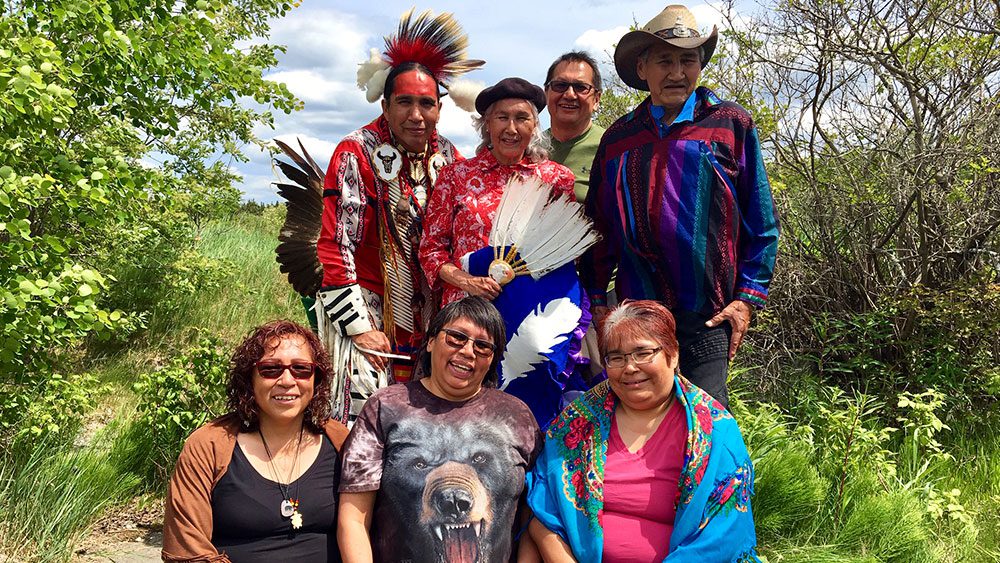 (Survivors and family members on the steps of the former Saint Marc de Figuery residential school. Photo: Tom Fennario/APTN)
Whatever the challenges, Jeanette Brazeau believes activities such as the purification ceremony will allow Elders such as herself to aid in Lac Simon's healing process by addressing past trauma.
"Today, I confronted reality, I also confronted the little girl inside me that was always afraid," said Brazeau.
"That little girl who was always afraid to share her emotions. Today I feel… I feel free."
The afternoon ended with Brazeau and other survivors round dancing on what's left of the Saint Marc de Figuery residential school.
Led by Jeffrey Papatie, dozens of folks joined hands and made their way through the field to what's left of the school's foundation to the sound of the drum.
Before they came together to make a circle, they resembled a snake meandering through the grass.