'We have to decide what's important to us' – Montreal advocates say homelessness response falls short
More funding, more understanding, and more capacity needed for Montreal's homeless 
---
Montreal's first-ever permanent housing for homeless Indigenous people, Maison Akhwà'tsire, opened its doors two weeks ago – and the 22 spots are filling up quickly.
Located in downtown Montreal, Maison Akhwà'tsire (which means "my family" in Kanie'keha'ka) is a supervised housing centre with access to mental health and addictions services provided by nurses and social workers available 24 hours a day, seven days a week. It's managed by Projets Autochtones du Quebec or PAQ, a support organization for Indigenous people facing homelessness in Montreal.  
Director Heather Johnston said the centre is for people "who may be facing multiple barriers to being housed and also who may not have succeeded in other housing programs, or who have been rejected from other types of housing programs."  
The centre will also offer cultural services and a managed alcohol program. 
Tenants will pay 25 per cent of their gross income to live there. The rest of the rental costs will be covered by the province of Quebec and the city of Montreal.
The federal government provided $4.7 million through its Rapid Housing Initiative that allowed PAQ to purchase the building on Saint Hubert. But Johnston says there's still not enough long-term funding secured for operations.  
"Ok, we have the bricks and mortar, and that's great, we have this beautiful home," she said. "But then we need funding to make, to provide the services."
'Optics of inclusion'
There are approximately 3,000 unhoused people in Montreal.
David Chapman of Resilence Montreal says there's not nearly enough low-cost housing available, especially for those who don't fulfill admissions criteria, some of whom have been camping under the Ville-Marie speedway in downtown Montreal. 
"There will be inevitably small little encampments here and there, which appear in the city and it seems to me that it would be wise for the city to jump out in front of that development and actually sanction officially certain spaces for encampments," said Chapman. "It does create certainly the optics of a problem. The truth is, there is a problem." 
Maison Akhwà'tsire is a new supervised housing centre in downtown Montreal. Photo: CTV
---
Jacco Stuben almost lost his makeshift home under the Ville-Marie speedway in November. But Quebec's Transport Ministry and the City of Montreal decided to allow the homeless camp to stay up for the winter, postponing construction in the area. 
"It's safer here and it's more quiet," said Stuben. "The people are nice, they mind their own business, they help each other, I give them food." 
Stuben is a Sri Lankan cook who has built a community with his fellow campers, including some Indigenous people.  
But spring is looming and so is their eviction date.
Stuben doesn't understand why they can't just be moved to a spot without construction. He's been living under the speedway alongside the construction for the past decade. 
"For the last 10 years, that's what they always do. They move us to another corner, and they continue working here," he said. 
Sense of security
While Quebec's Transport Ministry says people need to clear out from under the bridge so construction can continue safely, Chapman says the campers will lose their sense of security – and community – if they're forced out. 
"What happens is people will leave their various encampments, they'll go search for an abandoned building, a construction site, or perhaps a dark alleyway somewhere," he said. "When encampments are scattered, the next issue we have is where are the people who were using our services, where do we find them?" 
Supported permanent housing like Maison Akhwà'tsire takes a long time to develop, and expanding social housing capacity will take years to establish, Chapman added.
So will the City of Montreal sanction a campsite for the around 15 people living under the Ville-Marie speedway in the meantime?  
Alia Hassan-Cournol, the Montreal city councillor advising on reconciliation, said in French, "It's not something that is being discussed at the moment. The city of Montreal's priority is to make sure we're able to ensure permanent funding and have more social housing because we have to focus on the long term." 
Chapman says the city is not recognizing the situation the campers find themselves in. 
"Frequently, there's a priority of the optics of inclusion. Somehow everyone's included, everyone's represented, everyone's needs are being looked out for," he said.
"The truth is, in reality, we're quite a long ways away from real inclusion. The situation under the bridge only highlights that point. These are people who do not fit easily into available services, otherwise they would not be here." 
A 'difficult economic context'
While the city focuses on long-term planning, Montrealers are feeling the immediate financial pinch of the rental market. On average, a two-bedroom apartment goes for about $1,800 – a 10 per cent increase over last year.
Johnston, of PAQ, said those increasing costs puts low-income Indigenous people at even more risk of homelessness. 
"Obviously, without a housing subsidy, housing is not affordable in the city of Montreal if you're living on social assistance. Because you could put your entire social assistance cheque towards your rent and it's not going to cover it, right?" she said.  
"I think in addition to the financial challenges faced by the homeless and at-risk community that we serve, a lot of Indigenous people face a lot of racism and stigma when they go out to look for housing, which is a double whammy when you're already with a limited budget." 
Coun. Hassan-Cournol said part of the city's planning is a diverse metropolis by-law passed in April 2021. The by-law says all development projects over five dwellings must be 20 per cent social housing, 20 per cent affordable housing and 20 per cent family housing – or developers must contribute to funding those types of projects.
Hassan-Cournol says despite Quebec cancelling its financing program for social housing, she is optimistic Montreal will be able to combat its skyrocketing rents and low vacancy rates. 
"We have the ear of the government of Quebec," she said. "We'll continue to advocate, to put pressure, because the worsening housing crisis is a potential risk for citizens to fall into a situation of being unhoused, and we know that for Indigenous communities, for Indigenous people, that risk is even greater.'
In a written French statement to APTN News, Quebec's Housing Ministry didn't say whether social housing builds would accelerate. But they said they would "continue to support Quebeckers when they're confronted with challenges within the prevailing difficult economic context." 
'We have to decide what's important to us' 
While future social housing builds and projects like Maison Akhwà'tsire are promising, John Tessier says government approaches to homelessness are still too reactive.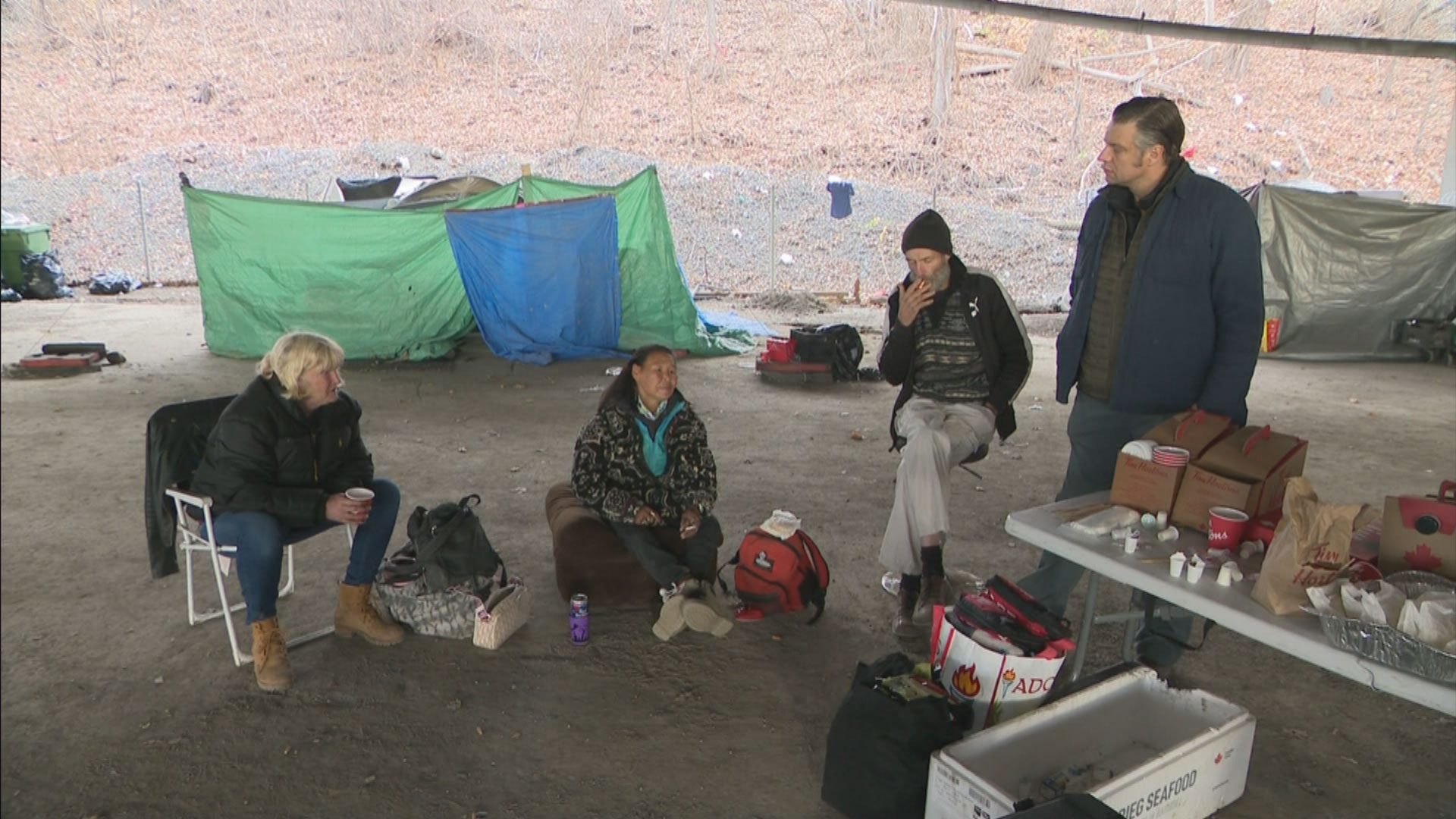 ---
Tessier is a support worker for the homeless and started his own organization Advocacy For Montreal. He knows the challenges of living on the street firsthand – a decade ago, he was battling addiction on the streets of Montreal.   
"There's so many steps that need to be taken, and you can fall through the cracks at any one of them. I mean there's many organizations that will help you get into detox, but a week later, you're back on the street. And you're back at square one," he said. 
While housing initiatives like Maison Akhwà'tsire seek to provide wrap-around services to prevent that from happening, Tessier says there aren't nearly enough of them.
"There are things that are opening, but a lot of times I feel it's a token, like here, 'We'll give you funding for 22 beds, we'll give you funding for 14 beds,' I mean, we need 100 beds," he said. 
Meanwhile, the City of Montreal increased its police budget this year by the largest amount in the city's history — $63 million. 
---
"There's a lot of money for police and for bike paths," said Tessier, "but it doesn't seem like there's enough money for grassroots community organizations and frontline workers that already have a relationship with the community they're serving.
"Trust is not easy to build; it can take up to a year or longer, and it would help to fund the organizations that already have a relationship with the population." 
Tessier often works in the Milton Park neighbourhood where many unhoused Indigenous people stay. 
"During the pandemic, they started a foot patrol of like four or five officers that would come along and patrol Milton Park, but the officers would come up to me and ask me, 'What do we do?' They have no clue what to do because they're not trained in community relations and dealing with the population," he said. 
While the future for people experiencing homelessness is uncertain, people like Chapman, Johnston and Tessier say they will continue to fight to put a roof over everyone's head.  
"As a community, we have to decide what's important to us. Do we care about people or we don't," said Tessier.