Warming tipis being set up to help unsheltered people survive Winnipeg winter
---
Winnipeg's unhoused population now has a temporary alternative to sheltering in bus shacks, make-shift tents, and other inadequate structures to stay alive when the temperature dips to -40 C in the winter.
The tipi project is being led by Anishiative, a non-profit, grassroots youth organization, along with other community organizations like the SABE Peace Walkers, End Homelessness, and Main Street Project.
"It's just really unbelievable that we have this happening in our country, that we have unsheltered relatives," says Raven Hart, one of the volunteers hoping to erect two tipis a month in the downtown core as a temporary safe haven.
"You know, when you drive across Winnipeg it's not uncommon to see relatives living in bus shacks in this weather and it's just so cold. We just thought that it would be really important to come together and provide our lodges and spaces."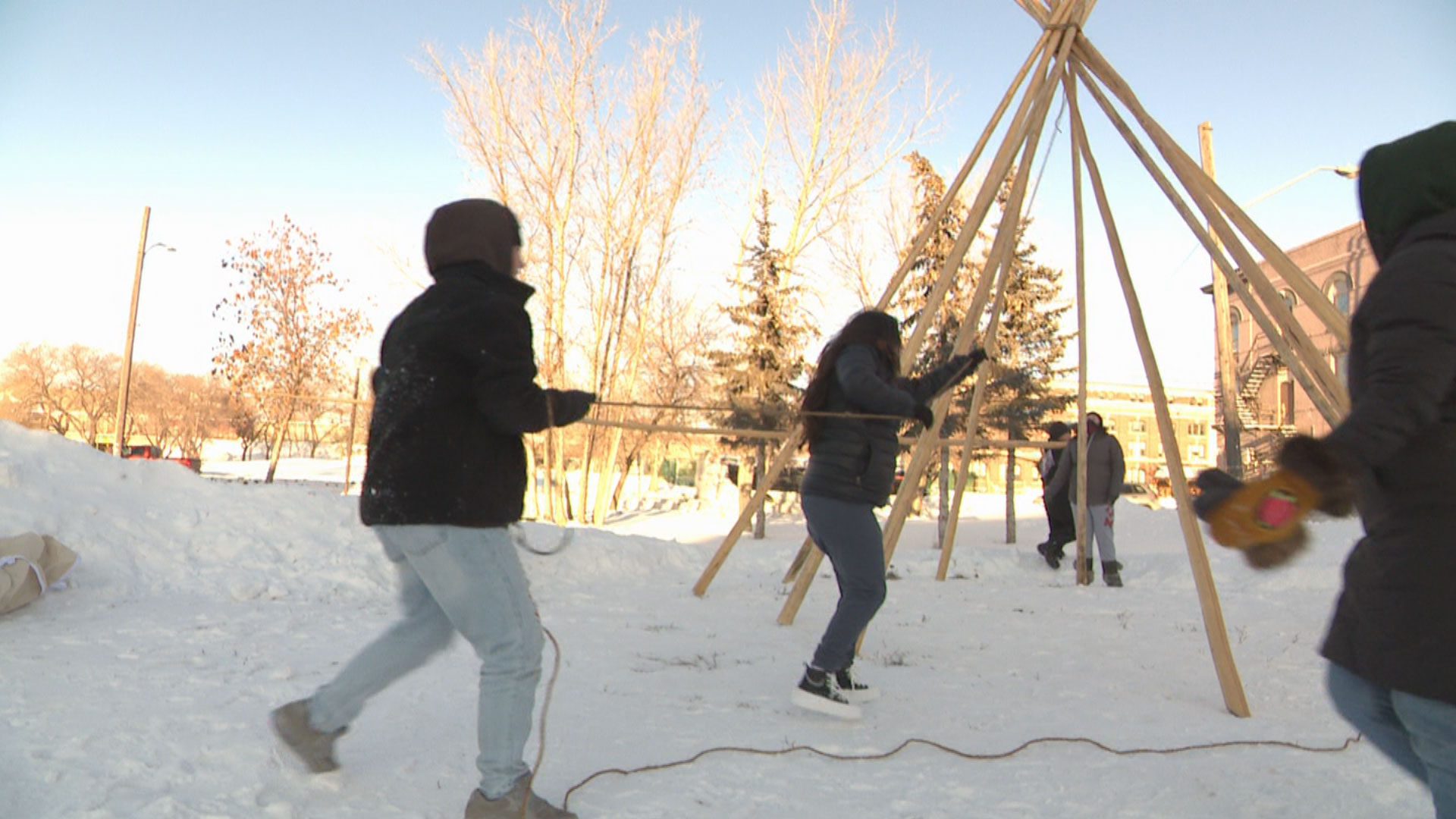 ---
Volunteers say that keeping people safe in freezing weather is their main priority.
"That was one of the big things that we were, we were really worried about," says River Nepinak-Fontaine, a volunteer with Anishiative. "We wanted to get this up as soon as we can to reduce as many casualties as we can because unfortunately, you know, there already has been some."
Hart says for those left out in the cold, a community effort is essential when connecting with those who may need a safe space to warm up.
"It's just a really great way for us to get together as a community with our youth and do something really positive for our relatives and practice that lateral kindness and that lateral empathy," says Hart. "Take care of each other, have a warming space, a place where we can ceremony, where we can sing songs, and share food together."
Hart says the tipi represents more than just shelter.
"The tipis really important to our way of life. Within that tipi, each tipi pole represents a virtue of how to have a very healthy home," Hart says. "And so, the mikiwâhp, the tipi, represents all the virtues of a healthy home."
---
She says that words are important to consider when referring to those who may not have secure housing.
"These tipis will be serving our relatives that are houseless, that are unsheltered. We don't like to say homeless because these are our homelands, we aren't homeless in our own homelands but some of us are unsheltered," says Hart.
"We're hoping to receive donations, we really are in need of firewood, we're in need of warm blankets, camping chairs, socks, toques, mitts, anything to warm our relatives and any food donations – hot coffee, hot cocoa, all of that kind of stuff would be welcomed."