Video shows argument between Wolastoqew student and St. Thomas University administrator over child in class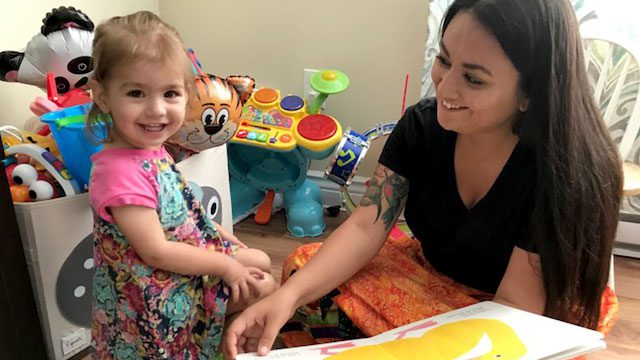 Keyaira Gruben never expected that protecting her rights as an Indigenous student at university would lead to an argument in the classroom with the social work program coordinator.
"That this is really sad that this is how this issue comes to light when it should have been brought into light and addressed a long time ago and instead it was addressed in this manner which was not professional," Gruben told APTN News.
Gruben has been in a battle with St. Thomas University since she started the Mi'kmaq Maliseet social work program two years ago.
She said she has right to bring her baby to class.
The university disagrees.
Gruben filed a human rights complaint against the university in October 2018.
She said the video shows what's really going on.
"The fact that something like this which displays a quite different reality than what they've been portraying it doesn't leave me surprised one bit that they would be trying to deny or distort or discredit the evidence in front of them," she said.
---
Watch Angel's story about Keyaira Gruben here. 
The video shows a confrontation between Gruben and the coordinator in front of other students in the class.
The coordinator is clearly upset that Gruben went public with her complaints.
At times both voices are raised.
The coordinator tells Gruben if she doesn't like the way the program is run she can leave.
Along with being a student, and mother, Gruben is also a band councillor of Kingsclear First Nation.
She has the support from her community.
Chief Gabriel Atwin said that after watching the video, it's clear St. Thomas is not supporting Indigenous students to succeed.
"Talking to Keyaira in a condescending I would say way unfortunately us as Indigenous people have gone through so much," he said.
When Gruben applied for the program two years ago, she heard that it was child friendly.
"So I just assumed I'd be able to attend the program with my child," she said.
"I also have other friends who have gone through the cohort and they had their young infants and toddlers with them through the whole program."
When classes started in October 2017, there was already another infant in the classroom.
"It felt very communal like there was a lot of maternal love that i felt in the program from a lot of the different women and they all connected with the babies for the most part," Gruben said.
But a few months later, people complained that the infants were disruptive.
There was no baby policy in place and a solution could not be reached.
(Jeffrey Carleton says the university won't be reviewing video of confrontation between Gruben and administrator. Photo: Angel Moore/APTN)
Jeffrey Carleton, spokesperson for the university said accommodations were made.
"St. Thomas has been known as an accommodating place for mothers and nursing mothers," he said.
"And for many years professors individually would deal with issues if it arose in the classroom and make accommodations for students."
A separate room was designated for the mothers and babies and a policy was developed – allowing babies in the classroom only to be breastfed or in emergency situations.
"In the additional room we added internet and Skype so that the nursing mothers could continue their studies while the class was going on if their child was being disruptive," said Carleton.
Brandy Stanovich, the interim president of the Indigenous Women's Association of the Wabanaki Territories, said children are medicine and St. Thomas has an obligation to honour mothers and children.
"They need to support our traditional roles and help revive our culture and not put up blockers like that," she said.
(Brandy Stanovich, the interim president of the Indigenous Women's Association of the Wabanaki Territories. Photo: Angel Moore/APTN)
Gruben said the separate baby room compromised her education.
She tried to appeal the decision, but her efforts made no difference.
"I got an email from the director of the social work program stating that if any child was brought to class that the teachers would stop teaching," said Gruben.
"So I said perfect this would be a good opportunity for me, us to finally have a talking circle then and she replied that there would be no talking circle."
The next day, Gruben was in the baby room, when the program coordinator called her into the class.
An argument ensued and was recorded on video.
Soon after she received a letter from the university saying if she didn't comply with their new baby policy she could be withdrawn from the program.
Carleton said he hasn't seen the video and won't look into it.
"I didn't know about the video but what's positive about going to human rights route is that there is very specific language and requirements set down by the New Brunswick human rights commission by which the student's complaint will be measured by.
Gruben said she's not surprised the university is ignoring the video.
"That's really how privilege works, they get to pick and choose what they share, what they don't share, what they erase and what they minimize," she said.
"And that's what these colonial institutions have always done to indigenous voices.
---
Keyaira Gruben talks about why she got in the program and whether it met her expectations

Atwin said the video needs to be investigated.
"I believe it was very unprofessional and it needs to be investigated.
Gruben is waiting on the decision from the New Brunswick Human Rights Commission.
She has one year left in her program.
Her daughter Cedar now goes to daycare.