Trudeau, Horgan under fire for downplaying Aboriginal title following RCMP raid of Wet'suwet'en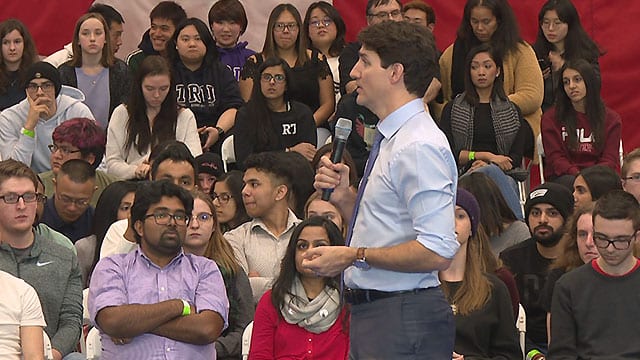 B.C. Premier John Horgan and Prime Minister Justin Trudeau both broke their silence Wednesday on a pipeline company's injunction against members of the Unist'ot'en House and Gidimt'en Clan, and the RCMP's raid Monday on unceded Wet'sewet'en territory.
But observers say the leaders were misleading, or skirted fundamental questions related to Indigenous jurisdiction and title at the heart of the conflict around the LNG project in northern B.C.
On Wednesday Horgan said he has met with and respects hereditary chiefs of the Wet'suwet'en Nation, but that the company responsible for the pipeline "has met the obligations that we asked them to achieve."
He also suggested free, prior and informed consent did not mean First Nations could have a veto on resource development projects.
Horgan cited a comment he said Kwikwasut'inuxw Haxwa'mis First Nation Chief Bob Chamberlin "categorically and unreservedly" made during recent negotiations between the government and Indigenous leadership over fish farms in B.C., "that the U.N. Declaration on the Rights of Indigenous Peoples does not mean a veto.
"It means we need to sit down and find a way forward on consent," Horgan said.
In a written statement Thursday, Chamberlin, who is also vice-president of the Union of B.C. Indian Chiefs (UBCIC), and Grand Chief Stewart Phillip of the UBCIC rejected Horgan's comments.
They said there's an "extremely important distinction" between the situation in Wet'suwet'en territory and the recent announced closure of fish farms in the Broughton Archipelago, where government and First Nations worked together in a "jointly developed consent-based process where our Title and Rights were recognized," they write.
The chiefs say they are "confident that we would not have reached a point of RCMP action at Gidimt'en if a jointly designed, consent-based process had been in place."
Phillip also said they "reject the racist notion of veto perpetuated by industry and government, which falsely implies that Indigenous Peoples demand a unilateral final say on decisions that impact them.
"Since colonization, we have had to deal with the Crown having a veto over almost every aspect of our lives, and in the case of the Unist'ot'en, we just watched what their veto over the peacefully protesting Wet'suwet'en land defenders looked like."
Horgan wasn't the only leader under fire after publicly addressing Monday's raid of the Gidimt'en Clan's camp, established a few weeks ago to protect their part of Wet'suwet'en territory.
At a town hall event in Kamloops Wednesday evening, Arnie Jack of the Secwepemc Nation pressed Trudeau on the Trans Mountain pipeline and asked the prime minister for evidence the Secwepemc ceded or surrendered their lands to the Crown.
"Canada does not have a deed to Shuswap territory, you do not have a deed to Secwepemcul'ecw," he said, adding Canada does "not have the consent of our Shuswap Nation Elder's Council to put a pipeline through our territory."
Jack told Trudeau agreements with leadership whose authority was established under Canada's Indian Act does not equate to consent from the Nation.
"You can stand up all of the elected chiefs that you want and say that you have consent, but you do not have consent from the people on the ground," he said.
"What you did to the Unist'ot'en — that's a national disgrace," Arnie Jack of the Secwepemc Nation told Trudeau Wednesday in Kamloops. APTN photo.
When Jack told Trudeau he "may have bought a few INAC chiefs but you don't own us all," the prime minister's response resembled something he said to a Secwepemc leader last month at an Assembly of First Nations special chiefs' assembly in Ottawa.
On Dec. 5 Neskonlith Indian Band Chief Judy Wilson told Trudeau that on the issue of Trans Mountain Canada does not have the consent of the proper title and rights holders of the Secwepemc Nation, who she said are the collective people and not elected Indian Act chiefs like herself.
After hearing Trudeau's remarks to Jack Wednesday evening, Wilson said she believes the prime minister is "dividing" the people of her Nation, "and being selective" in who his government deals with.
"He's trying to say the Indian Act chiefs and councils have the authority and jurisdiction for the territory, which they don't," Wilson told APTN News.
"When [bands] sign impacts and benefit agreements or agreements with the government their jurisdiction is only over the one percent of reserve lands," she said. "Collectively the proper title holders hold the 99 percent of the territory" of the Secwepemc Nation's 180,000 square kilometres."
Jack told Trudeau Wednesday night in Kamloops he wants the "RCMP out of Unist'ot'en territory."
Thousands of Indigenous people and allies across Canada sent messages of support to Unist'ot'en on Tuesday, many of them also ordering the federal police out of the unceded territory.
Peter Grant, a lawyer representing the Wet'suwet'en hereditary chiefs, told APTN Thursday that the 1997 Supreme Court of Canada (SCC) Delgamuukw decision acknowledged that the Wet'suwet'en House chiefs "represented their House groups and collectively their Nation."
He said this is where the RCMP got it wrong in a statement they posted to their website before enforcing the injunction, and then later retracted.
In an unusual move, the RCMP publicly interpreted Aboriginal case law to justify removing Indigenous people from their lands.
They said last Sunday that because the SCC ordered a retrial, and since that retrial has not happened, "Aboriginal title to this land, and which Indigenous nation holds it, has not been determined."
Grant said the RCMP were "right to retract their statement," adding "it's not that title doesn't exist pre-declaration, it's that the government is refusing to recognize title before a court declaration.
"The law is clear," he said, "Aboriginal title, if it's there, is there throughout."
In Kamloops, Jack issued a stern warning to Trudeau, saying if the government tries to force the Trans Mountain pipeline through Secwepemc territory his people are "prepared to meet you on the ground this summer anywhere you want," alluding to the month-long Gustafson Lake standoff in 1995.
"We're serious. We're not playing around," he continued. "What you did to the Unist'ot'en — that's a national disgrace. Jan. 7 was a national disgrace [for] Canada."