Trudeau announces millions in mental health support money during visit to James Smith Cree Nation
The community was the site of a stabbing attack that left 11 people dead.
---
Prime Minister Justin Trudeau vowed to help survivors of the September attacks in James Smith Cree Nation by announcing $62.5 million in spending toward mental health support during a visit to the community on Monday.
"Today, I heard first-hand the pain, sorrow, anger, and grief that people here in the community of James Smith Cree Nation are feeling. Canadians are mourning with you," said a statement by Trudeau Monday afternoon
"More access to mental health and addictions care will help create a safer and healthier community, and to the people of James Smith Cree Nation: the government will be your partner every step of the way on your healing journey."
On Sept. 4, a stabbing spree left 11 people dead and 18 injured in James Smith Cree Nation, as well as in the nearby village of Weldon, Sask., northeast of Saskatoon. The suspect in the attacks, 32-year-old Myles Sanderson, died in police custody days later.
Trudeau visited the graves of victims of the deadly stabbing rampage before he was to meet with family members in private.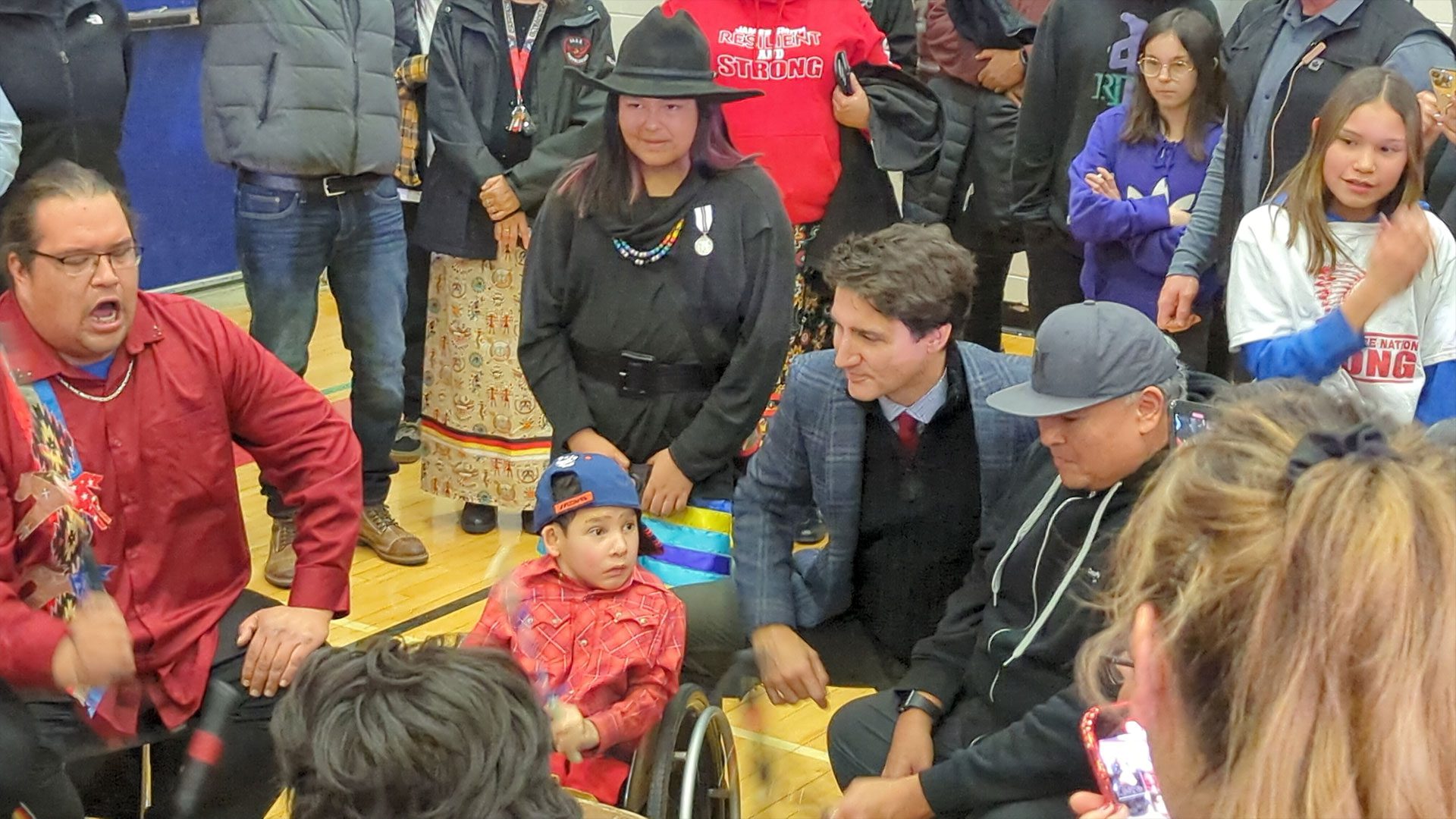 ---
The prime minister also spent part of the day in meetings with leaders and community members.
Trudeau, accompanied by Indigenous Services Minister Patty Hajdu, went to Saint Stephen's Anglican Church, where seven of the victims are buried. They were joined by Chief Wally Burns, as well as Peter Chapman First Nation Chief Robert Head and Chakastaypasin First Nation Chief Calvin Sanderson.
The wind blew fresh snow around as Trudeau trudged through nearly knee-high drifts to get around the cemetery. He laid down tobacco and made the sign of the cross at each of the graves. Trudeau also took a moment of silence after the chiefs briefly spoke at the different locations.
According to the release from the Prime Minister's Office, there will be $4.5 million "ongoing to support the healing, mental health, and well-being of community members" who were affected by the attacks
"Everyone should have access to the type of support they need, and today we're taking action to improve access to culturally grounded mental health and addictions care for the people of James Smith Cree Nation," he said.
The statement said from the this new money, $42.5 million will building a new wellness centre in the community and "repurposing" the healing centre Sakwatamo Lodge.
---
Trudeau also announced an additional $20 million over four years to top-up the Pathways to Safe Indigenous Communities Initiative, a federal program aimed at ending violence against Indigenous women, girls, and 2SLGBTQI+ people.
"This initiative is supporting James Smith Cree Nation and other communities in developing and delivering community-based safety and wellness projects," the statement said
"We are thankful for his visit – his kind words were profoundly touching as our community members continue to mourn the loss of their loved ones," said Burns. "We recognize that Prime Minister Trudeau and his government were responsive to our immediate needs for emergency health supports immediately after the incident, which helped us during a time of great turmoil. His visit gives us confidence that we can continue to work together to meet our long-term goals that include our need for treatment centres and self-administered policing."
The stabbings also amplified calls for more Indigenous-led policing, and Public Safety Minister Marco Mendicino has promised to "work around the clock" to table legislation this fall that would declare Indigenous policing an essential service.
Burns has been among those calling for tribal policing and has also said the community needs funding for housing, especially for those reluctant to return to homes where family members were killed.
Saskatchewan's chief coroner has said two public inquiries will be held into the stabbings _ one that will focus on the 11 killings, and another that will focus on the death of Sanderson in police custody.
With files from the Canadian Press