'They need to check their privilege': Scheer calls for police to end demonstrations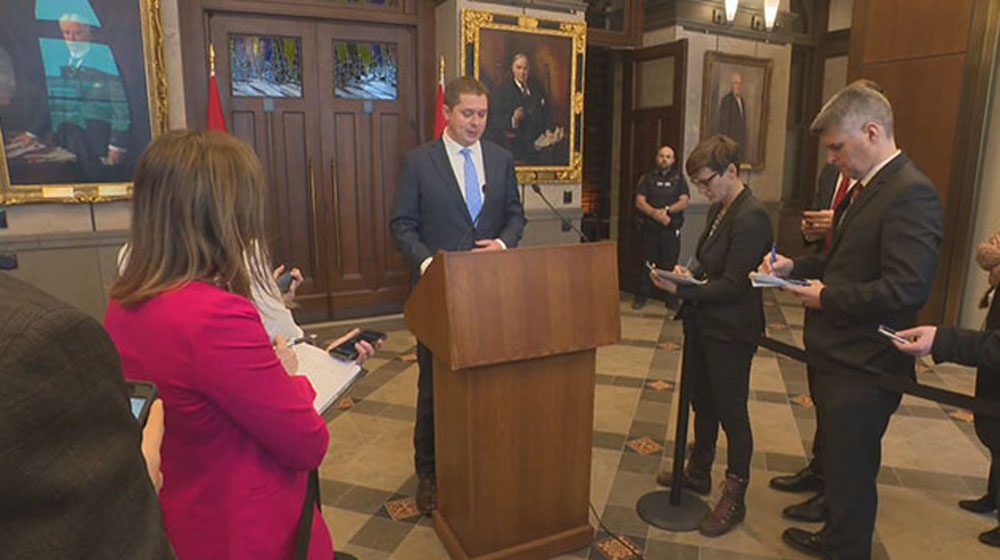 Outgoing federal Conservative leader Andrew Scheer said police should enforce injunctions and end "illegal" demonstrations that have crippled rail infrastructure across Canada.
"Radical activists – many of whom have no connection to the Wet'suwet'en people – are holding the country's economy hostage," said Scheer, who resigned as Tory leader in December.
If he was in charge, Scheer said he'd "direct the RCMP to enforce the law to ensure that our railway system can operate."
Prime Minister Justin Trudeau, speaking in Germany, disagreed.
"We are not the kind of country where politicians get to tell the police what to do in operational matters," he said.
"We are a country that recognizes the right to protest, but we are a country of the rule of law."
Transport minister Marc Garneau also disagreed with Scheer, saying that enforcing injunctions to end demonstrations falls under provincial jurisdiction.
The provinces also have to consider "some history," he said.
Garneau pointed to Caledonia as well as the Ipperwash standoff where Dudley George, a member of the Kettle and Stony Point First Nation, was shot by OPP and later died.
"It is their decision about how to approach that," said Garneau, "but the injunctions have to be respected because we are a country of the rule of law."
Scheer addressed reporters on Parliament Hill which was otherwise quiet as MPs were off all week and are slated to return Tuesday.
These actions have erupted in nearly every province in solidarity with hereditary chiefs of the Wet'suwet'en Nation in northern British Columbia.
Canadian National Railway (CN) has shut down most of its network in eastern Canada. Via Rail halted passenger travel except for two lines. CN obtained injunctions to end the actions.
Read more:
Trains remain idle as federal government offers to meet with Tyendinaga Mohawks
'Significant' rail shut down looms as Wet'suwet'en solidarity actions continue
Chiefs representing the five clans of the Wet'suwet'en oppose construction of the $6.6-billion Coastal GasLink pipeline and assert Aboriginal title to 22,000 square kilometres of territory. The 670-kilometre pipe would carry fracked natural gas from Dawson Creek to Kitimat on the coast, where it would be liquified and shipped to Asian markets.
While hereditary chiefs say the pipeline requires their permission, all elected governments have signed Impact Benefit Agreements (IBAs) with the company. These agreements provide jobs and money in exchange for a declaration of support.
RCMP enforced an injunction against Wet'suwet'en hereditary chiefs and their allies beginning on Feb.6. Mounties moved down the Morice West Forest Service Road near Houston, dismantling camps and arresting 28.
Gitxsan hereditary Chief Spookw, also known as Norman Stephens, agreed to end a rail blockade near New Hazelton, B.C. The blockade was deconstructed after B.C. and the federal government agreed to meet with hereditary chiefs of the Gitxsan and Wet'suwet'en Nations.
A demonstration near CN rails just off Tyendinaga Mohawk Territory in Ontario is under Ontario Provincial Police (OPP) jurisdiction, not RCMP. They have yet to enforce the injunction.
On Thursday, Indigenous Services minister Marc Miller offered to meet with the Tyendinaga Mohawks. The talks will proceed according to principles of a nation-to-nation agreement that dates back to the earliest days of colonization. This has been set for Saturday at the CN rail crossing where the demonstration is happening.
A rail blockade near Winnipeg was quickly dismantled, while a similar action on Listuguj First Nation territory in Quebec continues blocking train tracks. Mohawks at Kahnawake are blocking a commuter train from travelling into Montreal.
"These protesters, these activists, may have the luxury of spending days at a time at a blockade, but they need to check their privilege. They need to check their privilege and let people whose job depends on the railway system and small business farmers do their jobs," Scheer said.
The project, said Scheer, "has the support of elected band councils across the Wet'suwet'en First Nation. The First Nations community supports this project, and the jobs it will create. Democracy and the rule of law are fundamental pillars of our country, and it's time they are enforced."
Whose rule of law?
Those who study the rule of law argue it isn't so simple.
"The concern is that the rule of law has been credited with creating and upholding ongoing injustices and legacies that have deprived Indigenous peoples of their lands and culture," Drew Lafond, a member of Muskeg Lake Cree Nation in what is now Saskatchewan, told APTN News over the phone.
He said Canada's notion of the rule of law has to change.
"If that doesn't happen Indigenous peoples are going to continue to be in the unenviable position of constantly having to legitimize their traditional legal systems within colonial imposed judicial systems, most of which deny the authority and paramountcy of Indigenous law in Canada. So, the rule of law, where it currently stands, is inadequate."
Kent McNeil, emeritus professor at Osgoode Hall Law School in Toronto, echoed the argument.
"The problem here is that, when they talk about the rule of law – and it's not just [Scheer], Trudeau and Horgan have done so as well – that what they're talking about is the rule of Canadian law," said McNeil.
McNeil is not Indigenous but has written extensively on the subject of common law and Aboriginal title, and acted as consultant and expert witness in a Mayan land claim in Belize.
"And what Indigenous people are saying," he added, "is that we have to look at the rule of Indigenous law. Over the whole period of Canadian history, it has been a period of colonization and enforcement of first British, and French as well early on, and Canadian law. It's been imposed on the Indigenous peoples. Now they're pushing back."
Indigenous rights such as Aboriginal title are protected under Section 35 of the Canadian Constitution Act.
If Indigenous peoples feel like these rights are being infringed, they have few avenues, said McNeil.
"They can use the Canadian court system when governments are not respecting their rights, and as I say, they've done so fairly successfully in a number of cases.
"But the other avenue is political action, and that can either be through negotiations or – as we're seeing right now – it can be direct action, where they engage in civil disobedience and that's what we have happening right now. This is the kind of problem that arises when these kinds of conflicts are not resolved in a peaceful manner with Indigenous peoples, respecting their authority."
McNeil and Lafond were two of many lawyers and scholars that signed an open letter to Trudeau and B.C. premier John Horgan.
The letter was sent by First Peoples Law on Jan.22, but began making the social media rounds again as nationwide demonstrations heated up.
Lafond also cautioned against using terminology like "illegal blockades" or "civil disobedience" when you have two competing legal systems that interpret events different.
"In order for the rule of law to have any legitimacy in Canada, it has to include Indigenous legal orders in the correct territorial applications of those orders," he said.
But there is a way forward. Lafond said these kinds of conflicts also provide a chance to change the system.
"Disputes like this can be viewed as opportunities for the Canadian government to correct the disparities between these two legal systems in a manner that is consistent with Section 35 of the Constitution Act and the United Nations Declaration on the Rights of Indigenous Peoples."
Justice Canada minister David Lametti discussed this topic at an Assembly of First Nations special assembly in December.  He said Western law had "engulfed" Wet'suwet'en law, which he called "the essence of colonialism."
"For meaningful reconciliation to happen, Indigenous legal traditions must be recognized in their own right, and applied alongside Western legal tradition."
Yet, when demonstrators in Ottawa occupied the Justice Building to protest the RCMP, Lametti told them it was a provincial matter, and he could not intervene.