'They failed to protect Amy': Child welfare agency, foster home sued for $5.5M over teen's suicide
Lawsuit claims Tikinagan Child and Family Services and Mary Homes are responsible for Amy Owen's "wrongful death" April 17, 2017.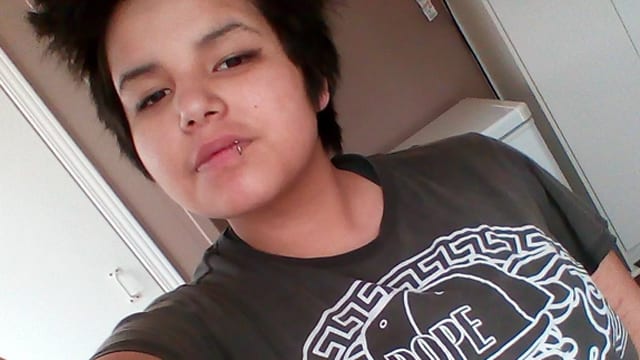 ---
The family of Amy Jane Owen is suing the child welfare agency and the foster home where the 13-year-old died by suicide thousands of kilometres away from her community.
The statement of claim was filed Tuesday and alleges Tikinagan Child and Family Services and Mary Homes are responsible for Owen's "wrongful death" April 17, 2017.
"While Amy was in the defendants care the defendants repeatedly ignored diagnosis events, obvious signs, and expert recommendations, which indicated that Amy was at serious risk of self-harm. Their actions and inactions led to the pain and suffering by Amy, and ultimately to her preventable death," the lawsuit alleges.
APTN News contacted Tikinagan and Mary Homes for comment but didn't get an immediate response.
Owen was from Poplar Hill First Nation, near the Manitoba and Ontario border, but was removed from her home about six months before her death after she was sexually abused by a man in the community according to the lawsuit.
The Owen family is the second from Poplar Hill to sue Tikinagan over a child in its care dying by suicide.
Kanina Sue Turtle's family is suing for $5.9 million after Turtle, 15, filmed her suicide in a foster home owned and operated by Tikinagan in Sioux Lookout Oct. 29, 2016.
The video shows she was left alone over 46 minutes before the sole worker in the home checked on her.
Several months later Owen took her own life in a similar way.
Her struggles have been documented by APTN and the statement of claim is based largely on those stories but includes new allegations, such as psychiatric records being withheld from doctors in Owen's last days alive.
APTN has reported Owen was in hospital seven times for suicidal ideation and self-harming in the six months before she died.
It began when Tikinagan sent Owen to a group home in Prescott, Ont. in October 2016.
A day after arriving Owen seriously self-harmed and was taken to the Children's Hospital of Eastern Ontario (CHEO) in Ottawa.
She would go back shortly after and again in late December 2016.
Each time Owen would stay for about week at CHEO.
After CHEO released her on Jan. 6, 2017, Owen tried to run to the railway tracks across the road from the Prescott group home, a common incident over the several months she was there.
"She started escalating late that night and it got worse. She was running to the tracks. Several staff attempted to restrain her, one was injured, and the police were called to assist," Esther Aiken, owner of the group home, previously told APTN.
Aiken said Owen had to be moved for her safety and has been "haunted" by that decision ever since.
Owen was transfered to an Ottawa home that specializes in high-risk youth owned by Mary Homes, a private company that operates a number of licensed group homes in Ottawa.
Soon Mary Homes moved Owen to its Willhaven residence.
APTN previously reported Owen tried to kill herself by running into oncoming traffic after running away from Willhaven.
The lawsuit alleges she was often unsupervised or put in restraints.
"Amy was punished for acts of self-harm through grounding, meaning isolation in her room," the claim alleges.
In March, she tried to kill herself in her room.
She also said she believed she was sexually assaulted at a "crackhouse" after waking up naked there.
By April she was back at CHEO and would be four times in nine days for self-harm.
"Group home workers became aware of multiple self-inflected cuts to her forearms. Amy Jane reported having increased suicidal ideation at that time, and alleged that she was planning to hang herself in her room. She disclosed that she had tried to hang herself with a rope in her room 'a couple of weeks ago,' and that her best friend had recently suicided by hanging," the coroner said in his report on Owen's death.
She was released in the afternoon of April 4 and was back the same night with three more new cuts.
Four days later, on April 8, she was back at CHEO with eight new lacerations to her right arm that needed 24 stitches.
"She was subsequently assessed by a crisis intervention social worker … deemed not to have any active suicidal ideation, and was advised to follow-up with multiple available resources in the community," the coroner said.
The next day Amy was back at hospital with a new self-inflicted laceration to her left arm. She again denied any suicidal ideation.
"According to group home staff, Amy Jane continued to demonstrate aggressive and self-harming behavior and had been supposed to return to the higher-acuity crisis home … on April 13, 2017," stated the report.
But the home was found to have too many other high risk "clients" and the decision was made to keep Owen at the Willhaven residence.
Like Turtle, Owen was left alone in the bedroom of her group home when she died despite a need for her to be under strict supervision, according to the coroner's report of her death.
The lawsuit also alleges CHEO recommended two weeks before her death that Owen should be under strict supervision.
This issue was brought up by Tikinagan during the police investigation of her death.
"Amy Jane's Tikinagan CAS worker did express concerns to Police about the lack of 1:1 supervision at the group home at the time of Amy's death," the coroner said.
The "1:1 supervision" means having a group home worker with Owen around the clock but Mary Homes said, according to the coroner's report, it had difficulty arranging a 1:1 worker for Owen.
On the day she died, there were three workers for eight residents of the home, a fourth worker was out picking up a child, according to the coroner.
Owen was seen at 2:45 p.m. "alive and well" in her bedroom. An hour later she was found lifeless. She died by hanging.
She was pronounced dead at 5:10 p.m. at hospital.
The family alleges they learned through Facebook of Owen's death and allege neither Tikinagan nor Mary Homes called to tell them.
Police found Owen's diary with entries of "suicidal themes" during its investigation.
Pictures of Owen before her death show dozens and dozens of scars on both arms from self-harming.
In the days leading up to her death, CHEO also wanted her previous pyschiatric records but requests to Tikinagan "went unanswered" according to the lawsuit.
"Amy's death occurred as a direct result of the negligence, and/or reckless indifference … of the defendants," the lawsuit alleges. "They failed to protect Amy when they knew, or ought to have known, that she was a danger to herself."
Her death was one of 12 reexamined by panel of experts last year that looked at the files of each child between 2014 and 2017. Eight of the children were Indigenous and the panel found Ontario's child welfare system completely failed each child.
Regarding Owen's death, the panel confirmed that she was in a suicide pact with two other youth that had already died, which APTN had previously reported.
Months after her death, Mary Homes surrendered its license to operate the Willhaven home. APTN has monitored the home since and its appears to have remained unoccupied.
The families of Turtle and Owen are represented by Cara Valiquette of Falls Law Group in Bracebridge, Ont. and Christopher Du Vernet in Toronto.
The Canada Suicide Prevention Service enables callers anywhere in Canada to access crisis support using the technology of their choice (phone, text or chat), in French or English:
Phone: toll-free 1-833-456-4566
Text: 45645
Chat: crisisservicescanada.ca