The journey of Gladys Radek and her fight for human rights
Gladys Radek loves music.
She says it helps her get through tough times, like now, as she prepares for the release of the final report from the National Inquiry into Missing and Murdered Indigenous Women and Girls (MMIWG) in Gatineau, Quebec.
"I have been anxious for the last while, realizing that this is closing the circle, that gap, that I set up to do back in 2008," Radek says.
Radek has invited APTN News to hear her truths and meet some of her friends as she travels across Canada for this cause one last time.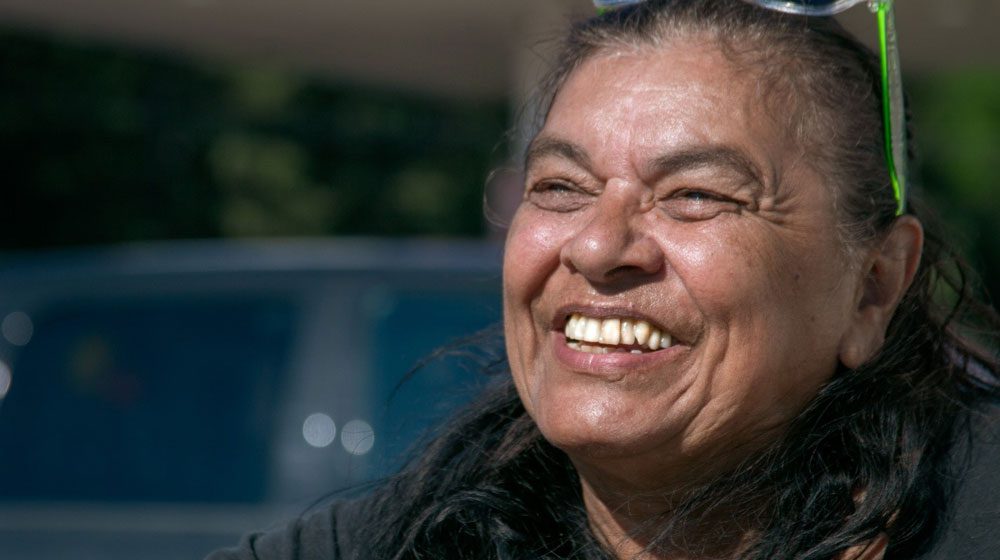 (Gladys Radek getting ready to witness the final report for the National Inquiry into Missing and Murdered Indigenous Women and Girls. Photo: Charlotte Morritt-Jacobs/APTN)
"As beautiful as God's country is up here there's still a lot of ghosts in the closet that need to be addressed. That's what I think about all the time," she says.
The ghosts she speaks of lie along infamous Hwy 16 – better known as the Highway of Tears in B.C.
Radek is from the Gitxsan Wet'suwet'en territory, more commonly known as Moricetown.
She has seen the country while advocating for stolen sisters through her "March 4 Justice" walks.
"Before this movement, before the walks, no one was talking about the missing and murdered women. Our family members right across the nation were in their own pain, their little world – they thought nobody cared," Radek says.
(Radek says the "War Pony," is one of her best tools for raising awareness around MMIWG. Photo: Charlotte Morritt-Jacobs/APTN)
In her home on the outskirts of Terrace, B.C., she sorts through photos of MMIWG.
The number swells each year. This time there are more than 110 pictures to tape on her hatchback which she calls her "war pony."
It all started with one, her niece Tamara Chipman, who went missing from Prince Rupert, B.C. in 2005.
Tamara was 22 years old at the time and mother to a 4-year-old boy when she disappeared.
She is still missing today.
In 2008 Radek started the Tears 4 Justice March, walking from B.C. to Ottawa.
The walk quickly gathered momentum as families began to join her in support.
She has completed seven walks.
"It was far beyond any organization or paid government employees. I think what we did came from our hearts and it was more meaningful than anything else," she says.
Read More: 
Fourth annual Walk 4 Justice begins
Commissioners say calling it genocide 'inescapable conclusion' 
Read the national MMIWG inquiry's Calls for Justice here
Radek has inspired many so there's quite a few to say good-bye to before heading out.
That includes her sister Lorna Brown, who is co-founder of the Tears to Hope Relay, where families raise awareness for missing and murdered Indigenous women.
"My brother (Tamara's Dad) is not comfortable being in the media so Gladys has been our voice for so many years, and she has been the voice for so many families across Canada," she says.
"This is not an Aboriginal issue – this is all of our issue," Brown says.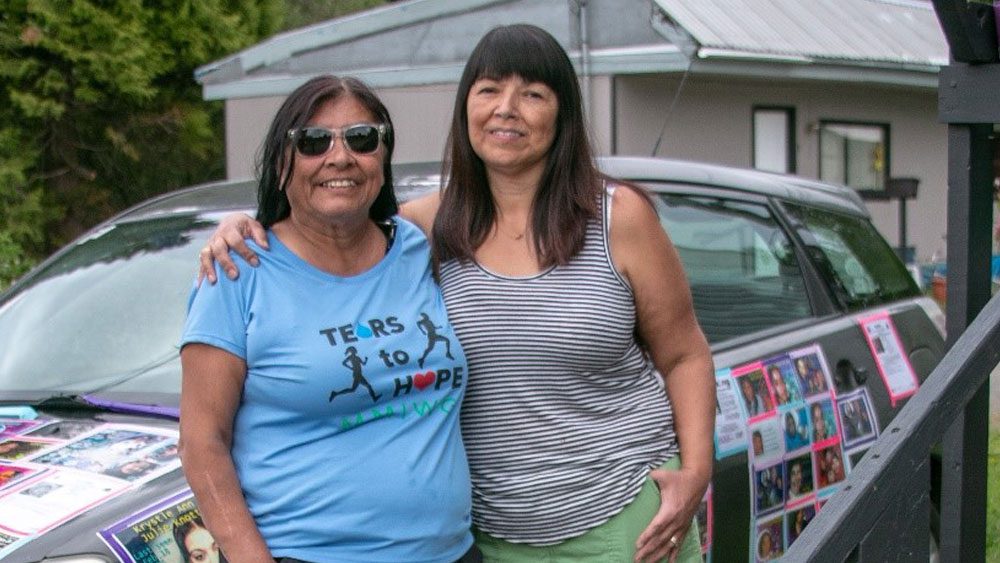 (Radek and her sister Lorna Brown.  Photo: Charlotte Morritt-Jacobs/APTN)
Radek has experienced racism during her walks with men following and recording participants.
Scarier still she says is the lack of RCMP presence during those walks.
"We walked into Portage La Prairie, (MB) right when Jennifer Catcheway had gone missing. We were just approaching town and on the side of the road I saw a black hoodie," she says.
"It freaked me right out, because that was the last thing she was seen wearing."
Radek says she phoned the police and pleaded with them to collect the sweater.
What she didn't expect was what she describes as indifference from the RCMP.
"It took them an hour-and-a-half and we were just out of town. That shows the police don't care.
"They eventually did come back, picked up the sweater but didn't call back to follow up," she says.
(The Highway of Tears spans 720-kilometers from the Coast of Prince Rupert, British Columbia to Prince George, B.C. Photo: Charlotte Morritt-Jacobs/APTN)
On the last stop to pick up some sacred ocean water, Radek's daughter's family has waiting for her, her son-in-law William Dick references more careless attitudes he has seen at play when Indigenous women have gone missing.
"I would hear people say 'that girl went missing because she was in to drugs.' Well, she went missing because somebody made a choice to kill her. She went missing because somebody murdered her and left her somewhere.
"She didn't go missing because she was a drunk or into prostitution," Dick says.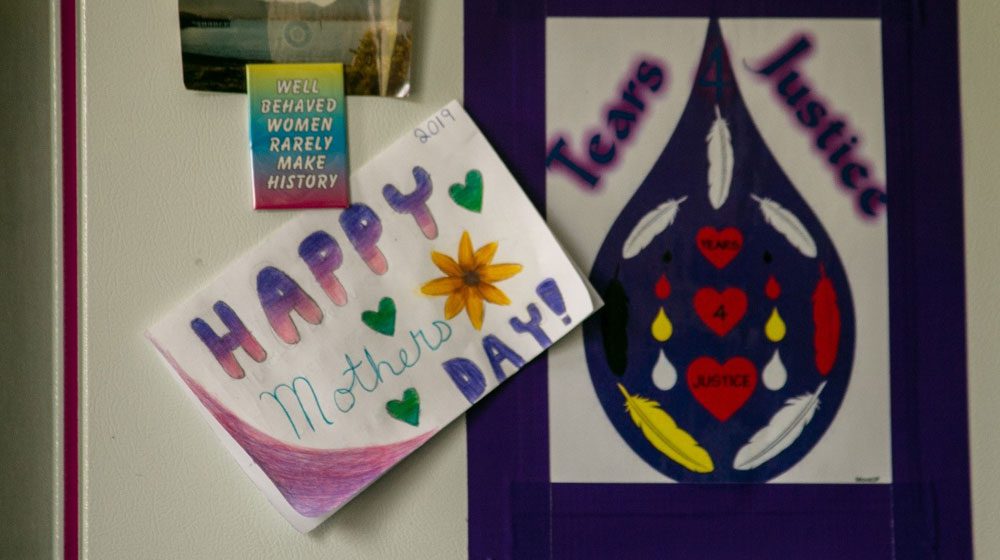 (Gladys Radek's fridge in Terrace, B.C. Photo: Charlotte Morritt-Jacobs/APTN)
It's 6 a.m. and Radek smudges the photos taped on the war pony.
She keeps the memory of Tamara close by placing her picture front and centre on the hood, bouncing a reflection into the interior that can be seen at all times.
"Going to Gatineau – to the big house and delivering our voices to them (Canada) – it is an important step towards positive change," she says.
At the MMIWG inquiry hearings in Smithers, B.C., which sits along the Hwy of Tears, Radek gave recommendations around barriers to safety Indigenous women and girls face in the communities along Hwy 16.
Some things in her area have improved like the implementation of a low-cost public shuttle bus.
But walk into any gas station along the highway, and you'll see the faces of missing and murdered on posters touting rewards for any information.
(Missing person poster found in Kitwanga, B.C. truck stop. Photo: Charlotte Morritt-Jacobs/APTN)
Since the hearings in northern B.C., two women have been found dead and one has gone missing from Smithers.
Chantelle Simpson, age 34, was found in Skeena River, 10 kilometres east of Terrace.
Eighteen-year-old Jessica Patrick's remains were discovered on the Hudson Bay Mountain in Smithers.
And Frances Brown, (53) whose photo is recognized by her auntie when Radek was parked in Moricetown, went missing in the forest north of Smithers.
(Auntie of Frances Brown wishing Radek well after she sees her niece's photo taped to the "war pony." Photo: Charlotte Morritt-Jacobs/APTN)
Radek drops by a truck stop in Kitwanga, B.C. to meet Wanda Good, an old friend and fellow MMIWG advocate.
Over the roar of semis passing by, Good tells APTN her family has never had closure for her loved ones.
Her cousin Alberta Williams went missing in 1989 and was found 10 days later murdered outside Prince Rupert.
Her cousin Lana Derrick disappeared without a trace in 1995 near Terrace and has never been found.
"Back when my cousins went missing. there was no response for about two weeks at least. We did our own searches, and put up our own posters," she says.
Good believes the inquiry's recommendations must target the root cause of marginalization and demand action for all levels of government.
"I think 23 years later (since the disappearance of Lana Derrick) the response is better but the stereotypes and attitudes still haven't changed.
"When we do speak up, we mostly get reactions like eye rolls," Good says.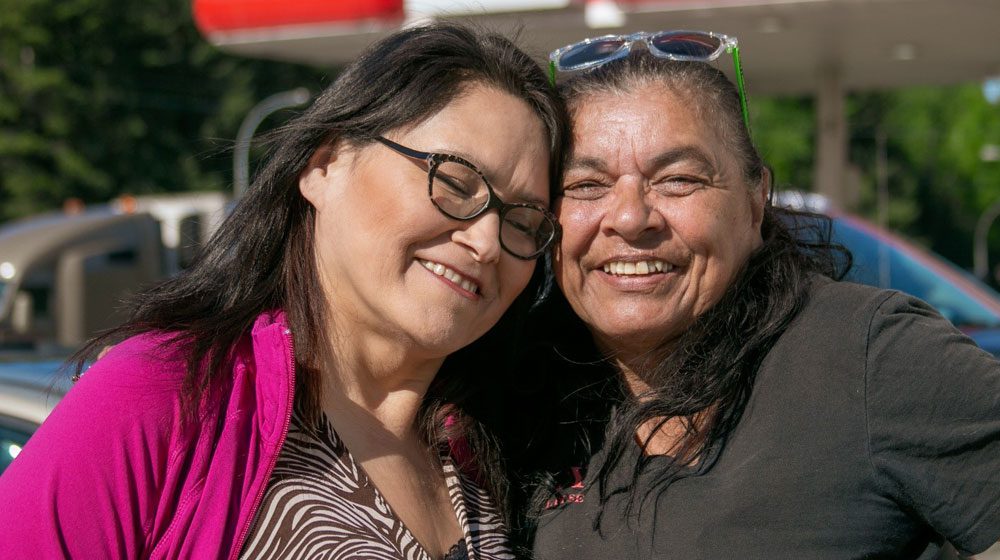 (Wanda Good tells Radek she is translating the executive summary of the MMIWG national inquiry into her traditional Gitxsan language. Photo: Charlotte Morritt-Jacobs/APTN)
Driving along the two-lane graytop, Radek points out several markers of violence – including the place where her abusers still live, she says.
"I want to see dollars rolled out for health, healing and wellness centres. Especially as more of our women and girls are migrating to cities. This is about the rights of our future generations," she says.
Radek also fights for those not included in Highway of Tears justice initiatives –  victims who went missing or were discovered on corridors around but not directly tied to Highway 16.
Doug Leslie's daughter's case fits that bill.
Loren Leslie was 15 when she was found murdered on a logging road north of Vanderhoof, B.C., in 2010.
"It just seems like it is a little fad and it goes away. In order to get anything done at all it takes people like Gladys to turn the key again," Leslie says.
(Doug Leslie shows off one way he keeps his daughter's memory alive. Through starting a foundation in her honour. Photo: Charlotte Morritt-Jacobs/APTN)
Loren's teeter totter and tire swing remain in place – a reminder of loss always in sight in Leslie's backyard.
"For the first seven years I wrote to Loren everyday on Facebook," he says. "Now I plan on taking that off of Facebook and writing a book.
"Hopefully it will help someone else get through their seven years."
Watch Part 2 of Gladys' story

Loren's perpetrator also murdered three other women between 2009 and 2010 including Jill Stacey Stuchenko, 35-year-old mother of six, Cynthia Frances Maas, 35, and Natasha Lynn Montgomery, 23 year old mother of two whose body has never been found.
Radek was planning on making it to Edmonton to rest, but when a wildfire closes the highway near Edson, Alta., she drives through the night on dark logging roads.
She's determined to push forward.
In the morning, she makes it to Saskatchewan and drops by Myrna LaPlante's house in Saskatoon.
Her aunt, Emily Osmond Laplante, (78) vanished from her home on Kawacatoose First Nation, Sask. in 2007, and her 17-year-old nephew Cody Wolfe went missing in 2011 from Lestock, Sask.
LePlante says she wants to see more action plans developed to keep youth safe.
"Can't we live in a society where my daughter, son and grandchildren can be safe? We are cognizant of what is going on in our communities with our youth who are in a vulnerable state," she says.
LaPlante is a longtime advocate and has helped families conduct searches for their loved ones.
She says the most important action one can take during times of tragedy is supporting and receiving support from other families in similar situations.
"People will ask about my missing aunt and nephew and question how I cope. I say it is the love and prayers of the community and the emotional support of families that I have. Having met Gladys and Bernie Williams and all of the families that we have connected across the country," she says.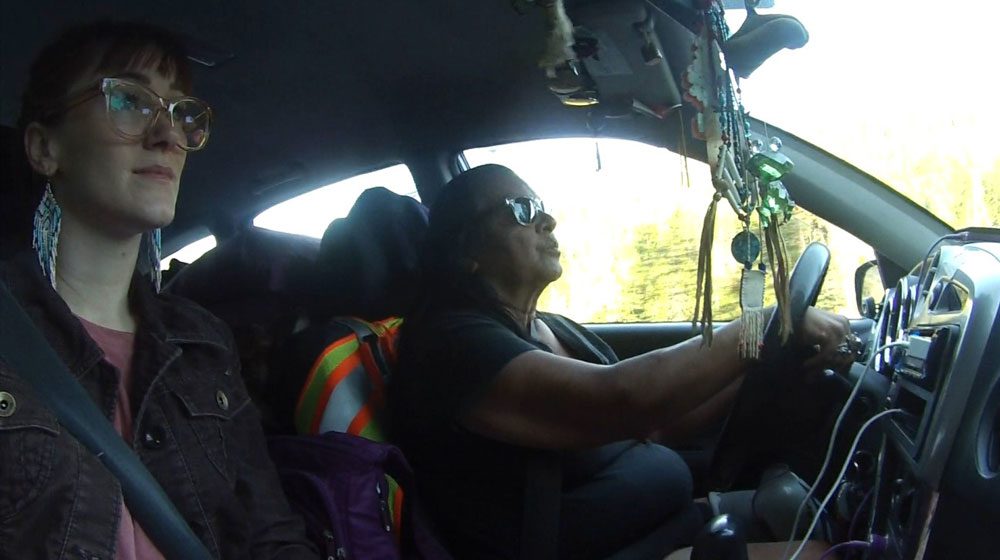 (APTN News reporter Charlotte Morritt-Jacobs and Gladys Radek on a road trip from Terrace, B.C. to Saskatoon.)
Despite some who are critical of the inquiry, Radek says she doesn't want those criticisms to mar the successes.
"I think about those commissioners and I think about how long it took me to learn all of these stories. It took me 11 years and they were given 2.5 years to learn those stories, to hear and learn and figure out what can we do to change things," Radek says.
It's time to go. Radek still has a lot of highway and fighting left to go.
"My message to Justin Trudeau, honour us. The families have real hearts and they love. Honour us by giving us what we want in those recommendations," she says.
"It is not hard to live by basic human rights standards."
(Radek's war pony outside the Canadian Museum of History in Gatineau, Que. where the closing ceremony was held. Photo: Brendan Hennigan/APTN)
At the closing ceremony, her final destination, Radek has one more thing to say.
She walked up to Prime Minister Justin Trudeau, who was clutching the final report in his arms, and asked him to come out to see her war pony – which is now covered in photos of missing and murdered Indigenous women and girls.
Trudeau, who was involved in the closing ceremonies, shook his head. He was on his way to the airport to catch a flight to Vancouver for a global women's conference.