The Hamlet of Fort Chipewyan evacuates due to wildfires
Reports of looting in the area are not confirmed by RCMP
---
Nearly a 1,000 people in the community of Fort Chipewyan located 300 km north of Fort McMurray were ordered to leave their homes this week ahead of approaching wildfires.
The remote location of Fort Chipewyan in Alberta is complicating the evacuation of the community.
The community is the northernmost and oldest settlement in Alberta, is only accessible in the summer months by plane or boat.
The evacuation was done in stages and a Canadian Armed Forced Hercules aircraft air lifted out 108 people, according to the Alberta Emergency management agency.
"It is really good to see the regions working together," said Mike Mercredi, Fort Chipewyan resident and member of the Athabasca Fort Chipewyan First Nation.
He praised all the Indigenous groups in the region for working together.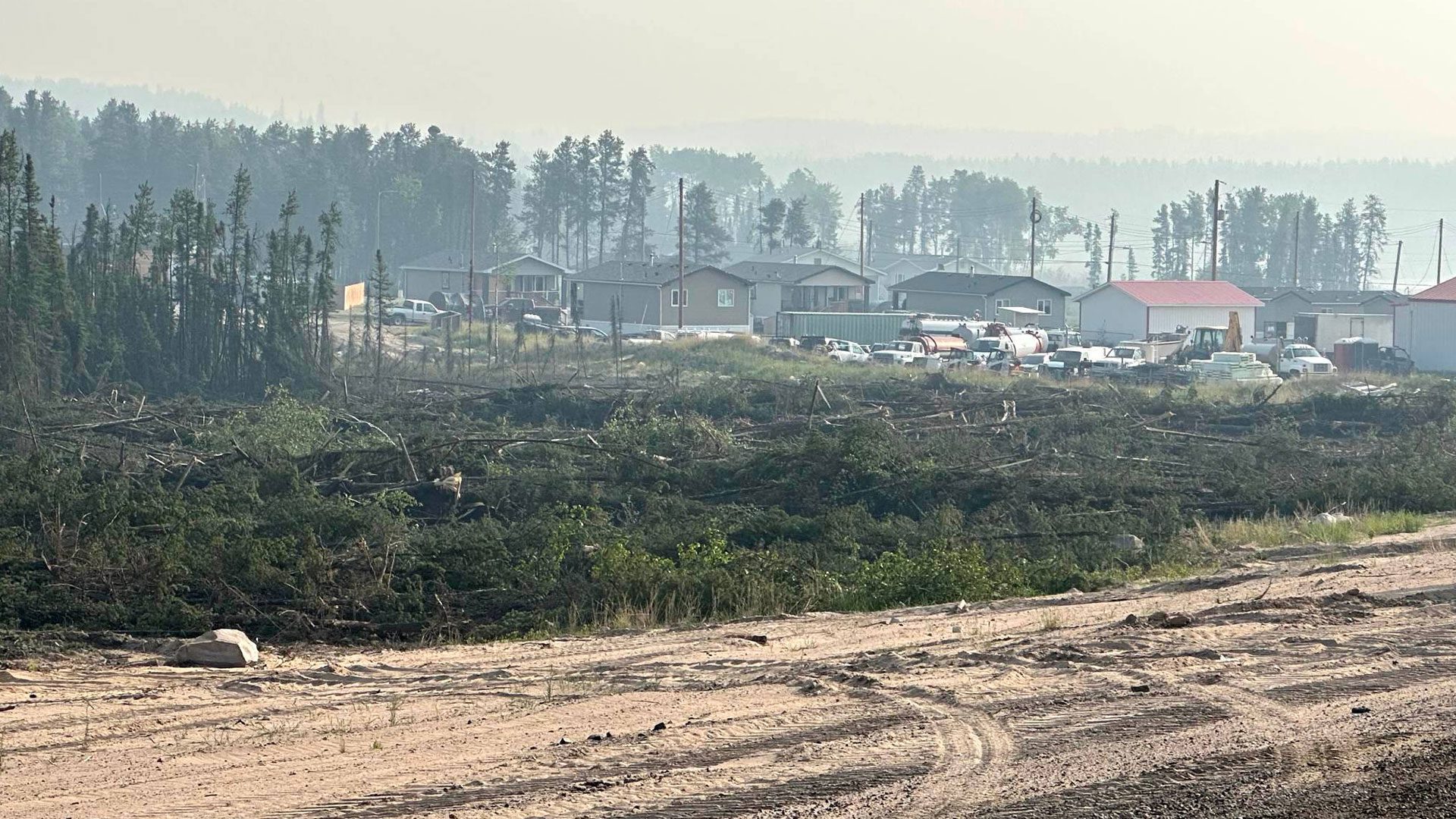 ---
"The Fort Mckay First nation received all of our evacuees who went down by boat. They did an awesome job." Mercredi told APTN News he's staying behind to help try and save the community property.
"Me and my neighbour are here watching houses. We have our sprinkler's going," he said.
Mercredi said there are three groups fighting the fires. The forestry department, Fort Chipewyan Fire department and Mikisew Tech.
"They have all their equipment out there and they are building a buffer zone," said Mercredi.
Right now, it is not known how many cabins or trap lines are gone. The fire is 13 km from Fort Chipewyan, and six kilometers from Allison Bay. The buffer zone is supposed to help slow the spread of the wildfire.
About 60 people have stayed behind, not including the numbers of people fighting the wildfire. Many of them are working as volunteers on the crew or helping to coordinate efforts to save property.
Mercredi said he and others have their boats ready to go in case they need to evacuate.
Sprinklers are set up to help keep the area soaked in the event that the fire does spread into town.
---
Chief Billy-Joe Tuccaro of Mikisew Cree First Nation said on a video update that people caught looting evacuated homes and businesses in the northern Alberta community of Fort Chipewyan will be banished.
Tuccaro said he had received reports of potential looting in the hamlet, which remains under evacuation due to a out-of control wildfire burning nearby.
Anyone caught stealing from evacuees will be punished, Tucarro warned.
RCMP Cpl. Troy Savinkoff told APTN News there are eight dedicated officers in the community, double the number that would normally be in the area— and police remain confident in their ability to protect evacuated neighbourhoods.
"We have not received one report of any break-ins. Our proactive controls have yet to come across one," said Savinkoff.
"If anybody is looting in regards to our property, you will lose all privileges in regards to Mikisew properties. I'm not kidding," said Tuccaro in his video.
Saskatchewan may ask for extra help to fight northern wildfires
The Saskatchewan Public Safety Agency says it may need extra help to fight fires in the province's northern region.
Steve Roberts, the agency's vice-president of operations, says Saskatchewan may request additional resources from within the country or internationally should it need to provide relief to local firefighters.
Roberts says preliminary inquiries have been sent out to see what might be available, but no crews from outside the province are currently fighting fires in Saskatchewan.
He says additional resources could be tight, given many have asked for help to fight fires across the country.
More than 300 firefighters from the United States and South Africa are to be sent to Canada to help battle flames in Nova Scotia and Alberta.
The Canadian Armed Forces is also set to support both provinces.
"We have a request out to check for availability of crews," Roberts says. "We know that those resources might be tight in Canada based on what is happening in Nova Scotia and what is happening in Alberta at this time, but we have some preliminary inquires to see what availability we have."
As of Thursday morning, Saskatchewan is battling 20 wildfires in the north. Seven of the fires are not contained and four require crews to protect property.
Roberts says the agency has relied on government firefighters, community teams and locals who have been trained to battle the flames. It has also previously relied on resources from Quebec.
Roberts says the province will look within Canada for additional help first and then the United States. It's not looking for aid from the military at this time, he said.
"Having a large number of fires this early in the season has stretched our capacity to some extent," he says. "We will be able to take advantage of course with the extra effort and improving weather conditions."
Many people in northern Saskatchewan haven't been able to return home due to fires. On Wednesday, community members identified as high-risk evacuated La Loche and Clearwater River Dene Nation. High-risk individuals include those with health issues, children under five and pregnant people.
The Saskatchewan Public Safety Agency is supporting 81 people from La Loche in Regina, as well as many others from various communities in Lloydminster and North Battleford.
With files from the Canadian Press