Teacher, school board apologize to Ontario family for inappropriate assignment
Students asked to write from perspective of colonist who 'discovered' North America
---
A family in Hamilton, Ont., just west of Toronto, is raising concerns about a school assignment that asked students to write from a colonizer's point of view that aims to convince Aboriginal people to allow the French to stay on Turtle Island.
"You are going to pretend that you are a colonist from France," the assignment handed out by the teacher say. "You have just discovered North America. The aboriginal people that were there before you are having issues with you staying. You are going to create a speech (as the French colonists) to convince the aboriginal people to let you stay on their land."
The assignment ends with, "The more convincing you are, the better your mark will be!"
Kyla Manswell, 13, is a Grade 7 student who says she hopes she never sees an assignment like this again.
"I just hope they can know that that isn't appropriate. They don't have to have the news talk about it to know this isn't appropriate." she told APTN News.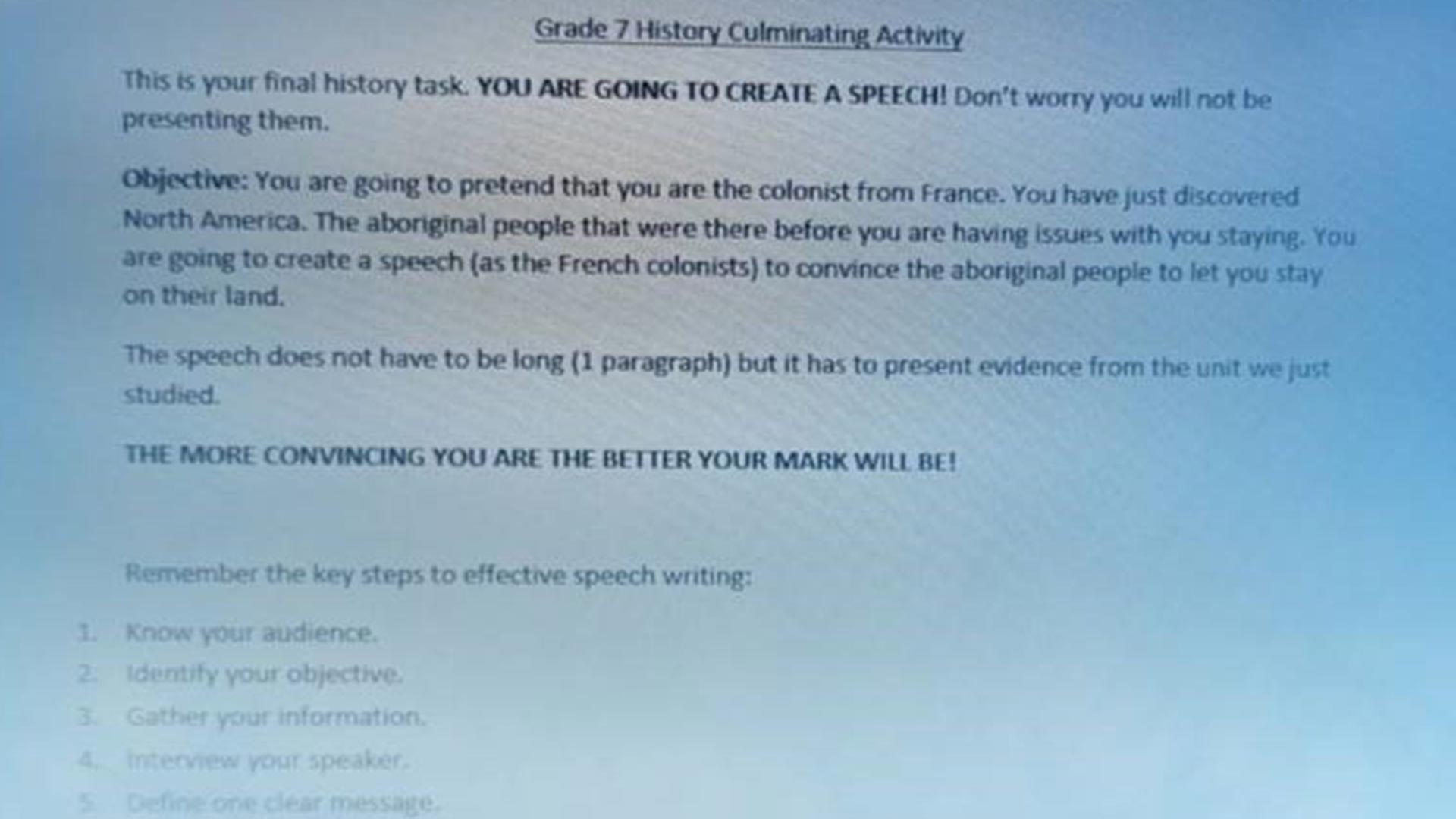 ---
Kyla said that while the assignment made her feel uncomfortable, she is also concerned for Indigenous peers in her class.
"I know there's people in my class that have, are like, of Aboriginal descent. So I'm thinking about how uncomfortable they probably felt doing this. So I know I would feel uncomfortable if they were asking me to like, write from the point of view to people that came to enslave people in Africa. And I would feel uncomfortable because those are my ancestors that we are talking about, and they wouldn't do this."
Denika Manswell is Kyla's mother.
She's from Guyana, a country on the northern coast of South America that was colonized by the British.
"I think coming from a country that was colonized by the British and knowing all the countries in the West Indies that were colonized by the French and now you're saying, 'Pretend to be this colonizer,'" she said. "The effects of that, and just from my personal experiences, there's no way I would want to pretend to be someone whose colonizing caused so much harm."
After finding out about the assignment, Denika Manswell wrote to the teacher and requested contact information for the school's principal and trustee.
She said the teacher, who the family is not identifying, apologized immediately.
So did the Hamilton-Wentworth Catholic District School Board.
"I want to say first that we regret and apologize for any hurt or concern this has caused this specific student and their family but beyond that, any hurt or concern within the Indigenous community and to absolutely pledge that, as the teacher has, that we as a system acknowledge the insensitivity and the inappropriateness and that we will learn and grow from it and as a system we are absolutely committed to that," said Pat Daly, chair of the school board.
Daly added that the board is committed to truth and reconciliation and that Melissa Button, the board's Indigenous Education Lead, will follow up with the entire school system.
APTN reached out to Button via telephone and e-mail but did not receive a response by the time this story was posted.
John Hupfield is a doctoral student in the Faculty of Education at York University.
He was a teacher in the WAABAN Indigenous teacher training program at York University last year.
In collaboration with the Toronto District School Board Indigenous Education Centre, and as a response to the Truth and Reconciliation report, the program offers admission to students who will complete the Bachelor of Education (BEd) degree with a focus on Indigenous worldviews.
Reached via email on Tuesday, he said he was not surprised to see such an exercise assigned.
"This is actually an ongoing and systemic issue – the curriculum is already written by primarily non-Indigenous folks, there have been some specific efforts to address that gap and invitations to have more Indigenous educators contribute since the TRC," he wrote. "But alas these projects were axed by our current provincial government almost immediately upon being elected."
In 2018, Indigenous leaders and curriculum leads expressed shock when a gathering intended to solidify plans for updating Indigenous content and delivery in the province's K-12 system was abruptly cancelled.
A statement from the Ministry of Education at that time said the decision was made "in keeping with the commitment Premier Doug Ford made to run government more efficiently."
Hupfield said it is difficult to have an understanding of colonialism in Ontario when education involving Indigenous Peoples remains out of their hands.
Regarding this assignment specifically he said, "The idea that European settlement could occur through the presentation of a convincing argument gives students the idea that treaty processes were fair and consensual with Indigenous nations. There has been a lot of historical research that shows us this is not the case and that negotiations through treaty were often one-sided and non-consensual.
"We need not look much further than the sheer number of land claim cases to see how contentious and damaging land negotiations have been."
Matthew Green is the NDP-MP for Hamilton Centre and the former executive director of the Hamilton Civic Centre for Inclusion.
He spoke about the assignment on social media this week, and commended Kyla for voicing her concerns on Monday.
He took to Facebook live to talk about the assignment and what can be done to understand the TRC Calls to Action on Tuesday.
"I think that her courage is indicative of the solidarity that we are seeing across the country between two historically oppressed and brutalized communities – the Black and Indigenous communities," he told APTN.
Kyla completed the assignment from the perspective of a person being confronted by colonialism – but has yet to receive a grade.
"So, please, tell me why, why are we in your eyes less? Why are we seen as animals and slaves? At the end of the day we are all equal, we all bleed the same blood and we are all human," she wrote.