Spring flooding forces evacuations in the Northwest Territories
---
Sirens cut through the silence in Fort Simpson, Northwest Territories on May 9 as alarms signal to residents in the 1,200 person community where water levels along the Dehcho – Macknzie River had reached 15 metres.
"It went on for a good minute and it was pretty scary sounding. I heard it in movies but never really heard it in real life," said Jonathan Antoine, a member of Łı́ı́dlı̨́ı̨́ Kų́ę́ First Nation, who calls Fort Simpson home.
This weekend, town officials ordered an evacuation for residents living on the island, a lower area of land at immediate risk of flooding.
"I have not seen levels this high before. I saw a plane underwater that is unheard of. The hope is that the water goes down right away. I want the causeway to hold up, because that is the only method of transportation to go into the community," he said.
Fort Simpson is located at the confluence of the Mackenzie River and the Liard River. There are high water levels and residents are still waiting for more ice to break and move along on the Mackenzie.
Emergency operations staff went door to door and assisted in transportation for evacuees because of the spring thaw flooding to the town's recreation centre where residents registered and confirmed they had left their home.
It's the first evacuation for Fort simpson since the flood of 1963.
This time around half of the community, roughly, 700 people, were displaced.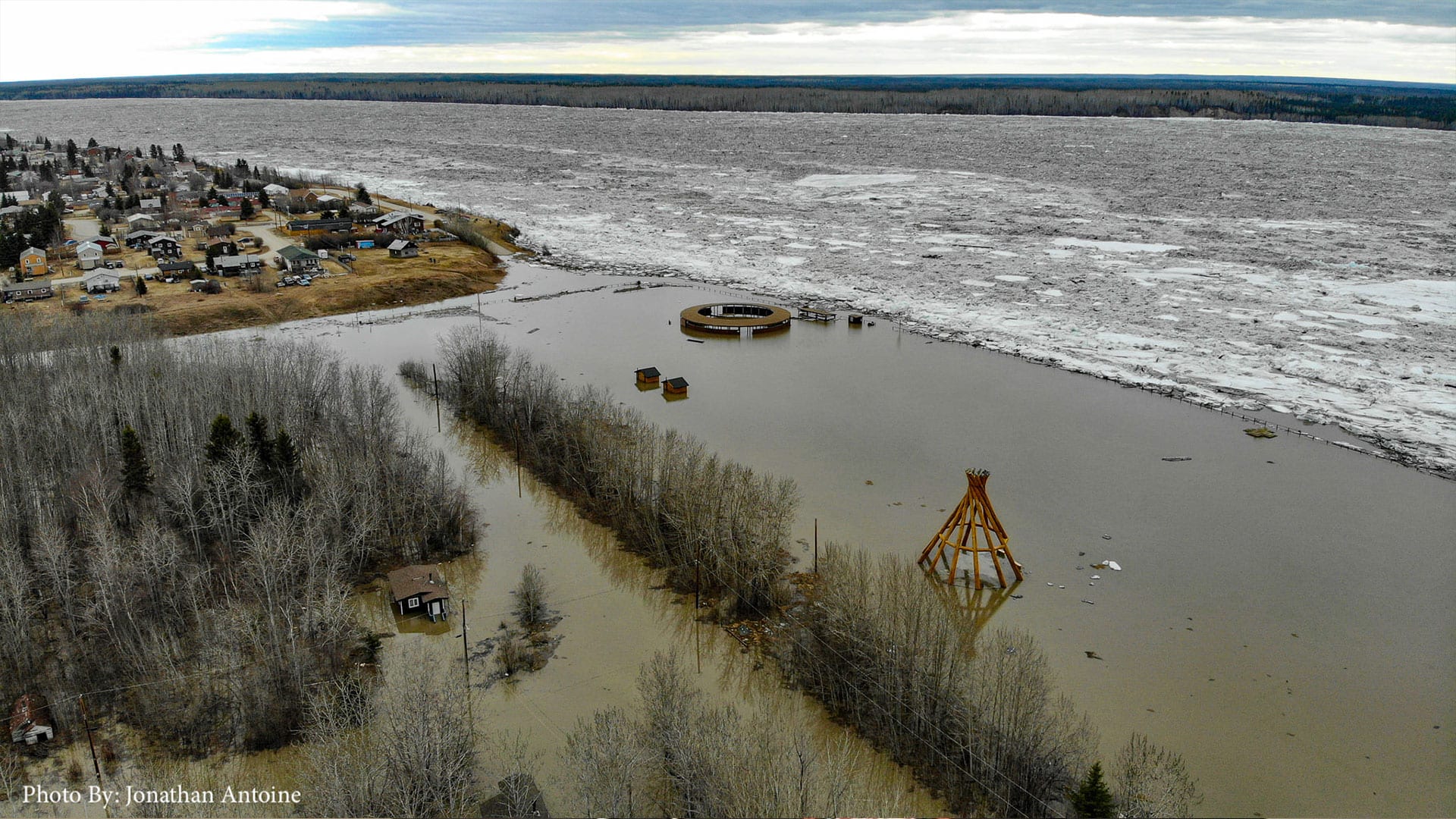 ---
"Friends and family had to leave the town. They are either in Fort Smith, N.W.T., camping out with RVs or staying with relatives at Wildrose or four mile which is higher up," Antoine told APTN News.
Antoine, a local filmmaker, has documented this year's annual ice breakup on the Dehcho and Liard River.
"Everybody wants updates on Facebook so I did a Facebook live update when it was breaking and it went viral, that was pretty crazy. I'm going to do interviews soon. I think it's historical," he said.
---
Other community members are taking to social media to document their experiences in Fort Simpson.
"We're canoeing down the main street, it's pretty wild. I never thought I'd have to canoe to get to the pump house to get to work but here we are," Brandon Buggins told viewers in a video he posted to social media.
Many communities in the southern part of the territory are dealing with high water levels.
Kat'lodeeche First Nation and parts of Hay River went on flood evacuation alert over the weekend.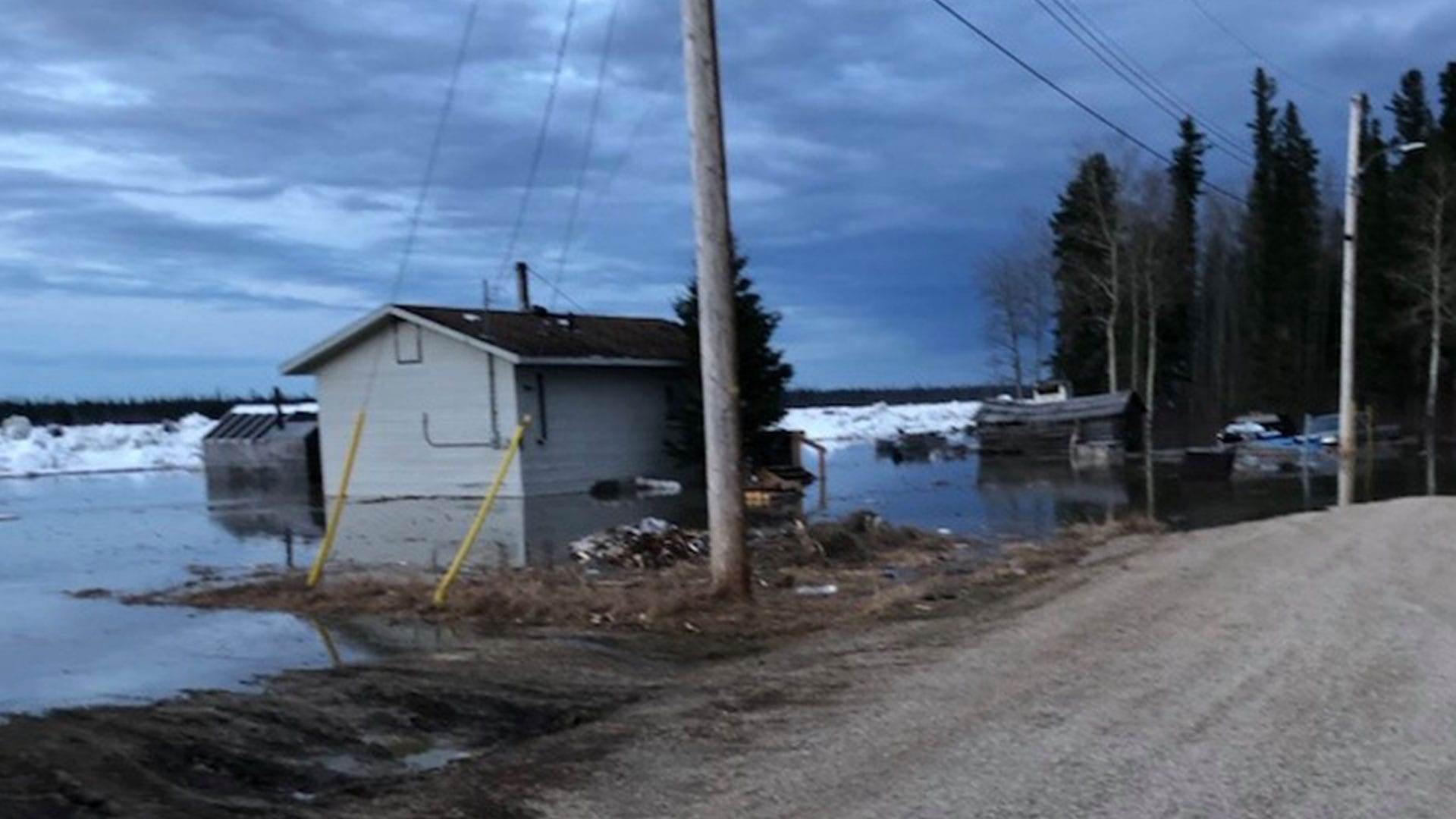 ---
Meanwhile, residents in "Tthets'ek'ehdeli – Jean Marie River, face uncertainty.
Local Chief Stanley Sanguez, told media that nearly every house in Jean Marie River faced damage by water and contaminated from fuel spills during the weekend flood.
The small community of less than 100 declared a state of emergency and residents were ordered to evacuate Friday evening.
The department of Municipal and Community Affairs, Emergency Management Organization has worked with affected communities to assist in emergency needs, including evacuation shelters.
According to the latest territorial press release, the Northwest Territories Housing Corporation (NWTHC) is working on resumption of services.
"Including making NWTHC units available where possible for those impacted. As soon as it is safe to do so, NWTHC staff will travel to affected communities to meet with residents to discuss their needs and how the GNWT can provide support," as stated in the email statement sent to media.
Across the N.W.T., residents have also coordinated support groups to collect donations to be sent to affected communities.
"It brings everyone together. Unfortunately, it brought the community together and everyone is helping, neighbours helping out neighbours," Antoine said.