Special report rips feds' record on reconciliation
Yellowhead Institute publishes third analysis of progress implementing TRC's 94 Calls to Action.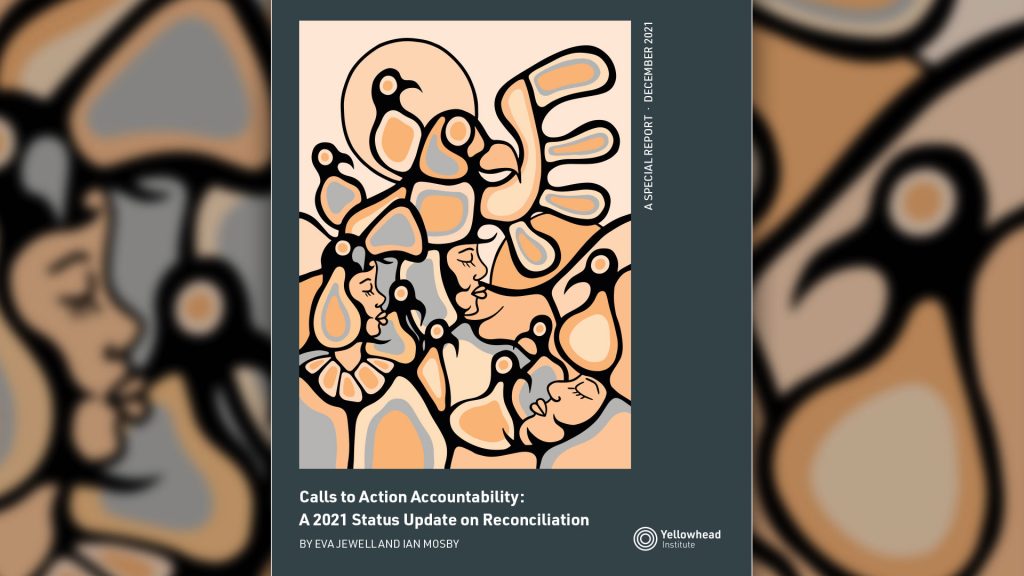 ---
Not only has work on reconciliation been slow but it's been pretty much symbolic, says a special report from the Yellowhead Institute.
"The most movement taking place is typically on actions that are symbolic rather than address structural issues," says Ian Mosby, a professor of history, who co-authored the analysis with Eva Jewell, a sociology professor.
"We found this year that three Calls to Action were completed…like a National Day for Truth and Reconciliation, changing citizenship oaths or announcing a language commissioner."
There were 94 Calls to Action delivered in the Truth and Reconciliation Commission's final report in 2015, aimed at helping the country and its institutions address the ongoing trauma of residential schools and advance reconciliation.
Each year, the Yellowhead Institute – an Indigenous-led think tank at Ryerson University in Toronto – keeps track of the results.
---
This year's Calls to Action Accountability: A 2021 Status Update on Reconciliation is the third in a series.
It says the Trudeau government has only completed 11 Calls to Action so far.
Mosby sees the results over the past six years as disappointing.
"These [calls completed this year] were all things that don't actually change the everyday lives of Indigenous Peoples," Mosby adds in an interview.
"They particularly aren't the most important calls – the legacy calls, which are about addressing structural issues, like in child welfare or in education or in health care. And that's where we see the least progress."
Executive summary
The report's executive summary says the federal government's changes benefit itself.
"With each passing year, Canada opts to perform reconciliation in an effort to shape a benevolent reputation rather than enact the substantial and structural changes that would rectify ongoing harms and change the course of our collective relationship."
Mosby and Jewell are also critical of the timing of the government's progress.
"Three Calls to Action were acted upon in the three weeks following the first revelations of children's graves outside Residential Schools," they write in their summary.
"This is more movement on the Calls to Action in three weeks alone than in the last three years."
Yellowhead report
APTN News asked the department of Crown-Indigenous Relations and Northern Affairs to respond to the Yellowhead report. It did not provide a response or a list of "completed" Calls to Action by deadline Thursday.
Of the 94 calls, 76 require action by Ottawa.
The Trudeau government has said it has completed 16 of the 76.
Prime Minister Justin Trudeau did address the pace of reconciliation in the mandate letters he penned to his 34 ministers that were made public last week.
He says  his government must "move faster on the path of reconciliation with First Nations, Inuit and Métis Peoples."
The letters add: "We know that reconciliation cannot come without truth and our Government will continue to invest in that truth."
Trudeau directs every minister to implement the United Nations Declaration on the Rights of Indigenous Peoples in their departments, and work in partnership with Indigenous peoples to advance their rights.
'The truth'
Mosby and Jewell say "the truth" is that there are still too many systems in place that "actively harm" Indigenous peoples, particularly the most vulnerable.
"Real and meaningful transformative change to underlying systems of oppression — not just individual tinkering around the edges of a broken colonial machine — is, therefore, required," they write.
Mosby and Jewell say real reconciliation will be achieved when the systems of oppression no longer exist.
"We will arrive at reconciliation when Indigenous peoples in this country experience, at the bare minimum, a living standard that reflects their visions of healthy and prosperous communities."