'Sitting duck': Disabled woman, 27, lives in Toronto seniors home with COVID-19 outbreak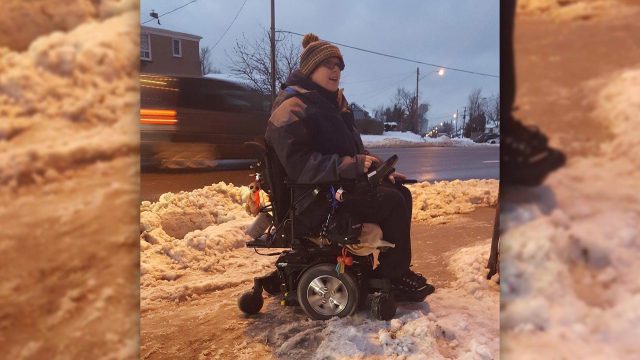 She's 27-years-old and lives in a long-term care home.
But not by choice.
The disabled woman has been trying get out of the home for several years.
Then a COVID-19 outbreak was confirmed in the home last month.
Now she can't even go outside to smudge and fears for life.
"I feel like a sitting duck," said Cayleah, who is non-status, but identifies as Ojibwe like her late mother.
One resident and two staff members have tested positive at Cayleah's home – Midland Gardens Community Care, a long-term care facility owned and operated by Sienna Senior Living in Scarborough, Ont.
She reads the news and knows these homes have been hit the hardest – including reportedly more than 950 deaths among residents and staff at long-term care homes province-wide.
Sienna Senior Living has reported 29 deaths at just one of its homes in Ottawa.
The for-profit company posted the Midland Gardens outbreak on its website, adding every staff and resident at Cayleah's home would be tested beginning April 29, but did not respond to questions from APTN.
"I have not been tested. I have not had a Q-Tip up my nose yet. I would know," said Cayleah, who asked that APTN not use her last name because she worried it may hurt her chances of being moved to a different residence if her full name went on the internet.
Cayleah is the youngest person in the home and shouldn't be there said Jane Meadus, a lawyer with Advocacy Centre for the Elderly.
"I am especially concerned now during COVID of course, but even on a regular day it is entirely inappropriate," said Meadus, who has been trying to help Cayleah find a more suitable residence for several years.
Even a former doctor at the Sienna Senior Living said Cayleah should be moved to an appropriate home due to her complex medical history, that includes being paralyzed from the waist down.
"Due to my fear she may deteriorate emotionally and physically if she is not urgently transferred to a facility that supports her needs," wrote Dr. Lubna Trimizi in an October 2017 letter.
Meadus said the doctor's fears were correct.
"One hundred per cent Cayleah should not be there. It is a huge systemic failure that anyone so young should be in long-term care," said Meadus.
"She is warehoused in a facility that has no programming for her and no understanding for what kind of needs she has. She has no peers in the home. The staff don't understand her. It's incredibly lonely and devastating for someone to be in a facility like that."
Cayleah is an intelligent woman, said Meadus, who is quite aware of her surroundings as the youngest of 61 residents on her floor. The oldest is 105 years old.
"The only reason she is there is because of her disability. It's a tragedy," she said.
While long-term care homes are predominantly for seniors, the province said there were 76 people between the ages of 21-29 in the homes as of Dec. 31, 2019, compared to more than 77,000 overall.
Cayleah said she's on a long waiting list for an assisted-living apartment that she feels would better suit her needs and age.
"It feels like I am in prison. I want to be a normal 27-year-old, not being documented 24/7," she said. "I want freedom, my cats and own food."
Cayleah feels abandoned in the long-term care system, much like she was at two years old when she went into the child welfare system.
She became a Crown ward at four years old under the care of Family and Children's Services Niagara.
At five, she was diagnosed with PTSD after bouncing around foster homes where Cayleah says she was abused.
After a failed adoption, Cayleah said she was put in group homes at eight years old.
It just got worse from there.
She would continue to bounce around until she aged out of care at 18.
"Being in care can be like a Purolator box. You get shipped around, your box may get damaged and you run out of 'postage' at 18. Then you'll be stuck wherever the box was sent," said Cayleah.
That quote also appeared in the Safe and Caring Places for Children and Youth: Building a New System of Licensed Residential Services that was completed in 2017 aiming to improve residential care in child welfare.
Cayleah played a role in the blueprint through the former Ontario Child Advocate's office that was shuttered by Premier Doug Ford in early 2019.
"My files say abandoned all over them," said Cayleah, who grew up in care not knowing her mother was Ojibwe.
It wasn't until she was 19 that she found out about her ancestry.
She had aged out and was in what's known as extended care maintenance, a program that helps aged out kids receive funding for housing until 21.
It was then that she began receiving help from an Indigenous child welfare agency in Toronto.
"Someone at Native Child and Family Services said they knew my mom," said Cayleah, who said she hasn't tried to obtain her Indian status.
"I've honestly been more consumed with surviving and getting out of here."
A year before she went into Sienna Senior Living, Cayleah said she was on a Toronto bus when it had a collision. She was standing and it launched her forward into a pole forever damaging her spinal cord.
She has since used a motorized wheelchair to get around. She also has temporal lobe epilepsy and other ailments.
Her underlying conditions has her afraid every day to the point she signed a "do no resuscitate" order and provided a copy of it to APTN.
"I put the DNR there so they aren't sending me to the hospital for everything," she said. "It doesn't mean I want to die."
Quite the opposite, she said.
"I want to go to school. I want to work. I wanted to go into medicine before my accident," said Cayleah.
Right now she would settle with being able to go outside and smudge.
But she's not allowed according a recent recording she sent APTN between herself and staff at the home where they explained to her the province isn't allowing outside time.
Except for smokers.