Kelowna sexual assault survivor reaches out-of-court settlement with RCMP after 'degrading' interrogation
Kelowna RCMP are due to get a sexual assault investigation unit.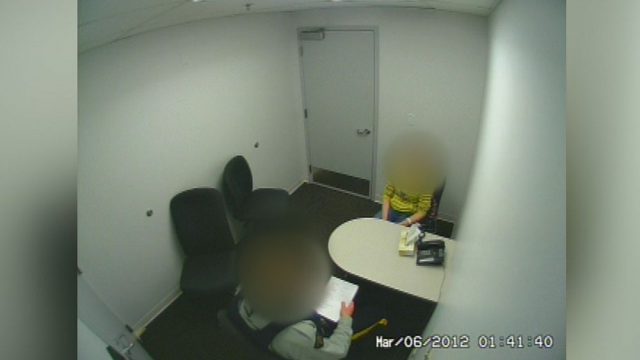 The woman at the centre of a "dehumanizing" sexual assault interrogation conducted by West Kelowna RCMP has settled her claim with the police service.
"I knew going in there I was going to win no matter what," Aden Withers said of the mediated settlement reached earlier this week.
"I knew that everyone in the room believed me."
Withers was suing the federal force and Const. Kenneth Hall for the way she was treated during and after the 2012 interrogation first obtained and aired by APTN News in 2019.
The incident outraged Canadians and embarrassed the RCMP.
"It was such a high-profile case they wanted it settled quickly and as quietly as possible," Withers added in a telephone interview Thursday.
She was seeking punitive damages; neither side would comment on the contents of the settlement.
"I can't tell you anything regarding that," Withers said, noting she signed a non-disclosure agreement.
READ MORE: Indigenous woman at centre of RCMP interrogation video goes public ahead of protest
A spokesperson for the RCMP said the agreement, reached via mediation Monday, means all legal claims are dropped. The details remain confidential.
"We regret this incident and remain committed to improving how our employees respond to victims and investigate allegations of sexual assault," Staff-Sgt. Janelle Shoihet said in a statement.
"This incident highlighted the importance for the RCMP to continue to review and update our sexual assault investigative training, practices and policies."
Withers was in the B.C. foster care system as a ward of the province when she reported the sexual assault in 2012. She was alone in the interrogation room with Hall when he started treating her more like a participant than a victim.
"Were you at all turned on during this at all? Even a little bit?" Hall asked the then-17-year-old at one point during the nearly two-hour interview.
"You understand that when a guy tries to have sex with a female and the female is completely unwilling it is very difficult."
Withers responded "No" several times.
She was charged with public mischief after the interrogation and ordered to apologize to the perpetrator and for allegedly wasting Hall's time.
Hall has never returned calls from APTN or spoken publicly about the interrogation, which was widely condemned by the public, politicians and experts across the country and internationally.
"Hall interrogates the plaintiff in the most malicious, degrading and threatening manner," Withers alleged in her statement of claim.
"Hall subjected the plaintiff to a brutal, degrading and dehumanizing interrogation for over two hours."
Hall defended his actions in a subsequent court filing, claiming the interrogation was not improper.
But the RCMP announced a review of Withers' and other sexual assault cases handled by the detachment.
Local media reported Kelowna RCMP classified nearly 40 per cent of sexual assault complaints as unfounded in 2018. That's more than double the 15 per cent average across the province.
Withers joined a protest outside the detachment in November, and said she continues to draw strength from other survivors and people who reach out to support her.
"So many people recognize me and they are paying attention to rape culture," she told APTN. "People are reading about it and learning about it."
Withers said Kelowna RCMP are due to get a sexual assault investigation unit. She knows it's needed, as is the hiring of a female Indigenous sex assault officer.
"I'm hoping to continue advocating for Indigenous women, and I'm hoping I can help other survivors come forward," she said, "and inspire them to know they can win against these systems that hold so much power."