Senate passes Indigenous Languages bill with amendments addressing Inuit concerns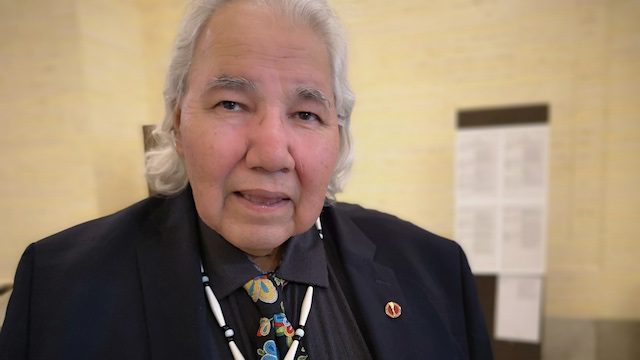 The Senate has passed legislation that lawmakers say could help save many Indigenous languages on the brink of extinction and facilitate the language revitalization currently underway in many Indigenous Nations.
In a late evening sitting Thursday the Standing Senate Committee on Aboriginal Peoples delivered An Act Respecting Indigenous Languages with several amendments, some of the changes in response to concerns expressed by Inuit leaders.
Bill C-91 will see the government provide long-term, sustainable funding of Indigenous languages, establish an Office of the Commissioner of Indigenous languages, and facilitate collaboration between federal, provincial, territorial and Indigenous governments to deliver supports for Indigenous languages.
Among the Senate committee's amendments are provisions to ensure "access to services and programs in Indigenous languages where there is sufficient demand and access," Aboriginal Peoples committee Chair Senator Lillian Dyck said, citing concerns raised by Inuit witnesses during the committee's pre-study of the bill.
"Specifically mentioned now are programs and services pertaining to education, health, and the administration of justice," Dyck said Thursday evening, prior to the bill's third reading.
"In addition, the committee passed an amendment that required the minister to review and report to Parliament on the availability and quality of federal government services provided in Inuktut in Canada."
When Canadian Minister of Heritage and Multiculturalism Pablo Rodriguez tabled the proposed legislation in February, Inuit Tapiriit Kanatami (ITK) President Natan Obed attended the announcement but did not join First Nations and Metis leaders in celebrating the milestone.
Obed said at the time that Canada had "engaged in bad faith throughout this legislative initiative."
He called the bill a "symbolic gesture" that doesn't address Inuit rights to speak their language, or include provisions necessary to support its revitalization, maintenance, and promotion.
"The absence of any Inuit-specific content suggests this bill is yet another legislative initiative developed behind closed doors by a colonial system and then imposed on Inuit," he said.
ITK President Natan Obed said Bill C-91 did not go far enough to protect and advance the Inuktut language. File photo.
A couple weeks after the Bill C-91 announcement, ITK said in a written submission to the Hose of Commons Standing Committee on Indigenous and Northern Affairs that the organization—which advocates for the rights of Inuit across the four regions spanning the Inuit Nunangat homeland—wanted serious amendments to the bill that reflect provisions that were previously invited by the Department of Canadian Heritage.
ITK submitted an Inuktut-specific annex document it hoped would be added to C-91.
Among its "substantive Inuktut-specific provisions" were ones "that recognize and build upon existing statutory protections for Inuktut," ITK's submission to the House committee reads.
"We do not accept that a federal government focused on reconciliation with indigenous peoples would contemplate providing weaker protections for Inuktut than those provided by territorial, provincial or Inuit governments.
"Despite being characterized as a reconciliation and co-development initiative, the absence of any Inuit-specific content suggests that Bill C-91 is yet another legislative initiative developed behind closed doors by a colonial system and then imposed on Inuit."
Eighty-four percent of Inuit within the 51 communities spanning the Inuvialuit Settlement Region, Nunavut, Nunavik and Nunatsiavut report the ability to speak a dialect of Inuktut.
Inuktut has official language status in Nunavut and the Northwest Territories, and is an official language of the Nunatsiavut Government in Labrador.
Responding to the Senate's amendments and passage of C-91, on Friday evening ITK said in a statement that while it welcomes some of the amendments it recommended, "it is regrettable that not all of the well-reasoned and thoughtful considerations put forward by Inuit were included" in the draft of the bill that the Senate passed.
"ITK encourages Parliamentarians in the House of Commons to include all Inuit recommendations in consideration of the Senate amendments in the final passage of Bill C-91."
Senator Dennis Patterson, a former premier of the Northwest Territories, chastised the Trudeau government over its handling of the bill and its dealings with the Inuit.
"The government did pride itself on having worked hard to co-develop this legislation. But one of the three Aboriginal groups in Canada, the Inuit, were very clear to the committee that the process had fallen far short of fulfilling the government's commitment to develop distinction-based legislation."
Conservative Senator Dennis Patterson is "disappointed" the Trudeau government didn't afford Senators more time to consider Bill C-91. File photo.
Patterson said the bill as originally drafted had "several significant flaws," and that the Senate committee "did good work" to address them, "despite the time pressures.
"I have to say that, given the significance of this bill, I am disappointed that this government left it to the dying days of this Parliament and has had to rush it through."
Senator Murray Sinclair, the bill's Senate sponsor, said before third reading Thursday night that "the importance of language cannot be overstated.
"It is one of the issues that most young people growing up take for granted because they learn it almost from the time of birth, through song, through actions, and through listening to conversations between their parents.
"For Inuit, Metis and First Nations children, that has not been the case, largely because of the influence of Canadian society, residential schools, and other social impacts that they've experienced," Sinclair continued.
"But now there is a revitalization of culture and language going on, and I think that this bill does a great deal to encourage that to continue."
During a committee meeting last month, Mi'kmaw Senator Daniel Christmas asked Rodriguez about the status of ITK's annex submission for C-91, which ITK proposed would apply to Inuit and Inuit Nunangat.
Rodriguez said ITK's proposal was problematic because it defined a territory that isn't legally recognized by Canada, Inuit Nunangat—which comprises all four Inuit regions—which would then be legislated in a bill.
"I don't think an Indigenous languages bill is the right vehicle to start defining territories like the Nunangat," he said, adding, "whatever applies to one group in the bill applies to everybody.
"So it's very important to understand that if we agree on something for the Inuit, the same goes for all the First Nations and the Métis."
Métis National Council President Clement Chartier told the House committee in February that for all of the past oppression and exclusion of Métis — from the Residential Schools settlement, comprehensive land claims processes, and from programs and services that were available to First Nations and Inuit — being included in the Indigenous Languages Act is significant.
"If we can't enjoy our own languages and our own cultures, in the end, while rights are important, they become meaningless if you cease to be who you are as a people," he said, explaining there are around 1,000 speakers of the Métis language, Michif, remaining.
"It's starting to come back, but we certainly need assistance to enable us to go forward. We need to find ways and means to do that."
Assembly of First Nations National Chief Perry Bellegarde told the same committee that, if passed, C-91 would "mark the first time that Canada has upheld Indigenous language rights as existing Aboriginal treaty rights as recognized in section 35 of the Constitution Act, 1982.
"Five elements are needed for the inherent right to self-determination to be recognized not only within the nation state called Canada, but globally: your own languages, your own lands, your own laws, your own people and your own identifiable forms of government," he said.
"Language is one of those five. It's fundamental to our existence. This legislation commits the government to providing sufficient sustainable and long-term funding toward the revitalization of our languages."
But there is a minority among First Nations peoples who believe the Trudeau government's legislative changes through C-91—and other bills that could pass in the coming week, such as child welfare Bill C-92 and U.N. Declaration on the Rights of Indigenous Peoples Bill C-262—represent a back-door attempt to domesticate inherent rights that pre-date Canada.
"Canada is trying to pass legislation without our consent, and it's contrary to our treaty relationship," Association of Iroquois and Allied Indians Deputy Grand Chief Gord Peters told APTN during a rally and march in Toronto last month.
Peters said Canada doesn't have a right to consult with the AFN on decisions that will impact the proper rights and title holders, who he says are the people and the distinct Nations themselves.
"Consent has to come from the people in the grassroots, our communities, and our people," he said.
A demonstrator at a May 29 rally in Toronto holds a sign directed at Bill C-91 and the Trudeau government's effort to legislate Indigenous language rights in Canadian law. File photo.
According to the government, the bill's content was co-developed with Indigenous groups through more than 50 engagement sessions.
But Peters is not alone in his criticism of the proposed legislation.
In a article posted to her blog after the bill's announcement in February, Mi'kmaw lawyer and author Pam Palmater called C-91 "bountiful in flowery wording and empty on substantive rights," arguing the bill "appears to utilize the same federally-controlled legislative framework concept for rights definition, limitation and scoping.
"It is important to remember that legislation is not legally required for the federal government to provide services in Indigenous languages or to provide funding to First Nations for Indigenous languages," Palmater wrote.
"One should always be weary of a government bearing gifts in the form of legislation, as it usually comes with federal control, provisions which limit First Nation rights, and can ultimately be amended or repealed at the will of government."
On Thursday Palmater took to Twitter to urge Senators to reject Bill C-91 (and Bills C-92 and C-97), "and any other legislation that purports to impact First Nation rights.
"You have no legal or moral right to impose your governing will on First Nations anymore. Genocidal laws policies & practices must stop," she said.
Three quarters of the approximately 90 Indigenous languages spoken in Canada are at risk of being lost.
In an effort to protect Indigenous language and the knowledge transmitted through language, the National Inquiry into Missing and Murdered Indigenous Women and Girls has called on Canada to "recognize Indigenous languages as official languages, with the same status, recognition, and protection provided to French and English."
Bill C-91 will now be returned to the House of Commons, where Parliamentarians will either accept the Senate committee's amendments and pass it into law, or return the bill to Senate for further consideration.
Editor's note: This story was updated June 15 at 6:58 p.m. to include a response from ITK.