Secwepemc 'women warriors' stop treaty vote, force RCMP to release detained man
Three of four First Nations vote to ratify modern-day treaty agreement-in-principle
(Facebook video of anti-treaty vote demonstration on the Williams Lake Indian Band reserve on Thursday.)
Jorge Barrera
APTN National News
The RCMP was forced to release a detained man during a demonstration against a treaty vote Thursday on a First Nation reserve in British Columbia's interior after a police truck was surrounded by Secwepemc "women warriors" demanding the man's release, according to a spokesperson for the group.
The group of about a dozen women, children and men disrupted a vote on the Williams Lake Indian Band reserve Thursday to ratify an agreement-in-principle of a proposed modern-day treaty.
A ballot box was smashed and ballots were burned during the demonstration, forcing a cancellation of the vote.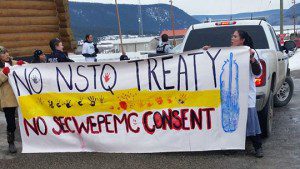 The Williams Lake Indian Band vote will now be held on March 15, according to a statement released by the Northern Secwepemc te Qelmucw (NStQ) tribal council which represents four Secwepemc First Nations.
The NStQ First Nations are negotiating a modern-day treaty through the B.C. Treaty Process and held votes on ratifying an agreement-in-principle in all four member First Nations on Thursday. Only the Williams Lake Indian Band vote was disrupted.
The "yes" side in favour of the agreement triumphed in the other three Secwepemc First Nations of Canim Lake Indian Band, also known as Tsq'escen', Soda Creek Indian Band, also known as Xats'ūll, and the Canoe Creek-Dog Creek Band, also known as Stswecem'c-Xgat'tem.
The four member NStQ First Nations have a total population of about 2,000 people and combined claimed traditional territory of about 5.6 million hectares.
The six-stage B.C. treaty process involves negotiations between First Nations, B.C. and Ottawa.
Kanahus Manuel, a spokesperson for the Secwepemc women warriors, said the NStQ's proposed modern-day treaty will lead to the termination of Secwepemc title over a large swath of land in exchange for a small percentage of territory and cash.
Manuel said the whole Secwepemc nation, which includes a total of 17 First Nations, has never surrendered title to its territory, which she said is about the size of Florida.
"People across the nation are completely opposed to the treaty," said Manuel. "What it will do is modify our collective rights we hold in our territory where we are able to walk freely…It is an extinguishment process where you extinguish your rights to the Crown and you are granted back modified treaty rights and fee simple land."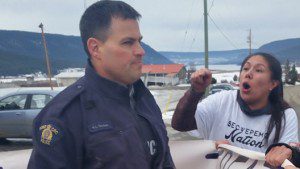 Video of the demonstration posted on Facebook showed an RMCP officer arresting a man while people shouted "no treaty" and "the RCMP has no jurisdiction" while a drum thumped in the background. The man, later identified as Williams Lake Indian Band member Darcy Kobelt, was then put into an RCMP pick-up truck which was surrounded by women chanting, "No treaty, let him go."
The women stood directly behind the RCMP truck with a banner reading "No NSTQ Treaty, No Secwepemc Consent."
The RCMP officer, clearly flustered by the demonstration, is then shown standing on a small patch of snow waiting for backup.
Photos posted to Facebook show that at least two RCMP cruisers and an SUV showed up to try and take control of the situation.
Manuel said Kobelt was let go after he signed—inside the police truck—a promise to appear in court on a charge of mischief in relation to the smashed ballot box.
"The women had surrounded the police truck and demanded that they released him and they did right on site," said Manuel. "Our women are always sent to the front-lines. We say, 'The strong hearts to the front,' and it's always the women, the women with the children. Women came out with their families because that is what we are defending, we are defending our children's future."
The Williams Lake RCMP did not respond to repeated requests for comment.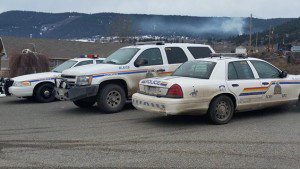 Chief Ann Louie, of the Williams Lake Indian Band, also known as T'exelc, did not respond to a request for comment.
Stswecem'c-Xgat'tem First Nation Chief Patrick Harry, whose community voted 113 to 72 in favour of the proposed treaty agreement-in-principle, said he did not respect the demonstrators because they tried to interfere with an internal T'exelc matter.
"Those types of actions they don't reflect on what the Secwepemc nation, what its culture is all about. We like to deal with things in a more respectful manner than that. We don't respect the fact there were kids put on the front-lines of that and elders were disrespected and people assaulted and in some cases lives were threatened," said Harry. "We are operating through a democratic process….Everybody was given a choice to vote, we are not forcing anything on anyone."
Harry said he disagreed with the claim his community, as part of the NSTQ process, is negotiating to extinguish its rights.
"We don't see it as giving up anything. We see it as gaining. Also, I think that as First Nations, there are different routes and different paths to reconciliation and they are all challenging," he said. "The treaty process is one path to reconciliation that our community has given us a mandate to follow through with."
Harry said he would have liked the results to have shown more support for the yes side, but now, as talks head to a final agreement, the NSTQ negotiators will be pushing for a better deal.
Currently, the treaty would give the NSTQ about 24,500 hectares of land and over $45 million.
"We look forward to the offer being increased, we look forward to some of the recent case law being implemented into our process," said Harry. "We look to the government to recognize the Tsilhqot'in (Supreme Court) decision and implement it into our process and increase the offer."
The yes side at Tsq'escen' won by a 125 to 84 vote margin. In Xats'ūll the yes side won 90 votes to 48.
On the same day as the vote, Yale First Nation, which sits along the Fraser River, announced it was pulling out of the B.C. treaty process.
@JorgeBarrera