Salmon swimming past B.C. landslide on their own – but is it enough?
It's been over two months since a massive landslide on a remote part of the Fraser River three hours north of Lillooet, British Columbia was first discovered.
Boulders the size of a two story house crashed a 125 meters down the cliff into the river blocking hundreds of thousands of salmon migrating to their spawning grounds – threatening to wipe out a critical food source for First Nations.
But after 10 weeks of hard work that included using controlled blasts, moving fish upstream by helicopter, two fish wheels, and transporting fish by truck, salmon are now swimming past the blockade without help.
"We've been here for a few months now and salmon are getting through on their own, which was our priority, natural passage," says Greg Witzky.
Witzky is the First Nations incident commander with the Big Bar Unified Command – three levels of government leading response operations (First Nations, provincial and federal).
"In the last week, almost 120,000 salmon have swum through by themselves," says Witzky.
"To me that is a success, if we can keep that up and get the rest of the salmon through that way then we have done our job and we'll make history here by doing this."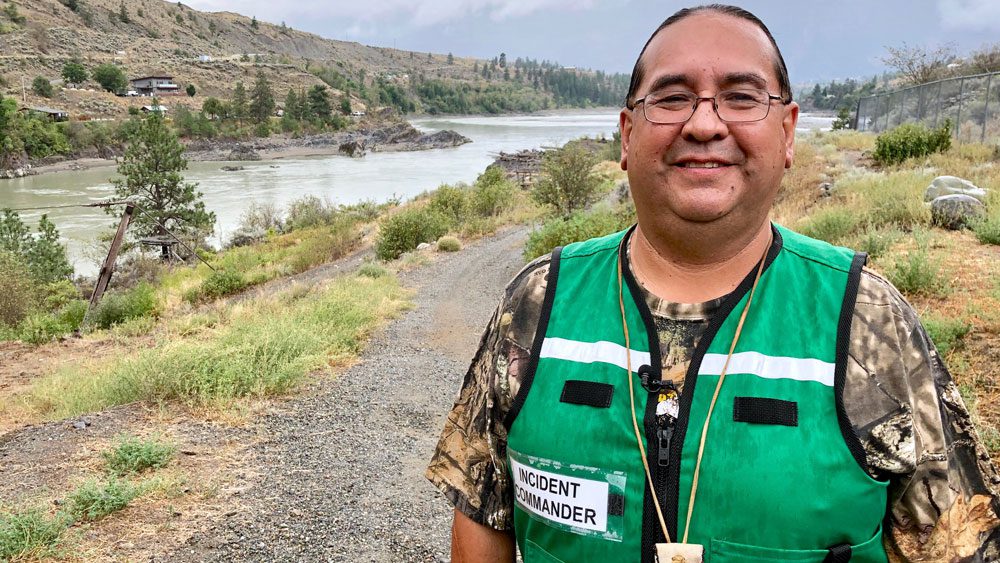 (Gregy Witzky, First Nations incident commander with the Big Bar Unified Command. Photo: Laurie Hamelin/APTN)
APTN News toured the Big Bar Landslide Incident Command Post set up in Lillooet.
The visit to the landslide area was cancelled because of heavy rains which grounded the helicopter.
But Witzky offered to walk us down to the river to show us his old fishing spot.
He's been fishing salmon on the Fraser since he was a young boy.
"I've been praying since I got here for the salmon, for everyone who relies on the salmon," he says.
"For the animals, the ecosystem."
Witzky works with the Fraser River Aboriginal Fisheries Secretariat and says fish are his life.
When he was asked to be part of the unified command he literally jumped at the chance.
"I was offered the opportunity and I jumped at it, jumped higher than the fish when I was offered," Witzky says with a smile.
(Directional signs at the Big Bar Landslide Incident Command Post, Lillooet B.C. Photo: Laurie Hameline/APTN)
Witzky explains that 180 crew members, many of them First Nations, have worked tirelessly to save the chinook and sockeye.
"First Nations involvement here is right from the top level steering committee all the way to field crews on the ground and managers in the field," he says.
"Probably one third of the staff in the field are First Nations and they come from all over the province."
Back at the command post we met Rebecca Riley who is from the local St'at'imc Nation.
Riley has been working on the punt boat team – 14 days on, 3 days off.
"When I first got out there, to see this," Riley pretends to pull in heavy nets. "Big powerful guys and just working together. I'm looking around thinking this is where I am going to be working, wow this is intense."
"As a First Nations woman it was really amazing to see forestry guys, DFO guys, coast guard guys, old people, young people, women, men.  Everyone came together and we we're all doing the same job – to try to save the salmon."
(Rebecca Riley, Fish Health Technician and Jeff Brady, Deputy to the Federal Incident Commander. Photo: Laurie Hamelin/APTN)
With the salmon now swimming past the landslide on their own, helicopter and truck transfer has been stopped temporarily.
Riley is on stand-by in Lillooet, until the fish need help again.
"I'm sad that I am not working, but at the same time I am really happy that they're making it through on their own," says Riley. "The species are going to make it, it's moving, it's really powerful.  It's a life changing experience.  I don't know how else to explain it, but I have a different view on life, I feel proud of myself for helping.
"Like we're saving a species, we're saving the salmon."
But there are still more salmon runs to come up the river. Pink salmon is now arriving and fingers are crossed they'll also be able to make it by themselves.
Last Wednesday, Kukpi7 (Chief) Fred Robbins of Esk'etemc First Nation held a ceremony for the salmon.
"The salmon have been taking care of us for generations upon generations upon generations," says Robbins.
"They have been providing us with a valuable food source and sustenance, so we needed to have a ceremony for them.  It was our turn to look after the salmon."
(Big Bar Landslide on the Fraser River, B.C. Photo courtesy: Big Bar Unified Command)
Four government helicopters flew the chief and 35 others out by the landslide area.
"We had four salmon in a big screen net, two males and two females, and when we started singing with the drums and the rattle, echoing up the valley, all of a sudden the salmon started to jump and move," says Robbins.
"It was like they just came to life.  It was very emotional for me."
In a phone interview, the chief explains that he immediately went into action to help the salmon after first seeing the landslide.
"After my first fly over, I came back and had an emergency Band meeting," says Robbins. "I had over 250 members from my community there and I gave them an update on the landslide.  I told them our salmon is in jeopardy and if you are going to go fish I want you to realize that that could be the last salmon you ever catch in the Fraser River.
"That it is vitally important that you allow every salmon to get through.  It was a very emotional time, some of our elders were in tears."
(Rescued Sockeye Salmon at Big Bar Landslide Crew Area. Photo courtesy: Gina Anderson -gerl imaging)
This is the first year Esk'etemc doesn't have salmon for its community and although Robbins is happy with the recent salmon success at the landslide, he says more could have been done.
"I like what I see happening now, but when the landslide first happened I think a state of emergency should have been declared," says Robbins.
"And I strongly believe they should have been transporting fish earlier, and there should have been a complete closure for all fisheries along the coast."
The Tsilhqot'in Nation also believes closures are needed.
At the beginning of August, they declared a local state of emergency because of the salmon crisis from the landslide and issued a salmon closure last week, prohibiting sockeye, chinook, and coho retention on the Chilcotin, Chilko, and Taseko rivers and tributaries.
(Kukpi7 (Chief) Fred Robbins of Esk'etemc First Nation held a ceremony for the salmon by the Big Bar Landslide. Photo courtesy: Jonathan Hand)
Chief Jimmy Lulua of Xeni Gwet'in First Nation says the Tsilhqot'in have never had to put restrictions on their members.
"The only people that have had restrictions are Indigenous people," says Lulua. "DFO's mandate is if First Nations' needs are not being met than they have to shut down sport fishing.  We've tested that theory and it doesn't work.  We shut down our fishing, other First Nations along the river have shut down their fishing, but yet sport fishing is still happening.
"Governments have done nothing.  They say they want to work with us, but at the end of the day actions speak louder than words."
The landslide also prompted four Tsilhqot'in communities to buy fish from Ahousaht First Nation on Vancouver Island.
Hundreds of coho arrived on a flatbed trailer last week.
"This is the first time in our history that we have had to buy fish and to me that is unacceptable," says Lulua.
"There was expected a million fish to make it back to our spawning beds so a couple thousand fish making it over the slide to me is unacceptable.  Something has to change.
"When you threaten our fish, you threaten our livelihoods and that means we go to war."