Revitalizing a language, one video call at a time
How do you say "the zoom video call is frozen," in Nsyilxcən? This is something Francesca Raven Bell didn't realize people would need to know when they decided to learn the Syilx language.
"Today for example sq̓aʔx̌əx̌inak [Sheri Stelkia, her teacher] said, "kn̓ su̓lt" which means, 'I'm frozen', in reference to her video on Zoom freezing. I thought it was clever," says Raven Bell, who is a staff member at the Osoyoos Indian Band (OIB) Language House.
It seems as though everyone and everything has had to adapt to this new world transforming through a global health pandemic, and Indigenous language revitalization programs are no exception.
There are several different language houses teaching the Syilx language, Nsyilxcən. They've all needed to move online quickly.
At the same time, teachers, many of whom are elders, are figuring out how to use new technology and evolving the language itself in response to the pandemic.
How teachers are adapting
Sheri Stelkia has been teaching the Nsyilxcən for five years. She's been an instructor at the OIB Language House for one year.
Prior to COVID-19, she says the OIB Language House was running two days a week, six hours a day, through in-person classes and out on the land.
"It is our responsibility to take care of the gift given us by the tmixʷ [all living things]," Stelkia says. She explains that learning and having the ability to speak their language has brought strength and connection to students and staff at the OIB Language House.
But this responsibility has come with new challenges in these unprecedented times. Stelkia says that the new stay-at-home measures have affected her teaching abilities, especially because she's had to become much more dependent on technology.
"It is really difficult, I find it really stressful, because if your wifi signal isn't really good… we have tried teaching from here, but then when we have too many students in too many rooms, all drawing off one wifi, it just shuts everything down," Stelkia explains.
When the language house first had to close, OIB Language House she says The First Peoples Cultural Council reached out to the Osoyoos Indian Band to support the OIB Language House with funding for online training.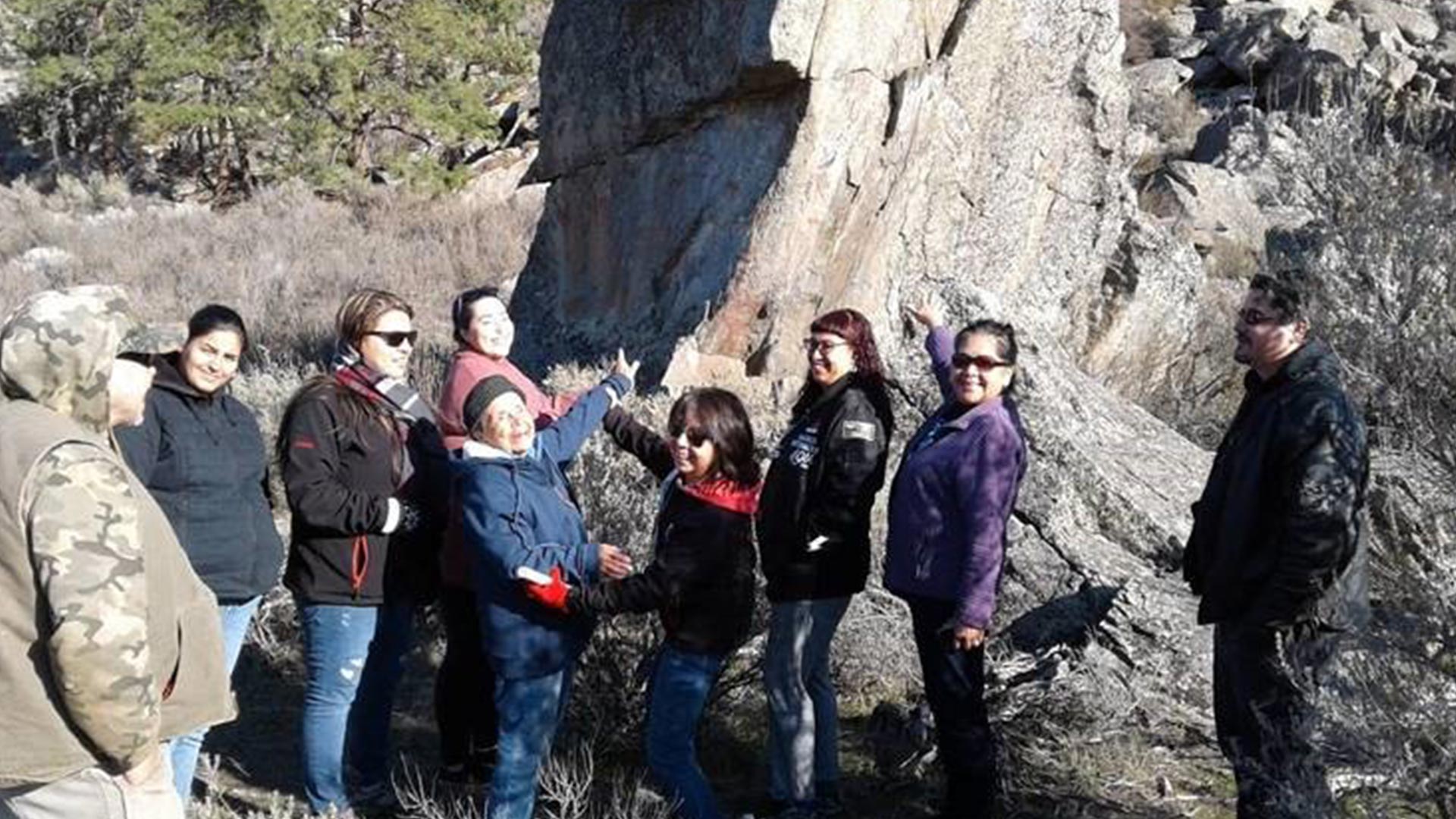 Video conferencing and online testing forms have been the main resource for language delivery for the language house Stelkia explains.
Students, who would normally submit their work in person, have been emailing photos of their homework instead.
"I'm really impressed with the students, you can see that they are trying so hard," Stelkia says.
Stelkia has been adapting, but she admits she's concerned about the long-term impact that these COVID-19 measures may have on students' pronunciation of the language.
"Trying to do the language via Zoom, there is a lot of… you can't hear the person, or the pronunciation that well. So I think that we will have to go back and review the lessons so that the pronunciation is right, you know, once all this COVID-19 is hopefully done," Stelkia says.
How is UBCO Indigenous studies program adapting?
Jeannette Armstrong, who has a PhD Environmental Ethics, is the Canada research chair in Okanagan Indigenous knowledge and philosophy based at the University of British Columbia's Okanagan Campus (UBCO). She is a fluent speaker and interpreter for elders throughout the Okanagan.
Before the new social-distancing measures, Armstrong taught her Nsyilxcən language full-immersion classes in her diploma and certificate program, out on the land.
She says a big part of teaching and learning the language, in her role as an instructor, as well as her master apprentice program, involves interacting and being on the land digging, picking, harvesting and cutting meat.
"You really need to be able to be in contact with the land, the lakes, the rivers, the names of the plants to be right there picking or digging and, or cutting or preserving all of that. You can't really do it inside of a classroom," she explains.
Armstrong, who is also my grandmother, has been creating language programs for the past 40 years, as well as supplementary resources to support language teachers and language learners. Right now, she says she is constantly on video conferencing calls, working with fluent elders, to make sure the old teachings are embedded in the language with the proper terms and names.
"I will contact other speakers to verify and then hook them together so they can speak to each other through Skype or through you know, email or through phone calls," she explains.
"It's a little harder, cause we can't do it in person. I'm used to doing it every week — gathering with four or five speakers in each community and going over it with them. Me and a lot of the elders speak by Skype because they can download it onto their phones and it's quite easy to use."
Armstrong has been involved in preparing for a language immersion program this summer, where students were to be out on the land, living and learning the language.
"We're still going to figure out how to do that, cause we still have to harvest our foods. We still have to catch our fish and cut our meat and so on."
What does it mean to revitalize the language?
Maxine Baptiste has a PhD in Syilx language linguistics and works for all seven bands in the Okanagan, in her role as the language director at the En'owkin Centre. She provides resources, materials, and curriculum for the fluent language teachers in schools. Baptiste also works in the CILR program at UVIC (The Certificate of Indigenous Language Revitalization).
The Indigenous language revitalization programs are necessary, as Indigenous languages and associated ways of life fight for space, explains Baptiste. She worked on the 2010 Report on the Status of B.C First Nations Languages with the The First Peoples Council. There have since been two more reports completed in 2014 and 2018.
In the 2018 report, they found that fluent speakers decreased by 1,157 (4.1 per cent) from 2014 to 2018.
"Some of the language groups only have six fluent speakers left…So when they're gone, their voices go with them and all their language knowledge that they hold that goes with them," she says, adding that the history of colonization and residential schools has put many languages on the brink of extinction.
According to Baptiste, it's critical that Indigneous people are able to be reintroduced into their languages and cultures to strengthen their identities.
"I've seen people that have turned away from drugs and alcohol based on being able to take part in their language and cultural activities," Baptiste says.
She emphasizes that learning the language is especially important for youth. And youth are learning their language. According to the First People Council's 2018 report, there are 13,997 language learners in B.C., which is an increase from 9.1 per cent in 2014. More than 78 per cent of learners are under the age of 25, the report finds.
As of 2018, there were 132 fluent Nsyilxcən speakers.
There are currently classes being taught through a range of programs including the OIB Language House, UBCO's Nsyilxcn Language Fluency program, the UVIC's Certificate in Indigenous Language Revitalization program, the Syilx Language House, as well as the Salish School of Spokane.
The next generation
As a result of all of the language programs, there's now a growing group of Nsyilxcən language learners in the Okanagan.
"Indigenous language revitalization is a crucial aspect into my identity," says Maryssa Bonneau.
The 25 year old is a third year master apprentice student in Armstrong's program. "It brings meaning to my life. Without language and culture I am nothing," says Bonneau.
So, while it has been frustrating to deal with slow internet connection over these past months, Bonneau has continued to feel determined to learn and revitalize the language. In this process she says she is reclaiming her identity as a Syilx woman.
"It is my personal responsibility to preserve my language and pass it on to my children," Bonneau says.
As for Jeannette Armstrong, she says while there have been challenges she believes there might be positive long-term impacts to this new reality.
"What else could have put the whole world at a slow down? You know, it's like the earth said, stop, slow down," she says.
"Look at what's caused this. Globalization, global travel, the whole system of, you know, making money is more important than living a good life, a blessed life and doing good by your own people and living within and being happy within what you have."
Armstrong believes COVID-19 won't be the only pandemic the earth has to deal with. "It isn't the only surprise in store for us…unless we learn to "straighten up as human beings and get it right."
Athena Bonneau is reporting from the Okanagan for The Discourse as part of the government of Canada's Local Journalism Initiative. Her work is featured on IndigiNews.com, a new platform created by The Discourse and APTN. Read more about the partnership here.
Editor's note: As noted in the piece, Jeannette Armstrong is reporter Athena Bonneau's grandmother. At IndigiNews we take journalistic independence seriously, adhering to the Canadian Association of Journalists Ethics Guidelines. Due to Armstrong's role in language revitalization, and prominence as an elder and knowledge keeper, we felt it was important to include her perspective in this piece.