Researchers say RCMP action against Wet'suwet'en would place corporate interests over Indigenous rights
As police prepare to enforce a court injunction against two Indigenous camps standing in the way of a proposed B.C. pipeline, the authors of a new report say their research indicates the RCMP's potential action against Wet'suwet'en land defenders will be neither fair, nor objective.
Jeffrey Monaghan of Carleton University and Miles Howe of Queen's University outline in a new report published in the Canadian Journal of Sociology how RCMP assess individual activists according to political beliefs, personality traits, and even their ability to use social media.
The report says government and RCMP documents uncovered through access to information requests indicate the police are not assessing Indigenous protests in Canada based on factors of criminality but are more concerned about the protestors' ability to gain public support.
It also shows the government's risk assessments of Indigenous protests, court injunctions initiated by private corporations against Indigenous people, and RCMP policing tactics all favour corporate interests and private property rights over Indigenous rights and title.
This includes the current resistance by land defenders and hereditary chiefs to the Coastal GasLink LNG pipeline slated to run through unceded Wet'suwet'en territory.
Checklists developed by RCMP Director of Research and Analysis Dr. Eli Sopow as part of the National Intelligence Coordination Centre's 2014-2015 Project SITKA reveal "it's not criminality the RCMP are focused on, it's the ability of that group to create and craft a counter narrative to the one that suggests whatever the police do is across the board legitimate," Howe told APTN News in a phone interview.
RCMP intelligence centre compiled list of 89 Indigenous rights activists considered "threats"
Howe, a former journalist with the Halifax Media Co-op, covered the Mi'kmaq resistance to fracking in New Brunswick in 2013 and was arrested during a military-style raid of land defenders near Elsipogtog.
He wrote a book detailing the anti-fracking movement and the RCMP's response to Indigenous people asserting their Indigenous and treaty rights.
Howe, a 2018 Vanier scholar and PhD candidate in Queen's department of cultural studies, is delving deeper into the state's policing and surveillance of Indigenous protests and movements.
His collaboration with Monaghan, an assistant professor of criminology, builds on a body of work developed by Monaghan and Andrew Crosby, a coordinator with the Ontario Public Interest Group at Carleton University.
Monaghan and Crosby used access to information laws to uncover thousands of pages of documents from the RCMP, CSIS and government agencies. They detailed their findings in the 2018 book "Policing Indigenous Movements".
They paint a picture of how government departments, police, intelligence agencies and private sector interests work together to compile intelligence on activists—including Indigenous land defenders—and rate them according to the risk they pose to "critical infrastructure" such as pipelines, and to Canada's "national interest".
The authors write that the efforts represent a "new dynamic of policing" that aims to "suppress efforts [by Indigenous people] that challenge colonial control of land and resources."
They say the RCMP are "not merely [part of] an objective or neutral policing entity but an active supporter of extractive capitalism and settler colonialism."
Their findings counter a common narrative communicated by the RCMP when responding to Indigenous land defence actions — that the federal police respect people's right to protest and only act in the interests of public safety.
As part of their research Monaghan and Crosby uncovered previously classified documents on the Unist'ot'en clan of the Wet'suwet'en Nation, some of whose members have built dwellings, a healing centre, and have blocked industry access on their unceded lands for almost a decade.
The researchers shared some of those documents with APTN, including a Government Operations Centre (GOC) report that labelled one of the Unist'ot'en leaders an "aboriginal extremist" and assessed the group based in part on the level of public support they had at the time, in 2015.
The document anticipated that TransCanada, the company overseeing the project—which would carry fracked natural gas from Dawson Creek, B.C. through Wet'suwet'en territory to tidewater at Kitimat—might apply for an injunction in April of that year.
That didn't happen, but the document reveals that the government, based on information provided by the RCMP, considered the Unist'ot'en the "ideological and physical focal point of Aboriginal resistance to resource extraction projects" and acknowledged that arresting Unist'ot'en members had potential to trigger protests in other regions of Canada.
Monaghan said the document included revealing language, including reference to the pipeline as "critical infrastructure" and "risk to the national interest resulting from a blockade or protest against the proposed TransCanada Coastal Gaslink liquefied natural gas (LNG) pipeline" (which at the time they determined was "medium-low").
He said the intelligence-gathering and GOC risk assessment are "not to govern some kind of national security threat or stop crime," but are instead "about getting this project through, making sure that the enforcement of [an eventual] injunction happens, and that it happens with a low media cost, a low negative public opinion."
Crosby said the public should anticipate that a police raid of the Unist'ot'en camp, or of the recently erected Gidimdten check point along the same access road near Smithers, B.C., will likely be accompanied by an effort to control the public narrative around the events.
"We can be sure that whatever happens, [authorities are] going to want to ensure that it's their spin, their version of what happens," he said.
He said Indigenous sovereignty and the principle of free, prior and informed consent "have become obstacles to Canada's ambitions to produce and export [fossil fuels]."
On Nov. 26 Coastal GasLink applied to the B.C. Supreme Court for injunctive relief, arguing that if further prevented by the Unist'ot'en from doing necessary work the LNG project could suffer "irreparable harm".
B.C. Supreme Court Justice Marguerite Church approved the injunction application in mid-December.
Days later members of the Gidimt'en clan of the Wet'suwet'en Nation set up an access point in their own territory, about 20 kilometres down the same road as the Unist'ot'en camp.
The court injunction was then amended to include that blockade.
The Unist'ot'en and Gidimt'en, with the support of their hereditary chiefs, maintain that the band council system—created under Canada's Indian Act—only has jurisdiction over reserve lands, not the 22,000 square kilometres of unceded Wet'suwet'en territory.
They have repeatedly referred to the 1997 Supreme Court of Canada (SCC) Delgamuukw decision, which acknowledges their traditional governance system and the names of hereditary leaders who now oppose the LNG pipeline.
The Unist'ot'en began constructing their camp in 2010 and in recent years have brought a healing centre to fruition, where they use traditional medicines and land-based practices to heal members of their Nation from addiction and other health issues rooted in the traumas of residential schools and colonization.
Hereditary chiefs of the Wet'suwet'en Nation have held feasts in their feast halls and support the Unist'ot'en and Gidumt'en in rejecting the pipeline and defending their unceded territories. File photo.
While band leadership has said their communities need the money and short-term jobs the project will create, traditional leaders say Wet'suwet'en laws place a duty on their people to protect the land, water and wildlife for future generations.
But none of this—from the SCC's acknowledgement of Wet'suwet'en territory and traditional governance systems in the Delgamuukw decision, to the question of who makes decisions on behalf of the wider Wet'suwet'en Nation—are factored into the police and government intelligence that is informing the RCMP in their approach to dealing with the Unist'ot'en and Gidimt'en.
The 2015 GOC document describes the unnamed "aboriginal extremist" leading the Unist'ot'en as an individual "who rejects the authority of the Crown over his perception of what constitutes traditional territories."
On Friday, responding to a request for information about police presence in the area, an RCMP spokesperson told APTN she understood there were "less than a dozen officers in the Smithers' area," and that they were "continuing to monitor the situation."
Cpl. Madonna Saunderson said the injunction and accompanying police enforcement order from the court "recognize the RCMP's discretion to decide how and when to enforce the injunction…within a reasonable time.
"The primary concerns of the police are public safety, police officer safety, and preservation of the right to peaceful, lawful and safe protest, within the terms set by the Supreme Court in the injunction," she said.
"We are very hopeful that there will not be violence or disorder as we enforce the court order; however, the safety of the public and our officers is paramount when policing demonstrations, particularly due to the remote area in which the bridge is located."
On Saturday members of the Gidimt'en clan offered a different account.
They said a meeting with members of the RCMP Aboriginal Police Liaison Unit on Friday indicated to them that "specially trained tactical forces will be deployed to forcibly remove Wet'suwet'en people from sovereign Wet'suwet'en territory," according to a post on the Gidimt'en clan Facebook page.
"Police refused to provide any details of their operation… including the number of officers moving in, the method of forcible removal, or the timing of deployment," the Facebook post reads.
"By rejecting the requests for information… the RCMP indicated that they intend to surprise and overwhelm the Wet'suwet'en people who are protecting their territories on the ground," the post added.
"The RCMP's ultimatum, to allow TransCanada access to unceded Wet'suwet'en territory or face police invasion, is an act of war."
'An act of war': Gidimt'en clan prepares for police raid on Wet'suwet'en Territory
Hereditary Chief Na'Moks said he believes the RCMP's coordination of action is being timed with personal grievances within the Unist'ot'en clan's membership, including the recent illness and death of one leader's mother.
"They're well aware of what's going on; this is part of their strategy," he said, adding the RCMP has indicated it will deploy officers from outside the region.
"Mounties stated it would not be local officers that would move in," he said. "They would bring in outside RCMP.
"Personally, I believe—and so do the other chiefs—[that] they don't want to have local police targeted or identified."
Images and rumours circulated on social media Friday evening and Saturday morning that RCMP officers had begun to arrive in the region.
Responding to those reports the Gidimt'en posted the following message on their Facebook page: "We are not protesters. We are Wet'suwet'en. We are lawfully and peacefully living on our lands as we have since time immemorial. We call for all that can join us to do so immediately, on our homelands or where you stand. These lands will always be Wet'suwet'en."
On Sunday one of the people managing the Gidimt'en Facebook page said there are currently women and elders at the camp, and that visitors have been bringing their children. They could not confirm a current number of individuals at the camp.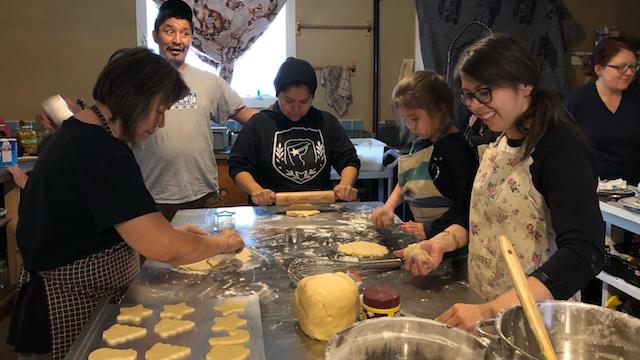 The Unist'ot'en camp includes an industrial kitchen where food is prepared for visitors as well as those staying at the healing centre. Photo: Unist'ot'en Camp/Facebook.
A spokesperson for the Unist'ot'en camp and access point said as a policy they do not disclose the number of people at their location at at given time.
Howe called the RCMP's statement to APTN "classic" and said they're following the same pattern discussed in his, Monaghan's and Crosby's research.
"They've cast the notion that there's a rational group, and that rational group can protest in a manner defined by the law.
"There's a law on the books now and we have to enforce it," he continued, referencing the injunction and paraphrasing the RCMP's perceived logic. "And we hope that nothing happens to anybody, but if it does it's because we're there to protect public safety."
Howe says the statement is part of the police's effort to construct a narrative that depoliticizes Indigenous peoples' defence of their lands and rights, while justifying the RCMP's potential removal of Indigenous people from their territory.
"So you've removed any reference at all to the very fact that all they're doing is simply enforcing the desires of a resource extractive company, which is to get that pipeline built," he said.
With files from Kathleen Martens.