Displaced people of Rocher River, N.W.T. fight for recognition
---
Watch Part 2 of APTN Investigates: Refugees in our Land – Click here
---
Annie Beaulieu opens an antique cookie tin filled with memories.
The 87-year-old Tthetsënɂotı̨́né Elder, carefully takes out newspaper clippings and photographs, treasured keepsakes of her life in Rocher River, Northwest Territories.
"People were happier back then," Beaulieu remembers. "They lived off the land, people would help each other, trapping and hunting. That's how they made their living and they did pretty good."
Annie's son Tom brings her a warm cup of tea and pulls up a seat next to her at the dining room table.
It's a beautiful day in March in Hay River, Northwest Territories and the early morning light shines through the kitchen window.
"I still miss it sometimes," Beaulieu says. "In the summer, we would travel along the Taltson River to our cabin to hunt and trap, then we'd come back to Rocher River for Christmas. I remember they had feasts there, people dancing and fiddling through the holidays."
Beaulieu was born in Rocher River, grew up there and eventually started a family of her own.
It was a traditional community that sustained the Tthetsënɂotı̨́né for generations. A way of life that was coming to an end.
"I kind of feel bad, I guess," Beaulieu says. "I really didn't want to leave there. I told my husband I didn't want to leave, but my children had to go to school."
---
Rocher River was once a thriving community, an important trading hub located on the bank of the Taltson River, roughly 50 kilometres east of Fort Resolution, NWT.
Home to the Tthetsënɂotı̨́né or Yellowknives for generations.
"Back then when the fur industry first started to come, then there was a reason for them to remain in one location," Tom Beaulieu recalls.
"It was a beautiful place, one location where they had started to develop a little bit of a currency economy with fur."
Tom Beaulieu's roots in Rocher River run deep. He can trace his lineage in the community going back more than four generations.
"My grandmother was born in 1909, she was born there," Beaulieu says. "Her mother was born there and so was her grandmother. That takes you back into the 1830s — it was actually in existence back then."
By the 1920s a modern community at Rocher River began to take form.
The Hudson's Bay Company opened a small trading post and the federal government built a school and began to enforce compulsory attendance laws.
Many of the Tthetsënɂotı̨́né moved from their traditional camps into Rocher River, so their children could attend school.
By the late 1950s a series of events would seal the fate of Rocher River and the Tthetsënɂotı̨́né people.
A large deposit of lead zinc ore was discovered over 100 kilometres away in pine point — a mine would follow and a damn to power it.
Then in the winter of 1960, the community's only school was destroyed by fire and the federal government made the decision not to rebuild.
"Was it a calculated plan? Or was it a plan that fell into their hands by accident because the school burnt down?" Tom Beaulieu wonders. "If the government was genuine, they would have sat down with the people long before the dam was built, long before the school was burnt. They would have sat down with the people and talked."
Beaulieu was only four years old, when the community was abandoned and the people forced out, but he has managed to piece together what he thinks happened, through the oral history of his people.
"My understanding is that the old Chief Freezie, didn't want the Taltson River damned up," Beaulieu recalls. "He thought that would definitely change the river. He was correct, but he was ignored at the same time."
---
Agnes Villebrun was only a child, when talk of damming the Taltson River spread through the community.
"My dad said that he spoke up against the dam," Villebrun remembers, from her home on the K'atl'odeeche reserve. "If the damn was built, it would change the environment and their livelihood was on trapping. So he didn't want the dam to be built, nobody wanted the dam to be built. But the people had no say."
And that wasn't the only decision the people of Rocher River had no control over.
Once the school burnt down, in order to comply with federal law — families with school aged children were forced to move to larger centres.
Many of the children of Rocher River like Villebrun were sent to Breynat Hall — a residential school in Fort Smith.
"Some of them had to move because they were forced by the government," Villebrun recalls. "Told if you don't move, your allowance will be cut off and you have to move, your children have to go to school."
"So there was a pressure on the parents. And, being young like that, being taken away from home into a new environment, it was very difficult for me. I cried every day."
Construction of the Taltson River dam began in 1964, with the Pine Point Mine starting production one year later.
Family homes were abandoned, the people displaced and a way of life was changed forever.
"We shouldn't have had to move from there," Villebrun says. "We should've been allowed to stay there, it was a beautiful place."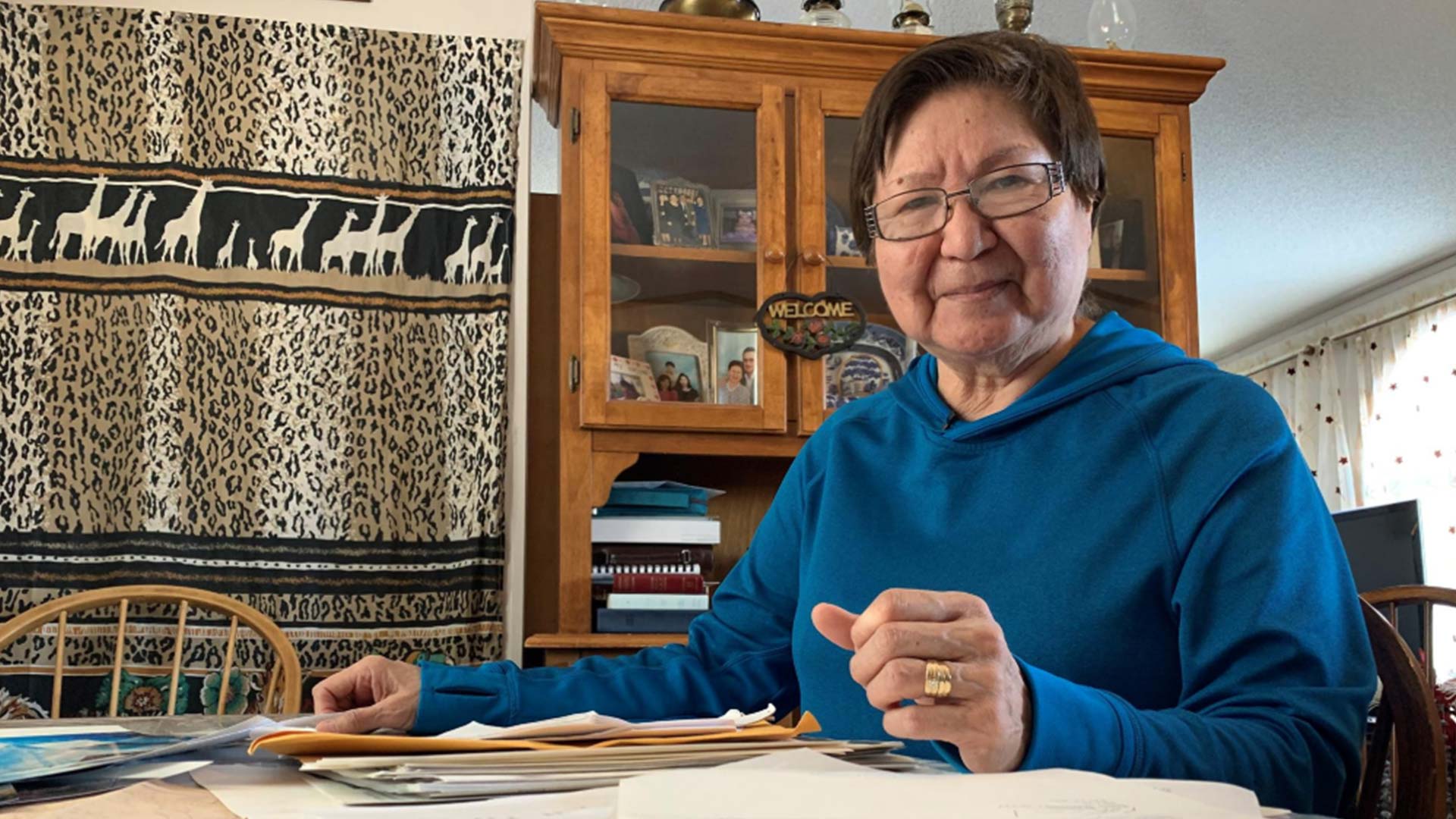 ---
Once the community of Rocher River was abandoned, the Tthetsënɂotı̨́né people, original signatories to Treaty 8 as the Yellowknives, were essentially erased from the history books.
The displaced community members were forced by the federal government to join other bands.
Most of the band membership was transferred to what was then called the Chipewyan band in and around the community of Fort Resolution.
"The family structure is not there anymore," Paul Boucher recalls with some sadness. "It made it hard on mom and dad. Before my dad passed he said mom cried every night, she didn't want her kids to leave, and him too he cried because we were displaced."
Boucher lives in the small town of Fort Smith, on the border with Alberta. It's where his family eventually settled after they were forced to leave Rocher River.
But that wasn't the only time his family was torn apart.
During the 1950s and 60s, a tuberculosis outbreak spread across the country and thousands were sent away for treatment.
Boucher and his siblings would spend over a year at Edmonton's notorious Charles Camsell Indian Hospital.
"Seeing your brothers and sisters like in a cage," Boucher remembers. "These old cribs were just silver metal and they were like cages. And for them, at that time also they experimented on us."
Boucher holds out his arms to show the faded but still deep scars running along each side.
It was a horrific chapter in his life that Boucher believes wouldn't have happened, if his family been allowed to remain on their traditional homeland.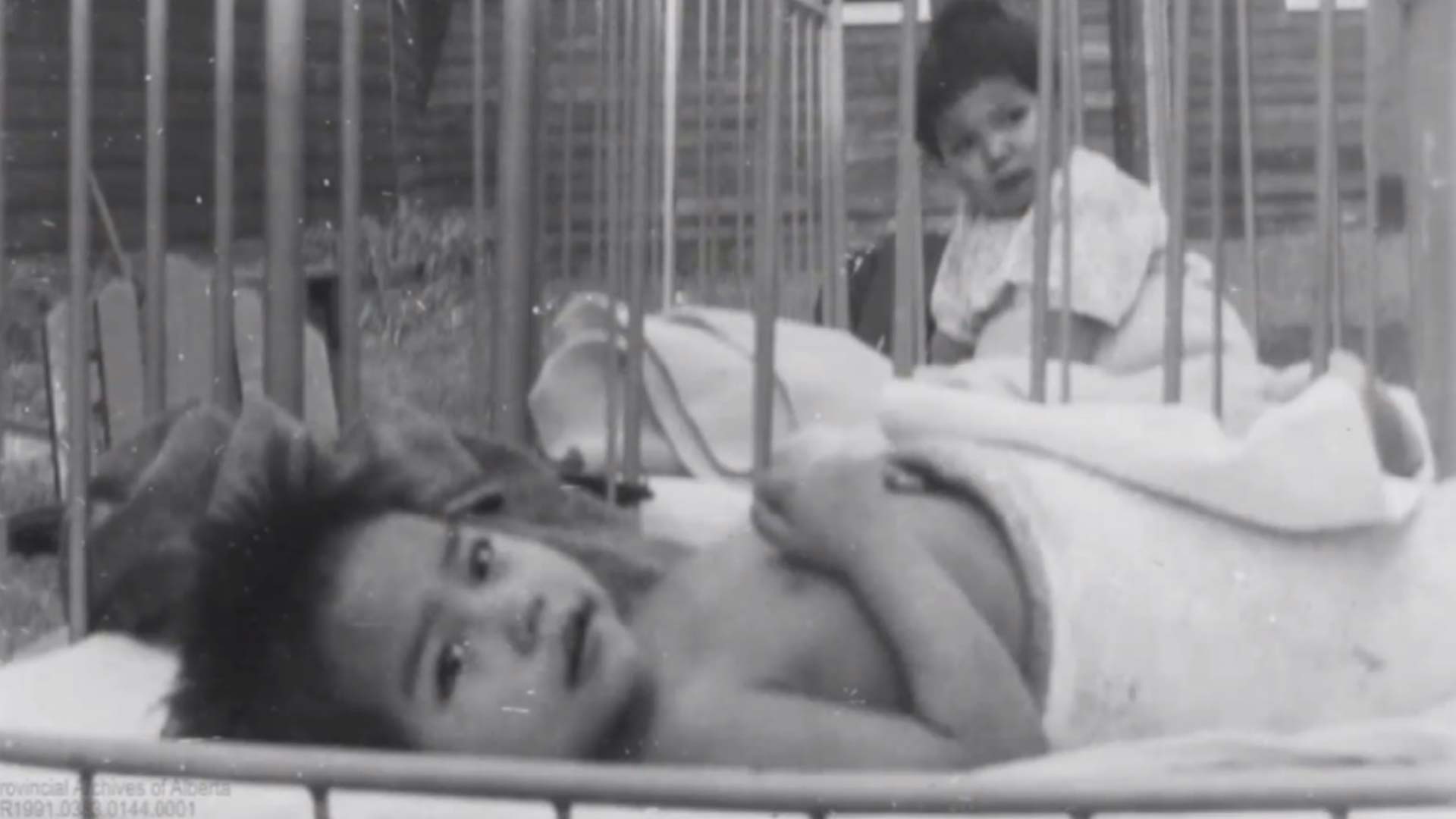 ---
Agnes Villebrun has done much of her own research over the years on what really happened in Rocher River.
She was part of a renewed push in the late 90s, to reinstate the band with the federal government.
"There is a mix up and the government is allowing it," Villebrun says. "We lost our name, and we lost our culture and we lost our people. We have just integrated, been pushed under other areas."
In the end talks with the federal government fell apart. Villebrun says Ottawa refused to open any negotiations with a so called new group of Dene.
APTN Investigates reached out to the federal department of Crown-Indigenous Relations for comment.
We wanted to know why the community of Rocher River was abandoned and the people forced to join other bands across the north?
Here is part of their reply:
We are working collaboratively to advance reconciliation and renew the relationship with Indigenous people in Canada based on the affirmation of rights, respect, co-operation and partnership.
The historic community self-identified as Rocher River has never been recognized as a band under the Indian Act and to date, Canada has not received a claim to negotiate from this group.
It's a stance that the federal government has maintained for the last 30 years.
But puzzling, given that the Rocher River band entered into Treaty 8 as the Yellowknives in 1900.
And that it was Ottawa that forced the Tthetsënɂotı̨́né people to join other bands across the north.
We will have more on this story next week.