RCMP special unit in N.W.T. still has no answers for MMIWG families
Every month Freda Cardinal receives the same letter from the RCMP and relives the painful questions surrounding the disappearance of her sister Stella Cardinal.
The letters signed from the RCMP G division are carbon copies.
A single page that states police are investigating "criticisms" Cardinal made against them in her testimony before the National Inquiry into Missing and Murdered Indigenous Women and Girls in Yellowknife in January 2018.
"All I have heard from the RCMP is that they would keep me updated. Every letter they sent me says the same thing, over and over again. There's no real updates," Cardinal said.
In the summer of 1970, Stella Cardinal was just 19 years old when she disappeared without a trace from a remote fire lookout tower near Fort Smith, N.W.T.
---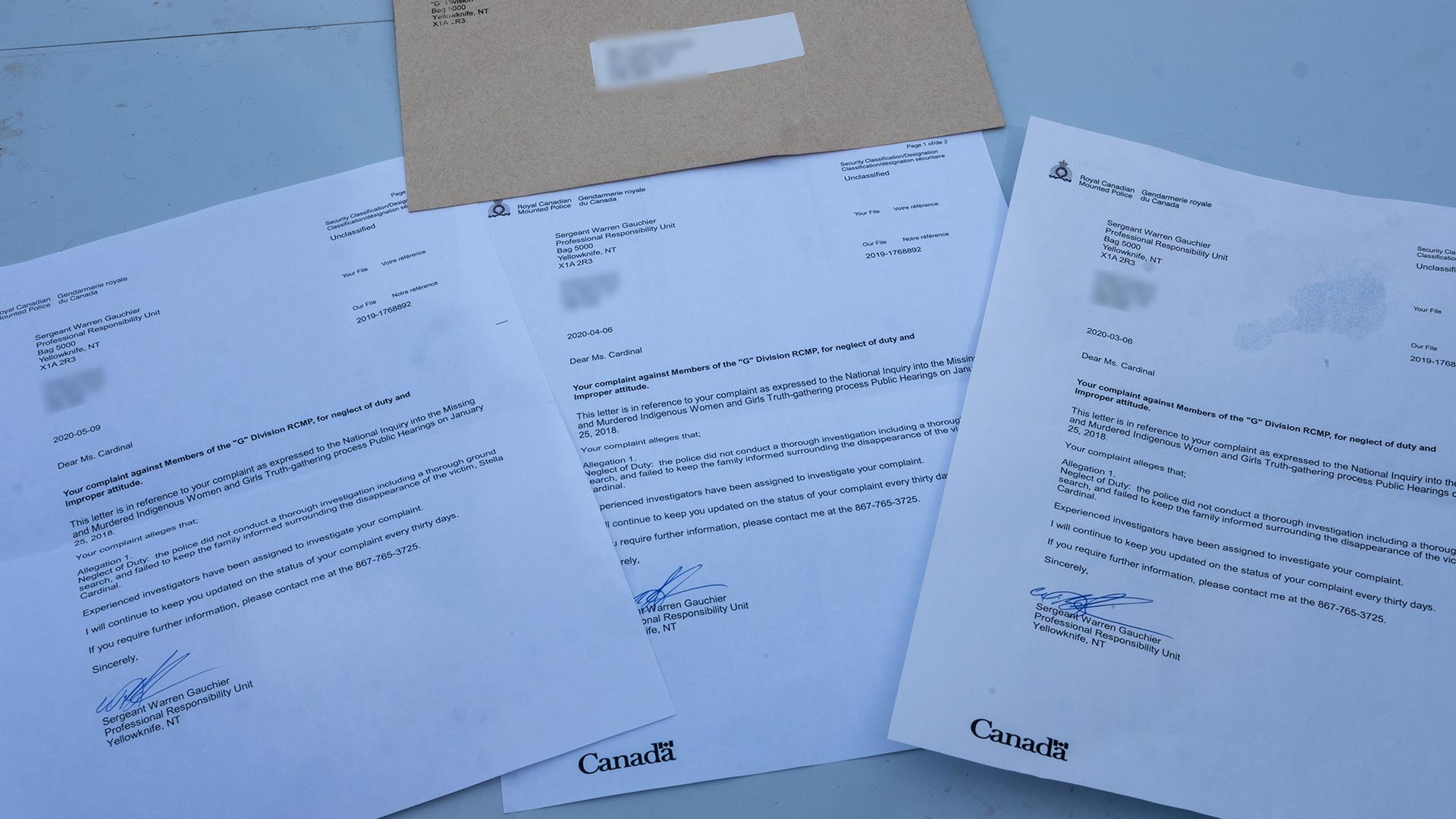 ---
Cardinal spoke her truth publicly at the hearings and alleged the RCMP neglected to act on various leads in the disappearance of her sister
At the time of the inquiry, there were 71 unsolved, historical cases of missing and murdered persons in the Northwest Territories with 63 cases considered open.
At the inquiry, Cardinal made the recommendation that a dedicated taskforce be developed to handle these cases.
Her calls were answered, or so she thought.
In February 2018 the territorial government budgeted $304,000 for the RCMP unit.
A year later APTN News learned that a two-person RCMP unit was staffed to investigate the cold case files but no other information was ever provided.
APTN has made numerous requests for information and interviews which have been declined each time.
Ahead of the one year anniversary since the release of Reclaiming Power and Place: The Final Report of the National Inquiry into Missing and Murdered Indigenous Women and Girls, APTN again asked for an update on the progress of the historical case unit and how many families the RCMP had worked with so far.
"The Historical Case Unit values the work of the media and plans to eventually release information on some specific files to engage the public and support their investigative work," said Julie Plourde, media relations officer for Yellowknife RCMP in a statement to APTN's request for information. "However, the unit has not reached this point."
It's taken decades for Cardinal to fill in gaps of information on her sister's case.
It wasn't until she worked with inquiry's Family Information Liaison Unit (FILU) that she found out details of what investigators had done over the years.
"When FILU assisted me in going to the RCMP, they [RCMP] showed me a two-page double sided document. That was all they [RCMP] had done over the years for my sister's file," Cardinal said,
This left her with more questions than answers; like why an investigator had went out to the site Stella was last seen in the wintertime a decade ago and what came from the trip.
---
---
Cardinal was disappointed in the federal government's delay of an action plan report illustrating how the 231 calls for justice will be implemented.
"It just sends the message that the federal government is trying to make us happy saying they are doing something for us," she said. "We need a holistic report for everyone who testified. I'm not surprised if some people have PTSD because of the inquiry."
Cardinal is not alone in her grief.
In her member's statement on June 3, Lesa Semmler, MLA for Inuvik Twin Lakes, told the N.W.T. Legislative Assembly that she was insulted by the inaction believed that citing COVID-19 as the reason for the delay was merely an "excuse."
"They've had 10 months since they received the report, it's not as if they have not heard the requests again and again," Semmler said.
She called for the territory to lobby Canada to release the action plan and in the meantime for the territorial government to develop an action plan of its own.
A teary eyed Semmler spoke to the assembly not only as a politician but as an Indigenous woman, as a mother, and as an aunt of Indigenous women and girls.
"We cannot have any more blood on our hands, lose any more loved ones. We can't afford any more delays when it comes to the safety and protection of our women and girls and to us LGBTQ2IA people," she said.
Semmler was one of the first to testify in Yellowknife, sharing the story of her mother Joy Semmler.
Lisa was only eight years old when her mother was murdered at the hands of a common-law partner in 1985.
---
---
According to Statistic Canada 2019 findings, the N.W.T. has the second highest rate of violence against women in the country.
Cardinal said aftercare for families experiencing violence and those who testified should be a top priority of all levels of government.
At the time of the inquiry she turned down counselling because of work commitments.
"I've gone to sweats on my own and that really helped me a lot, but we need more, more support. More than ever for telling our story. For those of us who did, we need help," Cardinal said.
As the 69 families who testified in the N.W.T. with the inquiry wait for an action plan, the quest for answers for those like Cardinal will not be put on hold.
"I will never give up. I love my sister Stella. Canada and the world needs to know what happened with our missing and murdered," she said.