RCMP release account after Mountie cleared in fatal shooting of Inuk artist
Ottawa police say "use of lethal force" justifiable following investigation of Kinngait incident
---
Nunavut RCMP have released their version of events after Ottawa police cleared Mounties of criminal wrongdoing following a months-long, third-party investigation into the Feb. 26 altercation when an officer shot and killed Inuk artist Attachie Ashoona in Kinngait.
RCMP say they received a report of an assault on a woman in progress then attended a residence after receiving another call that Ashoona was inside fighting with his father.
Mounties say they spoke with Ashoona's father, who had blood on his face, when they heard Ashoona yell from inside he was grabbing a knife. They say they weren't sure whether the reportedly assaulted woman was inside.
"The two responding officers entered the residence and found Mr. Ashoona holding a knife in his hand, raised above his shoulder," said police in an Aug. 27 release. "Mr. Ashoona told the officers he was going to kill them and to shoot him and proceeded to move toward the officers."
Police say they told him to drop the knife. One officer moved but remained in the house while the other escaped. RCMP say Ashoona then came at the Mountie with a knife, ignoring calls to stop.
"The officer was in a corner and unable to back up any further with Mr. Ashoona moving forward and within three feet. The officer discharged their pistol twice striking Mr. Ashoona."
He was given medical attention but pronounced dead on scene.
Ottawa Police Services (OPS) were tight-lipped about the shooting while the investigation was open. On June 30, the Nunavut coroner's office told APTN News a mandatory inquest was underway, confirming that police had killed a Kinngait resident, now identified as Ashoona.
OPS responded to a request for details later that day, summarizing the extent of publicly available information.
"It was a fatal shooting," Const. Amy Gagnon said in an email. "We have not issued a release about the matter."
Ottawa police now say two homicide investigators and two forensic officers traveled to Kinngait and, after interviewing five officers and 10 witnesses, concluded the shooting was justified.
"The investigation has determined that the RCMP officer's use of lethal force did not exceed the use of force necessary to control the situation, as per section 25 of the Criminal Code of Canada," said an Aug. 24 OPS release. "There were no grounds in the evidence to proceed with criminal charges against the officer."
Section 25 outlines several circumstances in which an officer may use lethal force, including if "force is necessary for the purpose of protecting the peace officer."
OPS refused further comment and said they will not make their investigation public. Nunavut RCMP also seldom make these documents available.
But in the course of this story APTN obtained a different OPS third-party investigation, in which police cleared an RCMP officer of criminal wrongdoing in the 2017 police killing of 20-year-old Pond Inlet man Kunuk Qamaniq.
The 32-page Qamaniq report offers a rare glimpse into the steps Ottawa police take when tapped to conduct homicide investigations of police.
The accountability, transparency and effectiveness of these investigations are under public scrutiny after waves of demonstrations against policy brutality following high-profile instances of police violence, including the dooring of an Inuk man in Kinngait that received national attention in June.
Remaining details of the Ashoona shooting may not become public until the inquest, which Deputy Chief Coroner Khen Sagadraca said will probably be held in 2021 because of the pandemic.
The 2017 RCMP shooting of Kunuk Qamaniq
Ottawa homicide investigators Sgt. Richard Dugal and Det. Guy Seguin were prepping to fly to Iqaluit when the Major Crimes Section got a request from RCMP to investigate an "officer-involved shooting" in Pond Inlet, Nunavut.
It was 6:48 p.m. local time on Mar. 18, 2017 when Dugal and Seguin learned they'd be heading to Pond, where Qamaniq, 20, lay in the health centre with a bullet wound through his neck.
He was losing blood fast but still alive.
Earlier, RCMP Const. Patrick Higgins shot Qamaniq once with what Dugal soon learned was a Colt Canada C8 assault rifle, a high-powered carbine used by the army in Afghanistan and elsewhere. RCMP started distributing these weapons to front-line Mounties in 2011.
After RCMP Insp. Dean Warr briefed him at 7:35 p.m., Dugal instructed Warr to "hold off on media release until approved by OPS."
This was Dugal's first act after putting on the gloves in his months-long investigation that would clear Higgins and fellow Mounties following Qamaniq's death.
At 8:05, Qamaniq died. In 2018, a coroner's jury found the cause of death was homicide by gun-shot wound.
Government looks at other options
Eleven days prior to the tragic death, a policy review landed on the desk of 2017 Justice Minister Keith Peterson.
The report examined the effectiveness of these third-party investigations and offered policy alternatives, citing "the general concern that a police force should not investigate another police force." Peterson commissioned it a year earlier.
It was not made public until 2019 when it was obtained by lawyers and filed as evidence in a proposed class-action suit against RCMP and Canada.
This lawsuit claims RCMP regularly assault and discriminate against Indigenous people in the territories. It also alleges the federal government failed to prevent or correct racially-motivated police brutality in the north, despite being aware of a systemic problem.
The statement of claim points to this 2017 policy review as evidence that government knew about a systemic problem yet failed to immediately act.
The findings of the 2018 inquest into Qamaniq's death were also included in the class-action court documents.
In 2019, the Qamaniq family sued the RCMP.
The suit alleges Qamaniq's death "was provoked by and as a result of then negligence or deliberate acts of the officer or officers involved."
The Qamaniq suit and the class-action allegations remain untested in court. The officers involved in the Kinngait shooting haven't been named. The 2017 policy alternatives are redacted in the court documents. These are published below.
Read More:
Options Report: Investigation of major incidents involving the RCMP in Nunavut
Verdict of Coroner's Jury: Shooting death of Kunuk David Qamaniq
Statement of Claim: Qamaniq family v. the RCMP
Nunavut's Justice Department is responsible for policing in the territory, and has a memorandum of understanding with OPS. This is why OPS investigate many major incidents involving civilians and police up north.
In June, Justice Minister Jeannie Ehaloak said Nunavut would move toward establishing a civilian oversight body for the RCMP. In a statement Thursday, Ehaloak reiterated that commitment and sent condolences to the Ashoona family.
"We have received notification from the Ottawa Police Service regarding the completion of their investigation into the fatal shooting that occurred in Kinngait," said the statement.
"I appreciate the efforts taken by the OPS in concluding this investigation and providing Nunavummiut with the final outcome. This is a very sad event for the family and the community and my thoughts are with them during this time."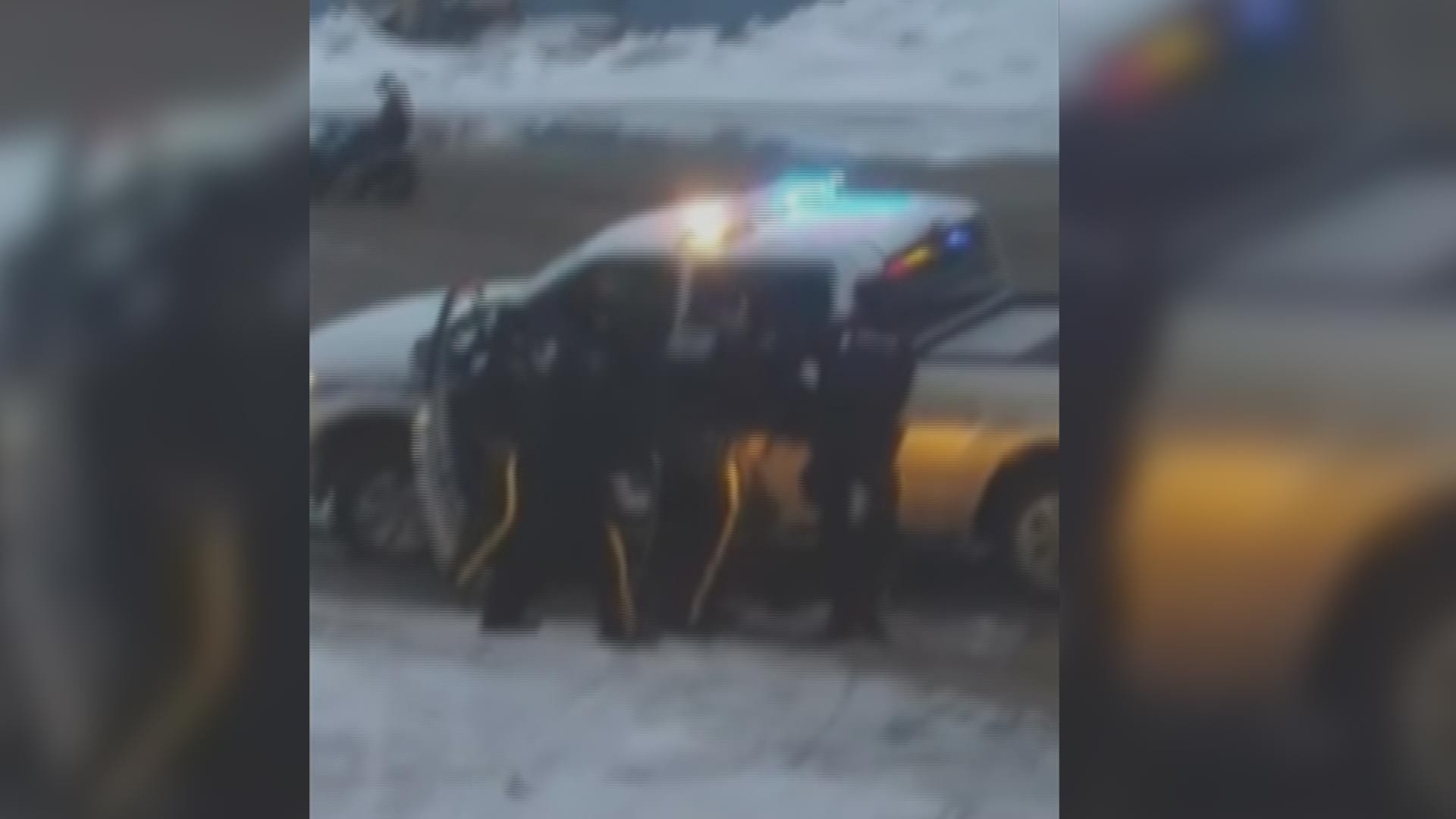 ---
APTN previously asked Deputy Minister of Justice Stephen Mansell why it took from 2017 – when the policy options report was completed – until now to move on civilian oversight.
"The (2017) report was one of the documents and opinion pieces that led us to really take firm steps toward civilian oversight," he said in a July phone interview. "We did our due diligence internally as well as heard from the public and our elected officials and that's why we're moving forward now."
Mansell added that the move away from third-party investigations does not mean Nunavut has lost confidence in the OPS. He said the territory is looking at legislative reform and following a national trend away from police investigating police.
"We're consulting on an amendment to our RCMP Act," he revealed. "The amendment would give us more flexibility with respect to oversight of the RCMP."
Ottawa police declined to be interviewed for this story. APTN submitted a detailed list of questions instead. They did not respond.
The Qamaniq family also did not want to be interviewed, saying instead through Iqaluit lawyer Anne Crawford that they hope the public will to decide for itself "how thorough or skimpy a job the Ottawa police do" with these investigations.
Investigation continues
Back on Mar. 18, 2017, after a few more briefings Dugal reached out to then Chief Coroner Padma Suramala at 9:17 p.m. He told her Qamaniq's death was an officer-involved shooting, "which was holdback information."
"It was agreed that there was to be no contact with the media, the family, no disclosure to anyone at this time," the report said.
Just under two hours later, Dugal sent his supervisor the media release informing the public of the incident.
Civilian oversight bodies like Ontario's Special Investigations Unit often provide regular updates on open investigations. In the Ashoona case, Ottawa police did not.
Dugal arrived in Pond the next day and began his investigation. He conducted a series of interviews with witness officers, Qamaniq family members and others.
Qamaniq, Dugal learned, missed a chance to go hunting with his friend the morning he was shot. Kunuk was grieving the one-year anniversary of his sister Enooya's death by suicide.
Kunuk was distressed and dealing with suicidal ideation. He walked off toward the community cemetery to go rabbit hunting with a .22 rifle in the afternoon. David Qamaniq called the detachment worried about his son.
Police went to the cemetery to prevent Kunuk Qamaniq from self-harm, Dugal reported. He determined that Higgins talked Kunuk into dropping the rifle after locating him near the cemetery.
But "for reasons unknown" Kunuk picked up the rifle again and pointed it at Higgins, "essentially forcing the officer to shoot him."
Dugal called Kunuk's parents in April to tell them "Kunuk had chosen to end his life and he took this way out, forcing the officer to shoot him."
Higgins declined to provide a statement to the sergeant. The report says Dugal then supplied Higgins with a list of questions. It does not say what these questions were or whether the Mountie answered them.
Officers subject to these investigations are not required to provide statements. It's possible that the officer who shot Ashoona also provided no statement to Ottawa police.
Delivered on Oct. 11, 2017, Dugal's report concluded Higgins "had reasonable grounds" to believe shooting 20-year-old Kunuk Qamaniq "was necessary for the self-preservation from death or grievous bodily harm."
Higgins was cleared under Section 25.
The RCMP account of Ashoona's death does not include many details which are likely in the Ottawa investigation: the testimony of non-police witnesses such as family members, discrepancies in stories, logistical challenges and whether or not the officer provided a statement.
Coroner's inquests do not lay blame or determine guilt. They examine facts and provide recommendations. The coroner's jury in Qamaniq's case offered 11 recommendations to prevent these deaths moving forward.
"Living matters first; this has to be recognized by all professionals of any involvements in first responders," the jury said in its seventh recommendation.
The Ashoona inquest will likely have similar advice.