Raids, racism and reconciliation: It's time to 'break up' the RCMP says expert on N2N
'There's some major question marks and concerns about this organization at this point,' says Jeffrey Monaghan
---
As the Mounties' third paramilitary raid on unceded Wet'suwet'en territory draws ire on an international scale, one expert says it's time to "break up" the RCMP in order to rein it in.
Carleton University professor Jeffrey Monaghan tells Nation to Nation people should be "really sceptical" about the federal police force's ability to reform itself.
"There needs to be an intervention outside of just trusting the RCMP and the RCMP leadership to be able to actually address this stream of significant racial, gendered and cultural problems within the organization," he says. "There's some major question marks and concerns about this organization at this point."
The latest concerns emerge from northern British Columbia where the Mounties conducted what they billed as a "rescue and enforcement operation" for a civil injunction held by Coastal GasLink.
The subsidiary of TC Energy has provincial permits to build a $6.6-billion pipeline that would transport natural gas from a fracking facility near Dawson Creek to a liquification plant in Kitimat. The megaproject is said to be worth around $40 billion.
The company has agreements with five of six elected Wet'suwet'en band councils, but it lacks consent from hereditary chiefs and clan members who've opposed it for years.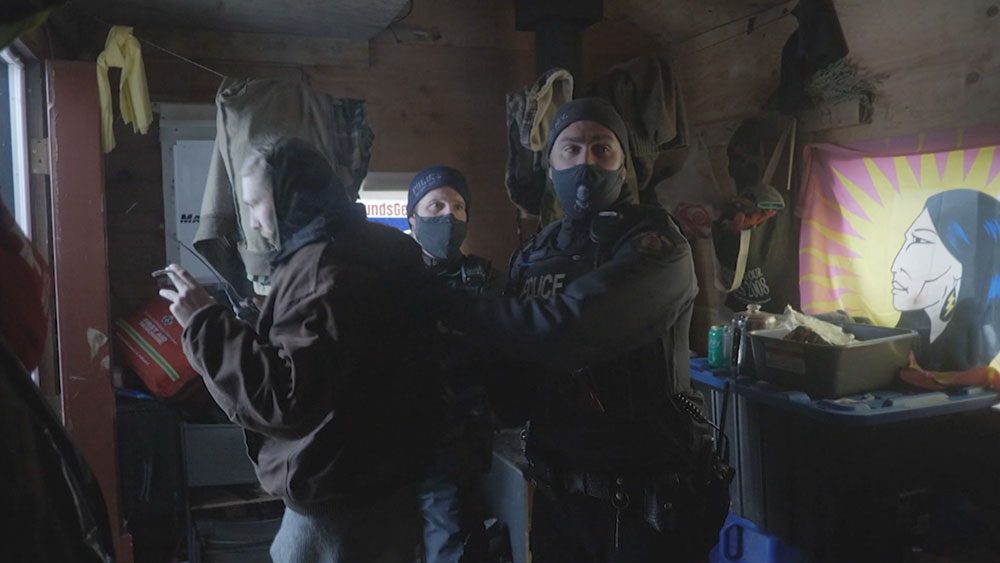 ---
On Nov. 18, the RCMP deployed heavily armed tactical and canine units to dismantle new resistance camps and blockades established about two months ago. In a press release, the Mounties said the assault rifles and dogs were there "only in an observation capacity."
But footage captured by documentary maker Michael Toledano, who was arrested during the raid along with photojournalist Amber Bracken, showed the tactical and canine units doing more than just observing.
Mounties used an axe and chainsaw to hack through a wooden door on a structure identified as a tiny home. Once the door was breached, tactical officers aimed assault rifles at the occupants before an arrest team detained them one by one, dogs howling throughout. More than 30 people were arrested over two days.
The RCMP's framing and language choice in their media material raises a lot of questions, says Monaghan, whose research focuses on surveillance and policing tactics federal agencies use against First Nations activists.
"Some of the language in that press release really represents the Wet'suwet'en land defenders as violent and wanting to harm workers, which is a dubious way of framing it," he says. "It really raises questions about whether or not the police actually are really taking extra steps here to try and delegitimize the protesters, and particularly the hereditary chiefs."
The show of force against unarmed activists and members of the media drew a flurry of condemnation from civil liberties organizations and calls for the Mounties to withdraw. Over the last year, multiple independent reports have found the federal police to be serial violators of civil liberties and basic human rights.
The Civilian Review and Complaints Commission (CRCC) concluded stop checks, roadblocks, exclusion zones and indiscriminate retention of open-source intelligence were unconstitutional or illegal when the RCMP used these tactics during Mi'kmaw-led anti-fracking protests near Rexton, N.B., in 2013.
---
Read more:
Watchdog has 'serious concerns' about RCMP's response to findings of Elsipogtog investigation
Colten Boushie's family to respond to watchdog report that found discrimination
---
The watchdog agency also found Mounties racially discriminated against Colten Boushie's mother when notifying her of her son's killing in 2016.
The most scathing rebuke was delivered by a former top court judge who found the internal culture of the RCMP is toxic, entrenched with racism, and "tolerates misogyny and homophobia at all ranks."
Given these "very thorough critiques," Monaghan isn't confident the RCMP leadership can be trusted to tackle these issues. He says someone else must step in.
"The approach when we have an organization that is so impervious to outside democratic control is to try to break up that organization and to try and siphon off different responsibilities to other social service providers," he says.
To that end, in a June 2021 report an all-party House of Commons committee urged Parliament to demilitarize the Mounties, phase out contract policing and help provinces and territories establish their own forces.
RCMP reform was in the throne speech and the election platform that saw Prime Minister Justin Trudeau win his third mandate, but Monaghan doesn't believe the Liberals have the political will to deliver.
"This is a big institution with a lot of political power," he says of the RCMP. "There is a hesitancy among politicians to take on the entrenched powers of police and police unions."
It's a sentiment that Pam Palmater, a Mi'kmaw lawyer and professor from Eel River Bar First Nation, tells N2N she agrees with.
"There is no saving the RCMP," she says. "Canada is facing a real situation. Either they fix it from the outside or they get rid of it altogether. As you can see, they are the primary crux of the problem when it comes to Indigenous land defence, water defence or even advocating for our human rights."
Palmater joins N2N to offer her two cents on the latest liberal agenda read aloud this week by Gov. Gen. Mary Simon.
So does Inuit Tapiriit Kanatami President Natan Obed, who's seen his share of throne speeches since becoming head of the organization in 2015.
Catch the full episode above.