'I wanted this drawing simple and without malice': Quebec cartoonist apologizes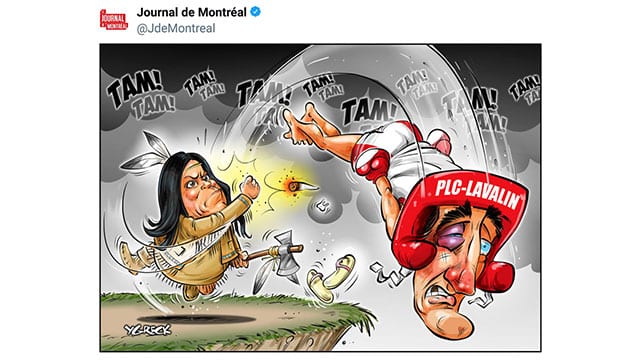 Yannick Lemay, the artist whose cartoon has been widely condemned online says he wants "to apologize to anyone that I have offended."
The cartoon by the Quebec artist depicts former justice minister and attorney general Jody Wilson Raybould in a buckskin dress, feather in her hair, holding a tomahawk delivering a knock out punch to a battered Prime Minister Justin Trudeau.
Lemay, in an email to APTN News says he was, "surprised at the reaction to this caricature. The job of a caricaturist is to exaggerate situations.  Since we do no use words, we use visual codes to represent concepts," he said.
"Ms. Wilson-Raybould is a great representative of the aboriginal community who proudly defends herself, so I wanted to build her up.  I wanted this drawing simple and without malice."
On twitter, people referred to the cartoon as deeply offensive, stereotypical, racist, disgusting and despicable.
Lemay said in the email, "I realize today that I used bad visual codes to elevate her Aboriginal ancestry.
"I draw a great lesson."
This is the latest cartoon depicting Wilson Raybould to come under fire in the last week.
Political cartoonist and author, Michael de Adder depicting Wilson Raybould in a boxing ring tied to a chair with tape over her mouth while former advisor Gerald Butts gives advice to Trudeau, also was lambasted.
De Adder apologized and today responded to Lemay's cartoon in a tweet.
"Editorial cartoonists need to have a serious discussion about our craft and how we depict gender and race.
"We need to try harder. Re: ," he wrote.