Protesters block Cape Breton causeway to raise awareness about Mi'kmaw woman's murder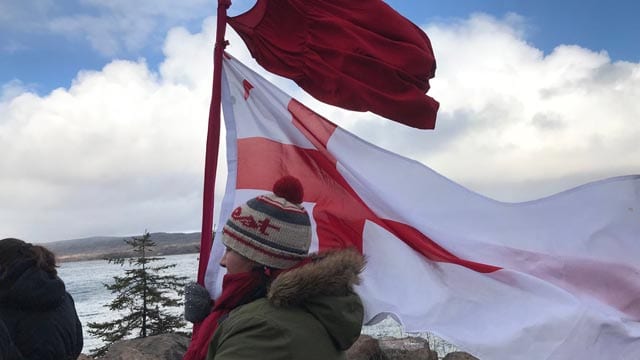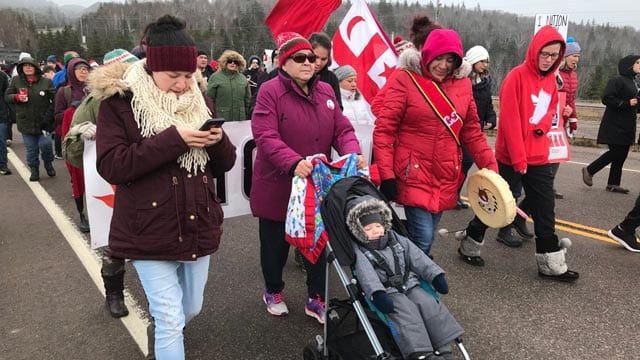 (Photo: Angel Moore/APTN)
Protesters blocked a causeway connecting Cape Breton Island to mainland Nova Scotia today in an effort to raise awareness about the unsolved murder of a local Mi'kmaw woman.
Cassidy Jean Bernard, 22, was found dead in her We'koqma'q home on Oct. 24.
Annie Bernard-Daisley, Cassidy's cousin and a band councillor for We'koqma'q, told APTN News Cassidy was "very community-oriented," and that the young mother "went to every community function that there was with her little babies.
Police are calling the woman's death "suspicious," and say the two infants _ in the home at the time of the incident _ were not harmed.
---
Chief Rod Googoo says the 45-minute march on the Canso Causeway will shine a spotlight on the issue of missing and murdered Indigenous woman across Canada and hopefully shed some light on what happened to Bernard.
He says the young woman was a "sweet and innocent child herself," and that her death has left the community in a state of shock and grief.
The We'koqma'q band council in Waycobah is offering a $100,000 reward for information that leads to the arrest and conviction of the woman's murderer.
RCMP Cpl. Jennifer Clarke says police will be on site today, ensuring the safety of the group and allowing them to "peacefully express their views."
She says police will keep the group to one lane of the causeway and keep the other lane open for emergency vehicles.
Cassidy Bernard was the mother of six-month-old identical twin girls, Mya and Paisley.
"She must have been an angel from God, because nobody gets blessed very often to have that opportunity to have identical twins," said her mother Mona Bernard in an interview last week with APTN News.
Mona said Cassidy "was just a master" at mothering. "She was just a queen of these babies."
news.ca
-with files from Justin Brake