'Pretty cool to watch': Mi'kmaw ribbon skirt workshop sews more than clothing
As the workshops continue, Mary Lou Bernard hopes to eventually include lessons on the Mi'kmaw language
---
The sewing workshop at the Sipekne'katik First Nation community centre began with an idea to make regalia for children.
"Most children are turned away from powwows because they don't have regalia to dance, so when we created the Facebook group Sipekne'katik Regalia Creations, we had over 150 people join immediately," said workshop organizer Jill Paul.
When Paul secured the funding and donations, the sewing room opened last November.
With no experience necessary to learn the basics of sewing, community members signed up, including Stephanie Doucet who helped obtain the funding.
"As a first-time sewer myself, I mean I'm excited to rock my skirt once we get these finished and I'm going to be sporting it proudly," said Doucet.
---
Instructors volunteer their sewing knowledge to teach others.
De-Anne Sack, a band councillor, finds sewing is healing.
She learned how to make ribbon skirts from watching YouTube videos.
"I figured how to make pockets, I figured out applique, I figured out a hem and to sew, you know, elastics, as part of my healing journey," she explained.
Brooke Willis, a recently elected band councillor, feels the workshops are about more than sewing.
Reviving culture
They are about reviving a part of their culture that was lost during the Indian Residential School era.
"Not always has our community had access to culture, especially being five minutes away from the only residential school in Atlantic Canada," said Willis, "so our community was kind of Ground Zero – at least in this side of Turtle Island – to have such a heavy impact, and that loss in intergenerational impacts of it."
The youngest member of the group is 14-year-old Nakirrah Howe, who came with her mom to make her own ribbon skirt her own way.
"You get to have fun with people, you get to make stuff and you just get to have fun and do whatever you want to make," said Howe.
Mary Lou Bernard, a Mi'kmaw speaker and educator, said the workshops build relationships.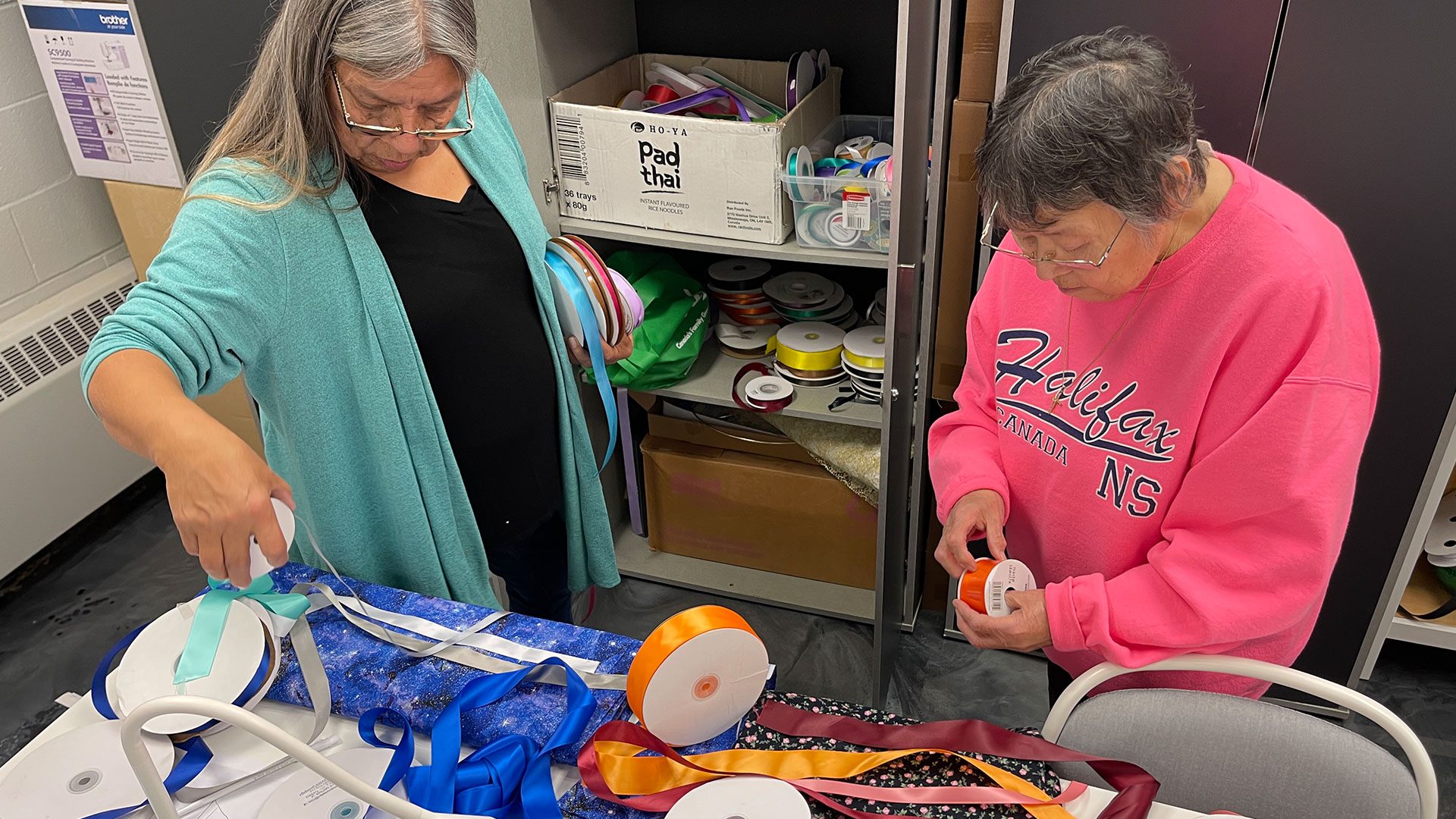 ---
"You get to be around people you are not normally around, like I work at the school and I don't see you know, the only people I see are the ones at the school, and I live alone," said Bernard.
As the workshops continue, Bernard hopes to eventually include the Mi'kmaw language.
"I could come in an introduce the language and say what the words are, the thread and scissors in Mi'kmaq and help along and let them catch on with the words," said Bernard.
With the workshops a success, Paul and Doucet hope to keep the program going, with community support.
"People have been truly willing to help out, dive in, support, donate, and so it has just grown and that's where I'm really excited so we will just keep writing proposals and finding more funding if we can," said Doucet.
Safe place
Paul said the room is a safe place for people to come together.
"Pretty cool watching everyone come in here because they are all kind of in a shell at first," she said, "but then once they start warming up to you, you can see their confidence boost and when they all complete their skirt, they are just beaming, like it's pretty cool to watch."
Once ribbon skirts are mastered, sewing regalia will be next, in time for powwow season.