'Political suicide' if Liberals don't give First Nations full jurisdiction over child welfare, say leaders
First Nation leaders in B.C. and Saskatchewan say resistance from several provinces and the Trudeau government's recent cabinet shuffle are jeopardizing the federal Liberals' planned child welfare legislation.
Leaders within the First Nations Summit in B.C., and the Federation of Sovereign Indigenous Nations (FSIN) in Saskatchewan tell APTN News they believe resistance from Saskatchewan, Ontario, and likely others, coupled with the removal of Jane Philpott as Indigenous Services minister and Jody Wilson-Raybould as Justice minister and Attorney General, are key factors in what could be the imminent demise of one of the government's key promises to Indigenous peoples.
On Wednesday, FSIN published an open letter to Justin Trudeau telling the prime minister "if you can't do right by Indigenous children, the most vulnerable population today… then there is no way your government can be viewed as having the political will to get any other aspect of the First Nations agenda right."
The letter, co-authored by FSIN Chief Bobby Cameron and Vice Chief David Pratt, says they were assured by Philpott that jurisdiction over child welfare would be transferred from the provinces to First Nations.
But the most recent draft bill they had access to "allows provincial intrusion" into child welfare "instead of upholding our Inherent Rights and Treaties recognizing our inherent rights of self-determination and self-government."
Pratt told APTN Thursday that Philpott had indicated to Saskatchewan chiefs that giving First Nations jurisdiction over child welfare "was completely doable," he said, in order to "get the jurisdiction of the provinces out of the way."
Cheryl Casimer of the First Nations Summit in B.C. told APTN Wednesday that it would be "political suicide" for the Liberals "to table legislation that didn't recognize full jurisdiction and authority" of First Nations.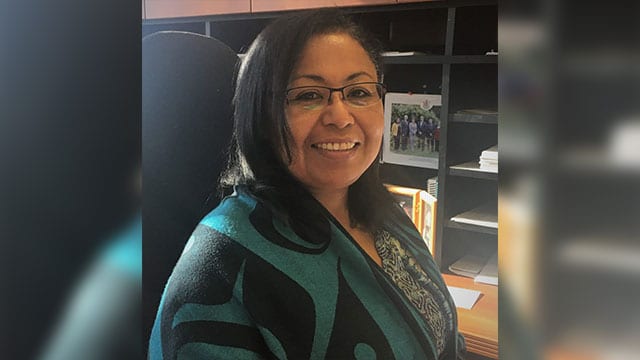 Cheryl Casimer of the First Nations Summit in B.C. says any federal legislation on child welfare that doesn't transfer full jurisdiction to First Nations "would be a waste of time because it'll be rejected. First Nations Summit.
"It can't include any component in there that still allows for provincial oversight, because that's the system that currently exists, and for some province's that's why they are dealing with high rates of children in care."
Casimer, who is a former and councillor with the ?aq̓am First Nation, said any child welfare legislation that doesn't give full jurisdiction to Indigenous peoples, and which doesn't include adequate financial resources, "would be a waste of time because it'll be rejected.
"First Nations just want to have that full jurisdiction and authority to operate child welfare systems based on their own Indigenous laws with no interference."
Pratt said he's heard from First Nations leaders across the country that several provinces object to relinquishing jurisdiction.
Saskatchewan, he said, is "calling for a 90-day moratorium on the legislation" to buy more time to consult with First Nations, a time frame that would scuttle the Liberals' effort to have the bill passed before the fall federal election.
Pratt said that during a recent meeting with Saskatchewan Premier Scott Moe and the province's Minister of Government Relations Warren Kaeding, he "told them we are aware of their bureaucrats' efforts to… to kill the legislation.
"They're doing everything they can at the 11th hour to stall it, hold it up and kill it, because they don't want to give that jurisdiction to First Nations people, that rightfully we never gave up."
In a written statement to APTN Saskatchewan's Minister of Social Services Paul Merriman said the province "has received a copy of draft legislation" and, along with other stakeholders, are "looking for clarity from the federal government," among other things "on the impact the legislation would have on child welfare systems and agreements that are currently in place."
Merriman said Saskatchewan "has a strong record of working collaboratively with local First Nations on the delivery of child and family services both on and off reserve," and that they "look forward to consultations with the federal government on this draft legislation."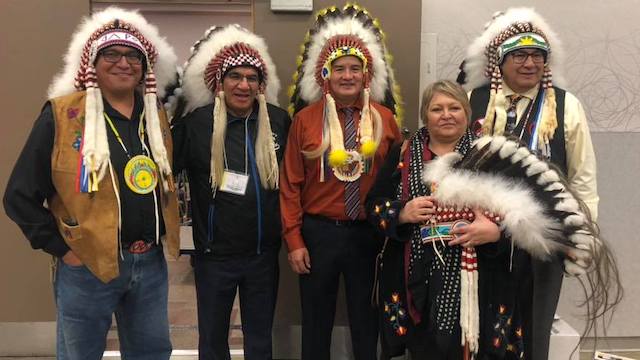 FSIN Vice Chief David Pratt (left) and Chief Bobby Cameron (centre) co-authored an open letter to Justin Trudeau urging the prime minister to ensure First Nations are given full jurisdiction over child welfare. FSIN/Facebook.
Pratt said "the clock is ticking," and that the Liberals must immediately table the legislation, with the promised transfer of full jurisdiction to First Nations, if the bill has a chance of passing before the October election.
"The prime minister needs to have the political courage and the will to step in and make that decision," he said.
But he said the recent cabinet shuffle is likely part of the problem, and that—"with due respect" to the new ministers on the files—Philpott and Wilson-Raybould "would have been able to get this work done."
Pratt said Philpott "had the trust and the respect of chiefs everywhere," and that "she was a great advocate and she was a good ally."
Wilson-Raybould, he said, would have applied an "Indigenous lens" to the legislation before its tabling.
"In a football game, you don't switch your star quarterbacks that are trying to get the ball across the goal line at the eleventh hour."
Pratt also cited Ontario as one of the provinces fighting the transfer of jurisdiction over child welfare to First Nations.
In a statement to APTN, the province's Minister of Children, Community and Social Services Lisa MacLeod said Ontario "is supportive of the spirit of the draft legislation, but shares the concerns of other provinces and territories that the draft legislation in its current form raises too many unanswered questions about how this legislation would work in Ontario, and the impact it could have on Indigenous children and families."
A spokesperson from Indigenous Services Minister Seamus O'Regan's office told APTN Wednesday the government "unfortunately cannot get into the specific details" of the legislation, but that it is "working diligently to ensure we can address the feedback that has been received."
Pratt and Casimer both said despite working with the feds on the legislation, they don't know if they will be given an opportunity to see the final draft before the bill is tabled.
In November then-Minister of Indigenous Services Jane Philpott said Indigenous children taken into state care "is our modern day variation on the legacy of residential schools." APTN file photo.
Upward of 40,000 Indigenous children are in state care in Canada – more than half of all children in care across the country.
At the same time, Indigenous children make up just 7.7 per cent of the child population in Canada.
Last November Philpott, joined by the three national Indigenous leaders, famously announced there would be "no more scooping children," and that Canada would co-develop new legislation with Indigenous groups and nations.
'No more scooping children': Canada, Indigenous leaders announce plan to co-develop child welfare legislation
The minister said at the time the provinces were "in various states of enthusiasm about what [the legislation] will look like," but that "there is overall a very positive spirit of recognizing the challenge that is there and a desire to do something different."
A Nov. 30 news release from the government said that "a pillar of the legislation will be the right to self-determination of Indigenous peoples to freely determine their laws, policies and practices in relation to Indigenous child and family services."