Police move in on #MuskratFalls camp, arrests made in early morning raid
Eight arrested as RCMP move in on Muskrat Falls camp in early morning raid.
(RCMP moved in on the Muskrat Falls camp early Monday morning. Photo courtesy Justin Brake/The Independent)
Trina Roache
APTN National News
MUSKRAT FALLS, N.L. — Police moved in on a group of demonstrators camped at the entrance of the Muskrat Falls hydro-electric construction site early Monday morning.
According to people at the site 30 kilometres west of Happy Valley-Goose Bay, eight demonstrators were arrested by RCMP.
People set up the blockade Saturday to try and force the province of Newfoundland and Labrador to pause construction on the massive hydroelectric project over concerns how it will impact traditional food sources for the Inuit.
The Labrador Inuit, including the Nunatsiavut Government, are demanding the province fully clear the reservoir at the dam before flooding to avoid poisoning the land.
See related stories here: Muskrat Falls
The provincially owned company Nalcor Energy, served the group a court injunction Sunday to keep people from blocking access to the site.
"We want to shut the whole thing down now," said Jim Learning, an Inuit elder who was named in the injunction. "They made no headway chucking us out of here this morning."
Learning has fought against the Muskrat Falls project for years. He was arrested during a protest in 2013.
He said the rallies are picking up steam at the eleventh hour of the controversial project.
Several people are staying near the Muskrat Falls site, but are not allowed near the gate. Learning was heading with a group of people to occupy Premier Dwight Ball's office in Happy Valley-Goose Bay.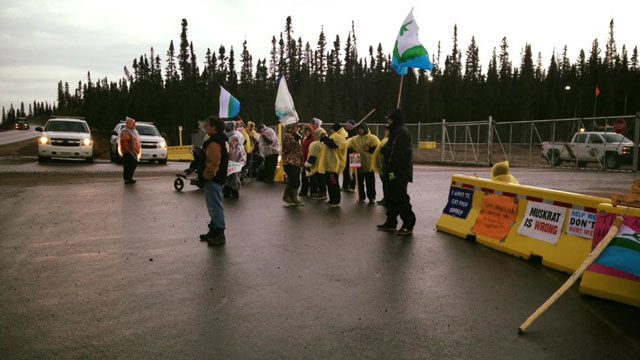 He said it's a symbolic gesture since the premier is in St. John's. But dozens are expected to rally there today at Newfoundland and Labrador's legislature building.
Methylmercury is the main concern the Labrador Inuit have with the Muskrat Falls project. A Harvard study predicts that vegetation and topsoil left in the flood zone will create the toxin that will flow downstream and contaminate food sources.
The Nunatsiavut Government is demanding the province fully clear the reservoir of all trees and vegetation.
NunatuKavut President Todd Russell is making an announcement on the Muskrat Falls project this morning at 11am AST. Russell, who represents the Southern Inuit of Labrador, was also arrested during a protest against the project in 2013.
Calls to the RCMP about the arrests have not yet been returned.