Police, military won't say how many members are supporting convoy protests
---
If politicians and security agencies are worried about the participation of military and policing personnel in protests against pandemic-related public health measures, they refuse to say it publicly.
Prime Minister Justin Trudeau declared a national emergency on Monday over the disruptive civil disobedience that has paralyzed downtown Ottawa for nearly three weeks and blocked international border crossings.
That means the Liberals consider the protests a threat to national security under the Emergencies Act. But it remains unclear how much support the protesters, blockaders and occupiers are receiving from people with military, security, intelligence or policing training.
"I simply am not privy to this information," said a spokesperson for Ottawa Mayor Jim Watson when asked by APTN News if the city knows the answer.
"I can't speculate on the overall numbers," added a spokesperson for the Ontario Provincial Police who said the OPP wouldn't provide this information anyway.
---
Defence Minister Anita Anand's office said she's "deeply concerned by the illegal blockades and occupations" but dodged a question about the participation of military personnel.
A spokesperson for Public Safety Minister Marco Mendicino — who oversees the country's two largest law enforcement agencies and its top spy agency — didn't respond to emails asking how many people under the department's umbrella are involved.
Whatever the number may be, it's been high enough to raise some eyebrows.
Among the spokespeople for the convoy of trucks and cars occupying capital streets is a former RCMP sniper named Daniel Bulford who served on the prime minister's security outfit.
Bulford is linked to a group called Mounties for Freedom that says vaccine mandates are "crimes against humanity" and claims to have members from, among others, the RCMP's elite counter-terrorism unit.
A force spokesperson told APTN "the RCMP cannot speculate on how many members (former or current) are participating in the protests, or the amount of support they are receiving from them."
Other members of the convoy's leadership include a former military intelligence officer and an ex-military officer who served in the armed forces for 25 years, as first reported by CBC.
In addition, a military commander recently  said "at least three" special forces members were allegedly supporting the protests, confirming an Ottawa Citizen report.
---
The fleet of trucks easily seized control of the city centre when it lumbered up to Parliament Hill for a rally on Jan. 28. The anti-mandate brigade has since erected several shanties and makeshift campsites in parking lots and intersections, bringing most commerce and traffic to a halt downtown.
Ottawa police have been accused of badly bungling the situation by allowing the occupation to entrench itself so easily. Police chief Peter Sloly resigned on Tuesday.
Officers under his command appeared to be under a directive to stand by, observe and only intervene to de-escalate. They've mostly roamed around in small bands and made relatively few arrests. They've been spotted giving protesters thumbs up and posing for pictures.
Reinforcements from the provincial police seem to have the same hands-off marching orders. An OPP officer was recently caught on video in the occupied red zone letting protesters take pictures in the back of a cruiser like a winter carnival attraction.
Over the weekend, video surfaced of a different officer telling motorists heading to the capital to "wait till you get there" before causing traffic confusion. "I support you guys 100 per cent," the officer told them.
OPP spokesperson Bill Dickson said the video is real but wouldn't speculate on how many officers support the protests.
"The OPP holds its members accountable for their actions while on duty and off," he said. "They have a responsibility to demonstrate neutrality and remain non-partisan."
"wE jUsT nEeD mOrE rEsOurces"@dianedeans @fordnation @JimWatsonOttawa …are these the "extra resources" that tax payers are going to be writing a cheques for? /1 pic.twitter.com/dUurRFsk4C

— Coalition Against More Surveillance (@CAMSOttawa) February 13, 2022
---
But it's precisely this responsibility critics say police are breaching.
"Frontline officers are being far too friendly with the Ottawa occupiers and convoys across Canada," said Evan Balgord, executive director of the Canadian Anti-Hate Network. "There is a clear bias. So these friendly interactions aren't surprising to me. The far-right convoy participants feel like police officers support them."
Balgord's group closely tracks the convoy protest and raised alarms early about the movement's links to Islamophobia, antisemitism, racism and incitements to violence, though not all protesters share these views.
Weekend rallies in particular draw revellers, drinkers and families some of whom express honest frustration with the restrictions. These events have a festival atmosphere and include bouncy castles, barbecues, dance parties, a concert stage and at least one hot tub.
But some groups occupying the city undoubtedly deal in paranoid conspiracy theories and anti-democratic ideology. They say vaccine mandates are crimes against humanity for which Trudeau, media and politicians should be subjected to Nuremberg-style tribunals.
---
Organizers proposed to strike a military junta-type committee consisting of the anti-mandate brigade, senators and the governor general through a memorandum of understanding they recently retracted.
Some researchers say these sorts of movements tend to garner support from frontline police and security officers because they share common cultural, political and ideological ground.
In 2018, the military's counter-intelligence unit probed the issue and found far-right groups "will always attract active and former military personnel due to their conservative values and para-military trainings."
These files, obtained by Carleton University researcher Andrew Crosby, suggested right-wing extremist groups often cloak a xenophobic agenda in terms security personnel easily identify with — like loyalty, honour and national defence against outsider threats.
"These qualities closely echo the military traditions, increasing the ease with which current DND/CAF members and veterans are being attracted to such organisations," the spy agency said.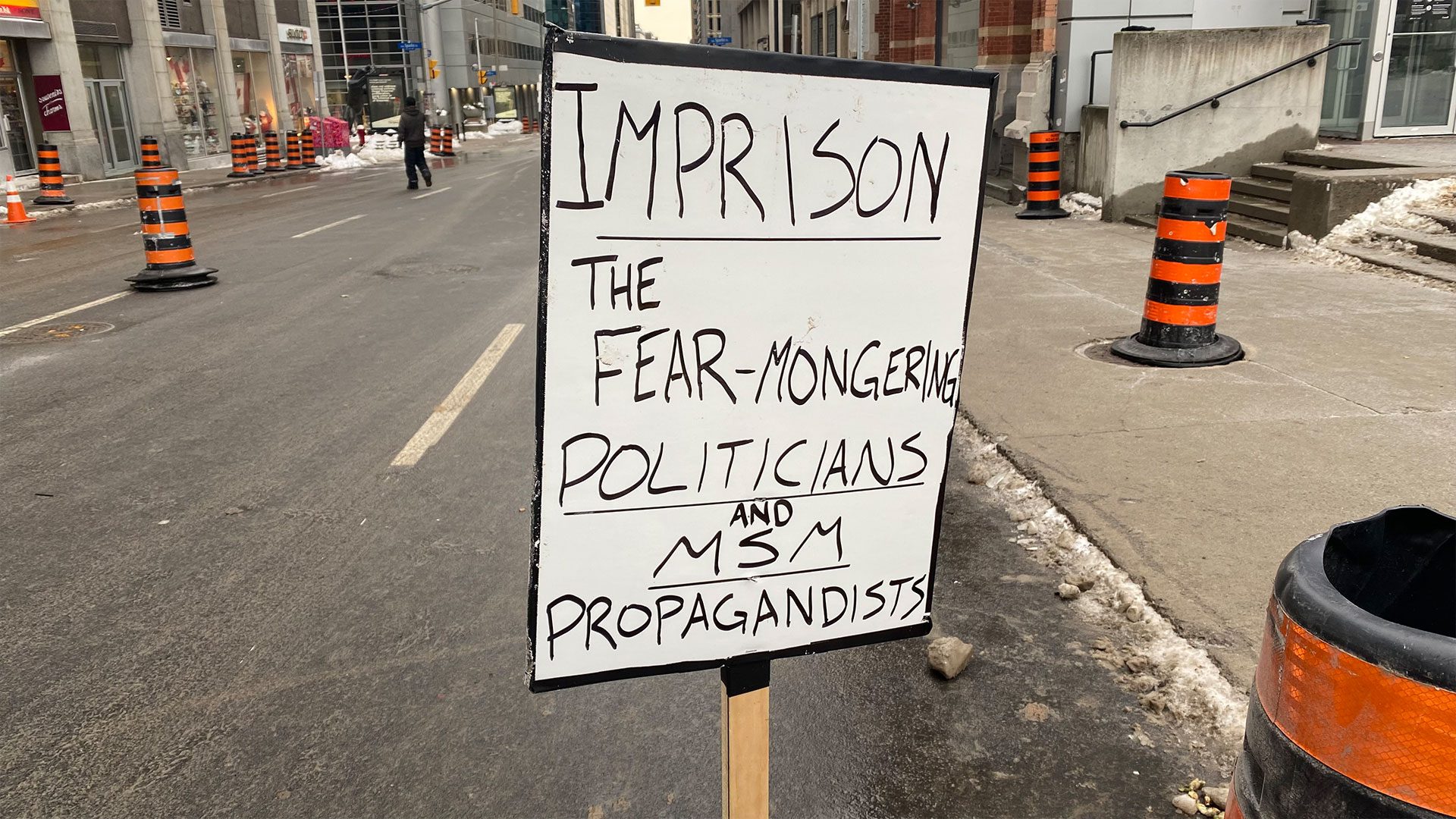 ---
APTN reached out to this same spy unit after protesters built a wooden hut stockpiled with propane and fuel directly across the river from National Defence headquarters. The unit said the convoy poses "no security threat" to department assets.
Critics, however, worry the authorities are downplaying things.
Mi'kmaw lawyer and professor Pam Palmater recently told APTN the ties between white supremacy, far-right extremism and law enforcement should be cause for alarm.
"That presents one of, if not the biggest national security and public safety threat in this country as far as I'm concerned," she said.
It's furthermore unclear how many military and policing staff, at least at the federal level, are defying the policy of mandatory vaccination.
The RCMP couldn't say how many members are immunized. The force maintains 21,000 police officers. The Canada Border Services Agency, also covered by the mandate, has 11,700 officers tasked with border management and enforcement.
The military is not covered by the policy because it's a separate organization but adopted it nevertheless. Soldiers and officers who defy the mandate can have disciplinary proceedings launched against them and eventually be dishonourably discharged.
Anand's spokesperson said 98 per cent of the forces have been inoculated.
"The Minister expects that any CAF member whose conduct brings discredit to the Forces will be held accountable for their actions," the statement said.