Pikangikum wants restoration of Anishinaabe law, renewal of treaty relationship following 'landmark' ruling
'Being forced to adopt the ways of others was not what our ancestors intended when they entered into Treaty with the Queen.'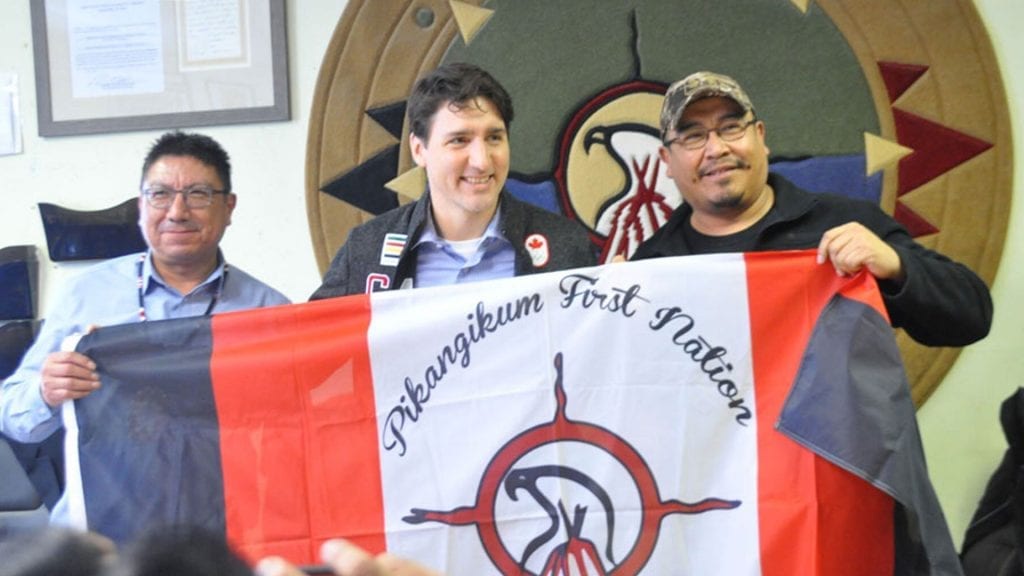 ---
It's time to for the Crown to renew the treaty relationship and help restore traditional Anishinaabe legal systems in Pikangikum First Nation, according to leadership for the remote 3,200-person community in northwestern Ontario.
"It's true that our community has many challenges. But we are resilient. Our strength resides in our traditions. It is with our Elders who still remember the old ways and how to get back to mino-bimaadiziwin – the good life," said Chief Dean Owen in a release. "Our teachings and Elders are wise. We must listen to them. We must reclaim our Anishinaabe systems and ways."
The move comes after a judge found it was practically impossible for six Pikangikum mothers who pled guilty to drinking and driving offences to serve their sentences intermittently, which violates their charter equality rights and ignores solemn promises codified in Treaty 5.
"When we entered into a Treaty Relationship with the Queen, we were told our way of life would be protected. That promise was broken. We were told that the Queen would help us control the sale of liquor on-reserve. That promise was broken," the release continued.
"We were told we would continue to live in accordance with our laws. That promise was broken. Being forced to adopt the ways of others was not what our ancestors intended when they entered into Treaty with the Queen."
The women's convictions carry a mandatory minimum jail sentence of 90 days or less. The law allows people to serve these sentences on weekends to mitigate their impact through something called intermittent sentencing.
But in order to access an intermittent sentence, the women – all mothers of young children – would have to fly south at their own expense every weekend to the notoriously overpopulated jail hundreds of kilometres away in Kenora, Ont.
---
Read More:
Sentencing law ignores treaties, violates charter rights of Pikangikum residents says judge
Reasons for judgement in R. v. Turtle et al
---
They argued such an arrangement is practically unavailable, logistically impossible and prohibitively expensive, violating their right to equality under the law. They sought a constitutional exemption from the sentences.
Justice David Gibson agreed with the first point but didn't grant the exemption because Ontario offered to pay for and plan the women's travel for the duration of their sentences.
But, the judge stressed, this travel workaround amounts to "questionable legal rope-a-dope" and not a long-term solution. He added that the case was really about the "corrosive effects of colonialization" and urged the Crown to address these systemic inequities as part of a "nation building" exercise.
"The legal regime I have been asked to consider in this application, though neutral on its face, treats the people of Treaty #5 as second-class citizens," Gibson wrote. "The Government is not fulfilling its treaty obligations and young indigenous people are taking their lives in shocking numbers."
Pikangikum's submissions to the court described how, in under a century, those "corrosive effects" turned a thriving and self-sufficient community into one beset by intergenerational trauma, high rates of criminality and one of the highest suicide rates on earth.
---
The chief now urges both Canada and Ontario to heed Gibson's calls and "conduct deep consultation" with the community to help transform the administration of justice within its borders.
"The issues set out in R. v. Turtle et al., among others, require immediate attention and we urge you not to turn away from this truth. This is an opportunity to rebuild the relationship our forefathers intended," said Owen in an open letter addressed to politicians on Parliament Hill and Queen's Park.
"It is an opportunity to renew the Treaty Relationship. Let's get to work. We look forward to hearing from you directly about next steps in developing a process as we have proposed."
Pikangikum wants to strike a community-led task force that would develop the terms of a memorandum of understanding with Canada and Ontario aimed at implementing these calls for reform.
The community says it has identified its representatives who could lead the task force.
Pikangikum's lawyer Luke Hildebrand says Ontario acknowledged receipt of the letter, though the First Nation awaits a response.
The Ontario attorney general's office declined an interview request for this story, saying it would be inappropriate to comment as the case is before the courts.
APTN News also reached out to the federal government but didn't receive a response by the deadline.