Owner of firm under INAC 'kickback' probe linked to Cayman Islands investment fund which targeted First Nation dollars
Usand head Sean McCoshen was listed as a "team member" of Cayman Islands-based fund and identified with Turtle Island Funds which targeted First Nation dollars.
(Screenshot from the now shuttered website for the Cayman Islands-based Turtle Island Funds. The website was shut down this week following queries from APTN.)
–Editor's note: This story was updated on Thursday to include information that Usand has now issued a notice under the Defamation Act against APTN and the company's claim an internal document referred to in story was a draft and never seen by Sean McCoshen.
Jorge Barrera
APTN National News
The owner of a financial company currently under investigation by Indigenous Affairs was linked to a Cayman Islands-based firm which offered an investment fund that used "sovereign tax immunity" as a hook to entice dollars from Canadian First Nations into offshore accounts.
Winnipeg-based Usand Group is currently being investigated by Indigenous Affairs for allegations it used kickbacks to secure financial deals with First Nation communities.
Usand operates mainly as a broker between First Nations seeking funds and banks willing to lend. Usand has arranged several loans for First Nations through the Bank of Montreal.
Read APTN's original report on Usand and the kickback allegations
The company is owned by Sean McCoshen, a Winnipeg investment banker who claims in Usand's promotional material to have worked deals involving Bedouin clans in Abu Dhabi, the capital of the United Arab Emirates. The firm still features endorsements from former Peguis First Nation chief Glen Hudson and former Assembly of First Nations national chief Ovide Mercredi, who is currently the president of the Manitoba NDP.
Until this past Monday, McCoshen was listed as one of the "team" members of a Cayman Islands mutual fund called Worldwin Funds SPC. McCoshen's name was linked to a sub-fund called Turtle Island Funds which was geared to attract dollars from First Nations in Canada.
According to its website, Worldwin is an "an open-ended mutual fund…created and organized as a segregated portfolio company."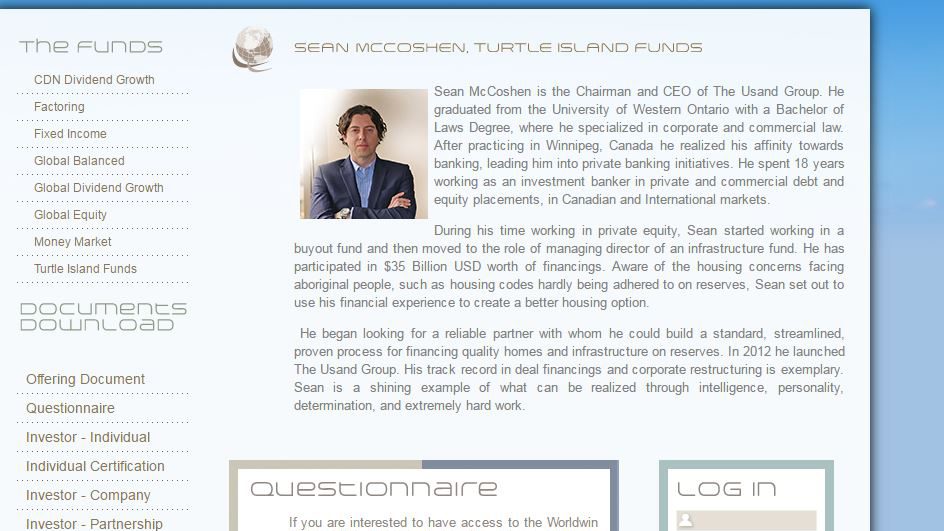 Windfield Sifton, one of Worldwin's listed principals, said in an interview Monday that McCoshen was no longer part of the firm and the relationship ended about "six months ago."
Sifton said McCoshen's name still appeared on the firm's website as a result of an oversight.
"We had a very brief discussion with going into business with Sean," said Sifton, in a telephone interview from the Cayman Islands. "We had contemplated looking at a possible relationship, it has not generated or germinated at all… clearly the websites…and various different places need to be updated, need to be changed. I am not in charge of all of those processes."
McCoshen did not return a message left on his personal cell phone. He also did not respond to emails sent to his personal address. One of McCoshen's assistants contacted APTN via email Tuesday asking all media queries be directed to her.
As of this article's posting neither McCoshen nor Usand responded to questions about McCoshen's role with Worldwin or Turtle Island Funds.
The company did post a statement on its Twitter account Wednesday saying it has done nothing wrong. The statement said Usand did hold a "few discussions" with Turtle Island.
"The products and services offered by Turtle Island Fund were not a good match for our clients and we were unable to see a good fit between our mutual businesses," said the statement.
The statement also said Indigenous Affairs had not yet contacted Usand Group as part of any investigation.
"Our work on behalf of bands is put under rigorous due diligence at the banks before any transaction occurs," said the statement. "None of our financing activities have ever come by either the banks, accounting firms or by INAC."
Usand said its goal is to "bring modern financial solutions to Aboriginal communities in Canada. Thus far, we have been extremely successful and our clients have been very satisfied with our work."
The company has now issued a notice under the Defamation Act against APTN.
Indigenous Affairs announced the investigation in January after APTN published a story citing an audio recording of a Usand official allegedly trying to bribe Barry Kennedy, the former chief of Carry the Kettle First Nation in Saskatchewan. APTN also obtained an internal Usand document that identified the use of "kickbacks" as a tactic in securing customers for the company. In a letter from its lawyer, Usand now claims the internal document was a draft and was never seen by McCoshen.
Kennedy filed a complaint against Usand with the department and the RCMP in Regina. Indigenous Affairs has said evidence of illegality uncovered through its probe would also be turned over the Mounties.
The RCMP has said it does not confirm or deny open investigations.
No evidence of illegality was uncovered by APTN in the activities of Worldwin or any of its principals in the course of gathering information for this story.
Worldwin follows all the laws and regulations of the Cayman Islands, said Sifton.
"If you are writing a story about offshore, understand that the vast majority of offshore is not what you think it is," said Sifton. "The Cayman Islands is the fifth largest financial centre in the world, the compliance…that you have to do on clients is extensive and if people tell you otherwise I will not do business with them."
Sifton denied Worldwin or Turtle Island Funds, the firm's now-shuttered investment arm aimed at First Nations, handled any money from Usand's clients.
The Cayman Islands Gazette states the Turtle Island Commerce Fund was de-registered in July 2015. Sifton said the Gazette notice referred to Worldwin's fund.
Sifton initially said he couldn't reveal why the fund was shut down. He then said it was due to a lack of interest. Sifton wouldn't say whether Worldwin or Turtle Island handled any investments from First Nations in Canada.
Sifton said he is still open to interest from First Nation investors.
"I am an entrepreneur, I am a deal maker. I will always look at a deal when it comes across the table," said Sifton, who is still involved with Worldwin. "An entrepreneur always looks for deal flow, so if the right deal was present…sure."
According to its now decommissioned website, Turtle Island Funds was also run by Sifton, Ron Whetung, a real estate agent from Curve Lake First Nation, and Larry Sault, the former chief of the Mississaugas of New Credit and owner of wealth management firm Sault Minds.
Sault could not be reached for comment. Whetung, who still lists himself as a vice president of Turtle Island Funds in a LinkedIn profile that also uses the funds' defunct website imagery as a background, referred APTN to Sifton. Whetung is still involved with Worldwin.
Turtle Island Funds appears to have first started in 2012 and, according to its initial website design, sought to cater to specific categories of potential First Nation investments including revenues from oil and gas, casinos, gold, pensions and resources.
Turtle Island Funds used a pitch that included the claim First Nations have an Aboriginal right—supported by the United Nations Declaration on the Rights of Indigenous Peoples—to avoid paying taxes on investments through offshore banking, according to a PowerPoint presentation from 2012 obtained by APTN.
"Tax avoidance is the legal utilization of the tax regime to one's own advantage to reduce the amount of tax that is payable by means that are within the law," according to a slide from the PowerPoint presentation. "First Nations inherent, treaty and Aboriginal right to sovereign tax immunity places our people under neither."
The PowerPoint touted the advantages of putting money into the Cayman Islands-based fund instead of Canadian banks.
"No reporting, no tax regime, no government intervention…money available anytime, usually within 24 hours," said the PowerPoint. "Turtle Island Fund was created by First Nation for First Nation. We have a vested interest…We guarantee asset protection. First Nation assets cannot be seized."
According to Turtle Island Funds most recent website incarnation, which was taken down Tuesday, it operated as a "series of open-ended segregated portfolios organized for the First Nations of Turtle Island in the Cayman Islands."
Butterfield Bank's Cayman Islands sector was identified as the funds' banker.
The often shadowy world of offshore banking was again in the spotlight this week after a network of over 100 media organizations around the globe, operating through the Washington D.C.-based International Consortium of Investigative Journalists released a blockbuster series of stories called the Panama Papers.
The stories were based on the largest leak of data to date, a total of about 11.5 million records from Panamanian law firm Mossack Fonseca which operates as a lynchpin in the world of offshore banking. The massive data leak exposed the offshore holdings of 12 current and former political leaders.
Neither Usand, Worldwin nor any of its principals have been named as part of the Panama Papers.
@JorgeBarrera