Ottawa police confirm officer posted 'racist' comments about Annie Pootoogook's death
Ottawa police said Tuesday one of their members was under an investigation stemming from a Police Chief's complaint over "racist" online comments
(Sgt. Chris Hrnchiar in his Ottawa police uniform. Facebook)
Jorge Barrera
APTN National News
Ottawa police said Tuesday one of their members was under an investigation stemming from a complaint from the chief of police over "racist" online comments posted in response to a story about the death of Inuit artist Annie Pootoogook.
Ottawa police spokesperson Const. Mark Soucy confirmed in an email the investigation into the officer's online comments is currently ongoing.
"We are aware of the complaint regarding the comments posted online by an (Ottawa Police Service) member," said Soucy, in the email. "A Chief's complaint has been initiated and an investigation is underway. We won't have any further comment at this time."
The comments were posted Saturday by Sgt. Chris Hrnchiar who used his personal Facebook to log into the Ottawa Citizen's comment section. Hrnchiar was responding to a story about the death of Pootoogook who was found submerged in the Rideau River on Sept. 19.
Pootoogook's death is being treated as suspicious by Ottawa police investigators.
Police initially said foul play was not suspected, but investigators now say suspicious elements in the case demanded closer inspection.
Hrnchiar's comments stated that Pootoogook's death "has nothing to do with missing or murdered Aboriginal women."
He said Pootoogook's death was not caused by murder.
"It's not a murder case….it's could be a suicide, accidental, she got drunk and fell in the river and drowned who knows…..typically many Aboriginals have very short lifespans, talent or not, (sic)" said the comment, posted Saturday.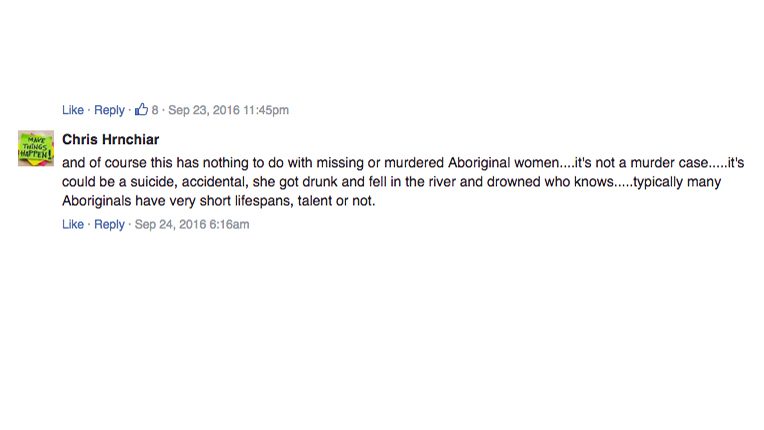 His second comment, also posted Saturday, claimed Indigenous people were the authors of their own misfortune.
"Because much of the aboriginal population in Canada is just satisfied being alcohol or drug abusers, living in poor conditions ect…..they have to have the will to change, it's not society's fault, (sic)" said the second comment.
A member of the public spotted the comments and sent an email of complaint Sunday evening to both Ottawa Police Chief Charles Bordeleau and Ottawa Mayor Jim Watson.
"The posts are troubling for the overt racism of the text, but they are all the more distressing given that they appear to be made by Chris Hrnchiar, who I recognize as a sergeant with the Ottawa police service," said the email, also sent to two reporters by Veldon Coburn. "I'm particularly troubled that an officer, either past or present, would harbour these racist views. It puts into question all involvement such an officer had in the administration of justice, especially cases that involved Indigenous peoples."
Bordeleau responded to Coburn the same day.
"My staff will follow up and take appropriate action if found to be one of our members," said Bordeleau, in his email, which was forwarded to APTN National News.
Coburn told APTN he was disturbed when he first read the comments.
"Racism of all stripes is appalling, but it is particularly egregious when it is doled out by a police officer at the expense of Indigenous peoples," said Coburn. "In this case, the racist remarks posted by a police officer in response to a story on the suspicious death of an Indigenous woman, Annie Pootoogook, only serve to remind us of the critical need of the national inquiry into missing and murdered Indigenous women."
APTN attempted to contact Hrnchiar by telephone and email, but received no response.
@JorgeBarrera
Editor's Note: Story was updated on Sept. 27 to change the date of the posted comments.