Ottawa police called after Eagle Staff seized during Congress meeting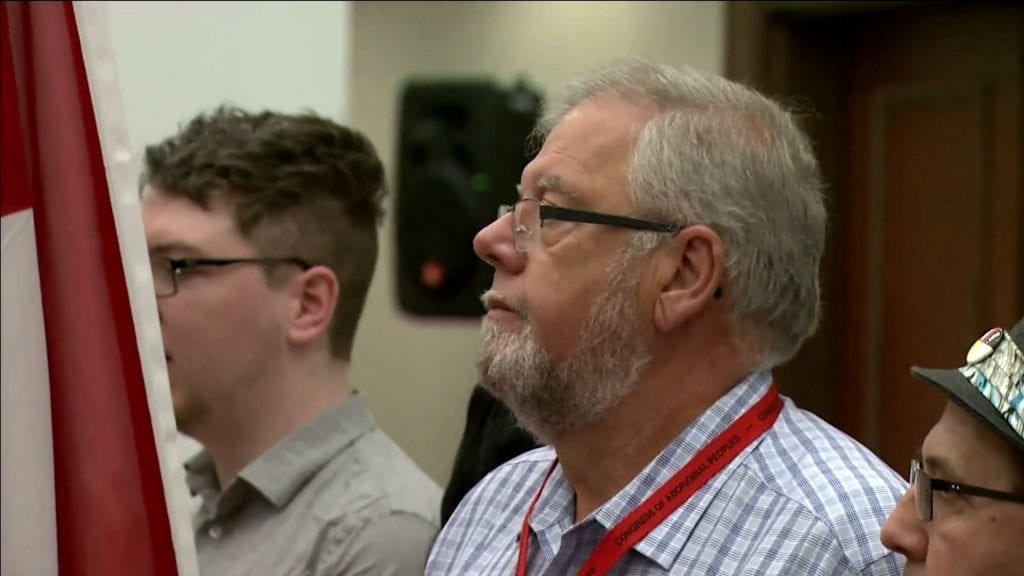 ---
The former national chief of the Congress of Aboriginal Peoples (CAP) was detained by Ottawa police after he tried to seize the organization's Eagle Staff during a meeting in Ottawa on Saturday.
Kevin Daniels, who was national chief of CAP in 2009, said he wanted to take the Eagle Staff back and "burn it" because it had been "tainted" by the current leadership of the organization.
Daniels made the move to take the Eagle Staff on Saturday during CAP's morning annual general assembly session at the Marriott Hotel's ballroom after he took the microphone to challenge CAP's current National Chief Robert Bertrand over his claims to Indigenous ancestry and dealings with the Nuclear Waste Management Organization (NWMO).
"I began my questioning of national leader Robert Bertrand and I asked him a simple question of how much money the (NWMO) was giving this organization," said Daniels, who originally brought the Eagle Staff to CAP. "I called for his genealogy, I called for his resignation…. I walked up and said, 'I'm retrieving it, it's tainted. I grabbed the Eagle Staff and was walking out and was cornered by about 50 people."
Daniels managed to grab the staff and ended up in a backroom of the ballroom where he remained until Ottawa Police arrived. After Ottawa Police ran his name they discovered he had an outstanding warrant with police in Gatineau, Que., said Daniels.
Ottawa Police Const. Chuck Benoit confirmed Daniels was detained and handed over to Gatineau police on Saturday. He said the police reports from the incident included mention of an Eagle Staff.
"He was apprehended for that warrant and the rest of the information can only be given by Gatineau Police," said Benoit.
Gatineau Police confirmed the arrest, but did not provide information on the warrant.
Daniels said the warrant was for an assault charge stemming from an incident near Indigenous Affairs' Gatineau head-quarters when a woman accused him of knocking off her glasses. He said Gatineau police held him overnight and released him on Sunday on a promise to appear at his next court date in January 2018.
Daniels said his battle with CAP is far from over.
"There has been a lot of lateral violence, a lot of greed and corruption within this organization that has been going on for a long, long time," he said.
APTN contacted Brad Darch, executive assistant to Bertrand, seeking comment. Darch said Bertrand, a former Liberal MP, was in meetings and wouldn't be available for an interview until Tuesday.
APTN followed up requesting a statement on the Eagle Staff incident and the organization's dealings with NWMO, but received no response.
CAP says it represents off-reserve and non-status Indigenous peoples.
According to financial documents released by CAP during their annual general meeting, NWMO gave CAP $119,000 for the 2016-2017 fiscal year.
NWMO also sponsored the meeting, according to a spokesperson for the nuclear waste organization.
NWMO is currently trying to find a location to store used nuclear fuel and has whittled down potential sites to seven from an original list of 22.
"As part of our ongoing work to identify a single preferred location with informed and willing hosts, we frequently interact with Aboriginal people, communities, treaty and political organizations, such as the Congress of Aboriginal Peoples," said NWMO spokesperson Bradly Hammond. "As we have done in previous years, we had the honour of being among the sponsors of the annual general assembly in Ottawa. This was an excellent opportunity to provide an update about our project, the site selection process and our ongoing engagement with Indigenous people."
CAP also received about $4.5 million from several federal departments in the 2016-2017 fiscal year, including from Indigenous Affairs, Human Resources and Skills Development and Status of Women Canada.
Roger Fleury, a former Green Party federal candidate and chief of the off-reserve Algonquins of Fort-Coulonge, Que., was in attendance at the meeting when Daniels attempted to seize the Eagle Staff.
He said he is concerned with how Bertrand is running CAP and his dealings with NWMO.
"We have a major problem," he said. "I agree with Kevin Daniels, who had the nerve to go up there and grab the staff. There is something wrong with this."
Audrey Redman, a residential school survivor, stepped outside the ballroom when the Eagle Staff incident unfolded.
Redman said she was upset with how events were handled and believes Bertrand needs to be clear about his Indigenous ancestry.
"That is the big question. When he asked about genealogy, they just booed, there was a big row over that," she said. "What was the problem with that? Don't we, as Native people, have a right to know? Everybody else has a right to that. We want to know who is a First Nations person. We only know by your bloodline and where you come from."
Bertrand's biography on the CAP website is silent about his Indigenous ancestry.
Sen. Patrick Brazeau, who was national chief of CAP from 2006 until he left for his Senate appointment in 2009, attended the organization's meetings last Friday. Brazeau said he heard many delegates questioning Bertrand's Indigenous roots.
"I did have a lot of delegates approach me and asking me if I knew Bertrand personally and about his ancestry," said Brazeau. "Delegates were requesting his ancestry and it poses some problems. I have no opinion on it. I am no longer part of the organization."
Brazeau said he was "sad" to see the current state of CAP.
"I worked hard and I dedicated a lot of time to raise the profile of the organization and now it seems to be a ghost organization," said Brazeau. "You don't hear about it very often and I find it unfortunate for the constituency of CAP. Things could be fixed, but we'll wait and see."
@JorgeBarrera