Opinion: Healthy communities, strong support systems needed to protect our Indigenous women and girls 
Is History Repeating when it comes to protecting MMIWG asks Catherine Lafferty.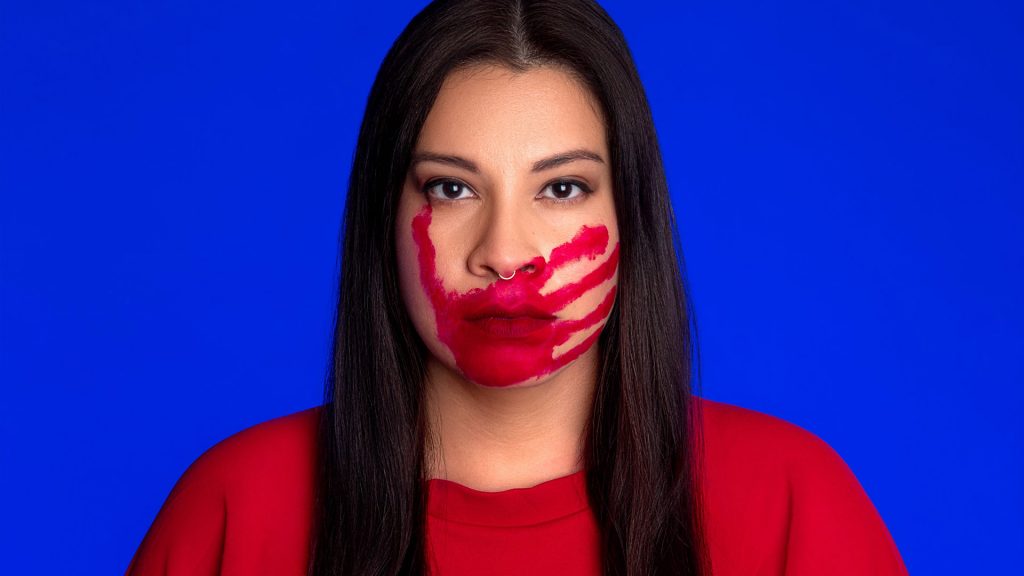 ---
Up-and-coming Indigenous actress Cara Jade Myers is starring in a new movie – Killers of the Flower Moon. She plays Anna Brown, one of the first Indigenous women who is murdered in a feature film directed by Martin Scorsese. The movie, based on a true story, tells of how the FBI was initially formed in order to solve multiple murders entrenched in hatred, racism and greed against the Osage people in a short period of time that has nearly been forgotten.
Originally written as historical fiction by David Grann, Killers of the Flower Moon is something that is still very real in society today – the disappearances and murders of Indigenous women at the hands of men.
Myers, who never thought of herself to be the best spokesperson on the subject, says she still knows it's important to shine a light on the dark past that is depicted in the film. "It's such a hidden fact of history. This legit happened. This is a true story and people just don't know about it," she says.
Hailing from one of the Okalamaha Tribes herself, the Wichita Tribe, Myers says she never heard of the story until she started auditioning for it, which is cause for concern in itself. "This case is the formation of the FBI. Literally, the first case they ever took on was this Osage reign of terror. So the fact that doesn't get brought up seems crazy to me."
According to writer David Grann, the Osage people reached out to the new Bureau of Investigation as it was being formed to help solve the multiple murders that were happening in their community.
Myers is curious about the conversations that will be brought up once the movie is released. "They're not the original, but they are probably one of the first seven documented missing and murdered Indigenous women and the fact that it's still happening and it's still swept under the rug is insane to me," says Myers. "I'm hoping that this movie sparks conversations that need to be told and the ultimate goal is to get this taught in school. American history ends at the trail of tears, they plopped us on reservations and then that's it.
"People literally think that we went extinct because our history isn't taught after that."
During the making of the movie, Myers spent time in the community to learn from the Osage tribe who experienced the disappearance of their women at a time when there were only bounty hunters who were paid to track down criminals. "The Osage were so amazingly open to us." She was invited to feasts, dances and ceremony.
"It's so deeply personal to the Osage people because this is their life, it's their family. There were people we would talk to who would be like 'that's where my grandmother got ran off the road and was murdered'." Myers was taken to the site where Anna Brown, the woman she portrays in the movie was murdered.
"This is a period piece but guess what it is still happening." Myers is hoping this movie can change the way these cases are handled.
While the U.S. government was forming the bureau, across borders in Canada, the Canadian government was turning the North-west Mounted Police into the Royal Canadian Mounted Police – but for a much different reason. In Canada, the RCMP was formed to enforce federal policies and legislation, as the police do. But the force was also used to enforce the Indian Act where members were known as truant officers making sure First Nations Peoples stayed on reserve and attended residential school according to the historical timeline of events in RCMP and Indigenous relations.
The RCMP was formed to keep an eye on Indigenous people and prevent them from getting out of control, quite a stark difference from their independent neighbours in the USA. In fact, the Indian Act, which the RCMP enforced, directly played a role in the degradation of Indigenous women through a patriarchal colonial value system that oppressed women's rights and put them in a position of weakness by prohibiting the expression of matriarchs in communities according to the many women who shared their stories and their truths within the National Inquiry into Missing and Murdered Indigenous Women and Girls.
The protection of indigenous women and girls starts with safe homes and communities
In Canada, the importance of having a home is a high priority for Indigenous women and girls. Cambria Harris, daughter of the late Morgan Harris who was one of four women found murdered in the latest serial killing targeting Indigenous women and girls in Winnipeg, expressed concern that her mother died without a home when demanding that the Winnipeg Police Service search the landfill for her remains. Women and girls are more vulnerable than ever when they are on the street. The name of the fourth woman is unknown but is called Buffalo Woman. We honour Buffalo Woman and hold her up because any one of us could be like her – and we must protect our herd.
For the many other murderers out there who walk free, justice will be served in one form or another. With new technologies tracing criminals back to crimes that occurred decades ago, there is hope that more killers will be held accountable for their actions. The more we bring the truth to light the more we can put an end to the suffering.
This is not the first serial killer that profiled Indigenous women in Canada. It took the slaying of more than 20 Indigenous women to finally make headlines when Robert Pickton was charged for multiple murders that took place on his pig farm in Port Coquitlam, B.C. Then there are the silent killers who go under the radar like ​John Martin Crawford who killed four Indigenous women in Saskatchewan in the mid-'90s.
The story barely got any press because the women's lives were said to be less than for they were street workers, explains Warren Goulding in his book Just Another Indian: A Serial Killer and Canada's Indifference. The book examines systemic racism in Canada. With the help of mainstream media, we can expel stereotypes about Indigenous women. Through education on our history of violence, we can garner support for the movement to protect our women and girls. Through programs in our communities that support those struggling with domestic partner violence, addictions and other forms of trauma we can prevent violence from reoccurring. Through having a sense of home we can ensure we are safe from the growing dangers outside our door.
The 2019 report of the national MMIWG inquiry calls for the need for safe and secure housing for women and children – yet the government isn't sure of how to administer the money for housing appropriately according to the latest auditor general report. This speaks to the need for Indigenous-led housing initiatives. No more can the government control the agenda when it comes to housing.
As co-chair of the Women's National Housing and Homelessness Network, our team put out a statement on December 22, 2022, demanding that a national state of emergency be declared with respect to the failure to eliminate homelessness amongst Indigenous women, girls, Two  Spirit, and gender-diverse people across Canada.
"We demand the urgent implementation of measures to immediately provide access to adequate housing to all Indigenous women, girls, Two-Spirit, and gender-diverse people who are unhoused, in recognition of the profound threats to life they experience on the streets," said the statement.
The protection of our women and girls starts at home
We are life-givers. The caretakers. We must be treated with respect. Respect that has been lost. It is not enough to say that we honour our women. We must show this honor in action. Sometimes the best way to get a message across is through storytelling. This is why the movie Killers of the Flower Moon is so timely. It honours and exposes hidden history and opens the sometimes painful conversation of the loss and disappearance of our loved ones.
This can bring up trauma for those who know the pain of losing a loved one to such tragedy but it can also bring about healing. Storytelling can reach a wider audience and let others know that yes sadly this is still happening and that we must be aware of the precarious world we live in as Indigenous women and girls, then and now.
We should not have to feel afraid to walk around outside at night in our own communities yet we are. We are especially afraid for our children, even when we do all we can to protect them, being in the wrong place and at the wrong time is all it takes. Violence does not only happen on the streets, it happens everywhere. Safety starts at home and it starts in our communities making sure that we are looking out for one another and that we are healthy so that we are not harming one another.
Melissa Hardisty, a Dene woman from Wrigley in the Dehcho Region of the Northwest Territories, knows the importance of living in a healthy community. She relives the insurmountable grief of losing a child every day. Seven years ago her 12-year-old daughter Etandà was taken too soon. Alcohol played a factor in her daughter's death to which Haridsty says, "any abuse that has happened in the community, any murders that have happened in the community have all related to alcohol and drugs, there's such a big link to it." Hardisty says that leadership must recognize the need to deal with mental health issues in order to have a healthy community. Having respect for one another is important, she says and "we can start showing respect for our women. Our women have been abused for far too long."
Etandà would have been 19 this year. Her youngest daughter Gabriella is 17. She had to grow up without the guidance she needed from her older sister. "I know in my head that I was there for her," says Hardisty but "There was times that I couldn't because I couldn't get out of bed. I couldn't take a shower. I couldn't try to be a mother to her. It was hard. She had no choice but to grow up but she grew up very strong." Losing a loved one to such senseless acts of violence causes an impact for everyone in the community that can pass on through generations.
"I really want people to understand that you shouldn't be disrespecting women, look at how many women we've lost in Canada." Hardisty speaks to the roughly 4,000 Indigenous women and girls that have gone missing or have been murdered in Canada in the past three decades alone.
"There are days when I get angry when people bring up topics of men that abuse women or if I hear of a friend that has been abused and I didn't know that happened it angers me, it really triggers me." When asked how she copes with what happened, Hardisty says,  "When I'm really down and out and I get really angry the river helps me. I was raised along Mackenzie river so it really helps."
In fact, it was the day that Hardisty and her girls were set to go out on the land when Etandà's body was found by the water. This made it hard for Hardisty to want to back out on the land after she passed away. But she eventually did go back, on a drive back home to Wrigley one day. "I got out of the vehicle, I screamed and I cried and there was nothing. I heard a raven caw. I hear the leaves hitting each other. The wind."
Through this silence, Hardisty holds onto her beliefs. "I have a lot of faith. I know she's doing good. I know she's with my grandparents. She's with the people that she loves so much. I don't worry about her anymore."
Hardisty shared a message in caring for my own daughter, "Hold your daughter close. Tell her you love her."