Ojibway man takes to Tiktok over treatment at Urban Planet in Thunder Bay
Tyler Robinson says he was racially profiled while shopping at the story on June 8.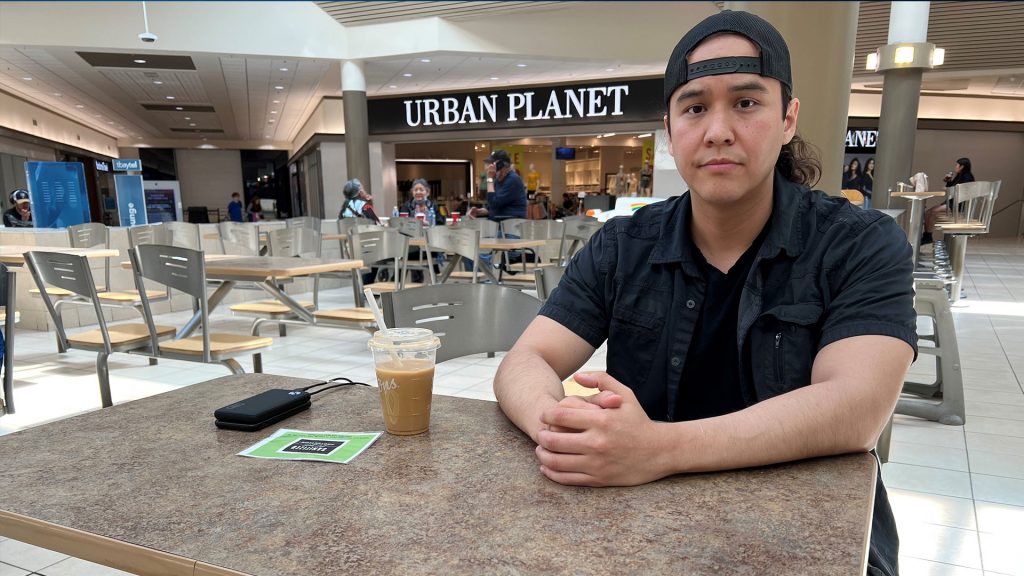 ---
A Thunder Bay man is using Tiktok to call for the retail clothing giant YM Inc. to develop a company-wide Indigenous customer service policy after he says he was racially profiled while shopping at one of its stores called Urban Planet.
Tyler Robinson, 34, said the manager of the Urban Planet outlet in Thunder Bay accused him of stealing the shirt he wore into the store.
Robinson said on June 8, he was standing in line to buy a shirt when his mother called. She needed him so he left the line, hung up the shirt, and made his way for the exit.
"And as I left the store, I hear a guy go, 'hey,'" he recalls. "Some guy's walking to ward me from inside the store and he said, 'the shirt, buddy.' And I looked at my shirt. I'm like, 'yeah.' He said, 'that's ours.' And I said, 'no it's not.' And he said, 'are you sure?' I said, '100 per cent.' And we stared at each other and he said, 'OK,' and went back into the store. I was like, 'what the…?'"
The pink, button-up shirt featuring silhouetted palm trees that Robinson was wearing is not available in the Thunder Bay store or in Urban Planet's online catalogue.
"I want to see them do proper training for sure, across the board," Robinson said. "I hope this inspires not just this corporation but other corporations to train their employees not to do this to anybody. You can't just accuse people falsely."
Robinson took his grievance to Tiktok, where his @ojibwayman account has 145,000 followers he's garnered mostly through videos of comedic pickup lines. His post about the Urban Planet experience entitled "I'm so tired of being treated like this" has been viewed over 750,000 times.
APTN News asked YM Inc. for an interview but the company sent a statement instead. It said, in part, it's "deeply sorry about the incident," and that an internal investigation showed no racial profiling occurred.
"After reviewing our store video cameras, we clearly see that Tyler was not followed or racially profiled in any way while shopping in our store," the statement reads, in part. "It should also be noted that our manager is Métis and many staff members are also Indigenous peoples."
Initially, Robinson only wanted an apology but the company's response since the post went viral has convinced him that sweeping change is needed. He's now calling for the local manager to be fired and for employee training to include Canada's history with Indigenous Peoples and intergenerational trauma.
YM's communications staff issued Robinson an email saying the manager intended to apologize, then cancelled a scheduled Zoom meeting when Robinson insisted on bringing advocates who had seen the post.
The company specifically refused to meet with Alycha Reda, a follower of Robinson's and a former loss prevention worker who investigated similar cases for a major grocery chain.
YM emails indicated Reda had made "threatening comments" in a telephone conversation she had with Urban Planet's Thunder Bay manager. In an email to Robinson cancelling the meeting, customer service staff wrote, "it is important to us that this discussion be one of healing and mutual respect."
Reda denies threatening anyone.
"I've never seen anything like this," she said. "In the 17 years I've been doing this, I've never had to go this far with a company or any kind of organization. Usually, people or organizations are willing to accommodate and take accountability. They won't fire [the manager], they won't listen to Tyler's concerns and his demands and we've made it very clear we'll go to the media. They just ignored us."
YM's June 23 email seeking to schedule a second meeting is clear that the store's manager is willing to apologize but that the company's position is that the incident was an "honest misunderstanding on the part of our manager and not a case of profiling."
The email claims YM uses "ongoing training material" and that it donates to unspecified "Indigenous communities."
"We have and continue to make donations," it reads. "In honour of National Indigenous Peoples Day, we made donations to Indigenous communities in Saskatchewan, Manitoba, and Ontario, including Thunder Bay."
Robinson said he has no interest in a meeting or an apology if the company isn't willing to admit wrongdoing or commit to change.
"There's a certain feeling you get when people are being racist towards you," Robinson said. "Ever since growing up in the city, ever since I was a little kid, I've dated, non-Indigenous people and I've met their grandparents and the way they look at you, they don't talk to you. They just look at you like you're a scum and that makes you feel a certain way. You know, when you see somebody, and they light up, you know that feeling, that vibe. And that was the bad vibe I got from that guy."
It's not the first time Urban Planet has stood against the scrutiny of its Indigenous patrons.
In October 2019, the company publicly apologized to an Indigenous teacher in Moncton, NB in response to his complaint the company was selling an orange t-shirt with the racial slur "savage" emblazoned on it.
A statement from Urban Planet expressed the term was intended to mean "extremely good" or "viciously cool."
In June 2020, YM undertook an internal campaign to address anti-Black racism in its outlets, complete with a high-profile $50,0000 donation to Black Lives Matter, Black Youth Helpline, Black Health Alliance, Black Legal Action Centre and the Black Coalition for Aids Prevention.
The company's website lists a compilation of donations, podcasts, and books, and suggested follows on Anti-Black racism. At the bottom, it promised "We will not stop here."
Winnipeg-based public educator with Children's First Society, Tara Martinez, has been advocating for Robinson through the ordeal. She said she appreciates YM's statements about its commitment to the Black community and the resources it has published. She's now calling for the company to take that same approach to respecting its Indigenous client base.
"The plight of the Black man and the plight of the Indigenous man are not the same," Martinez said, adding Robinson's largely female following represents the majority of the company's target clientele.
"The court of public opinion is pretty huge. I have a lot of bougie friends who are like, 'I'm not shopping there anymore.' People don't realize Indigenous people are the largest-growing population. They silenced our parents but they won't silence us and they certainly won't treat our children this way."